The Aviator game, also known as Crash, is an exciting and fast-paced game offered by online casinos in India. It combines elements of chance and strategy, making it appealing to both novice and experienced gamblers. The game involves placing bets on a multiplier that increases rapidly until it crashes, at which point the game ends. Players have the option to cash out their bets at any time before the crash occurs, which adds an extra layer of suspense and decision-makin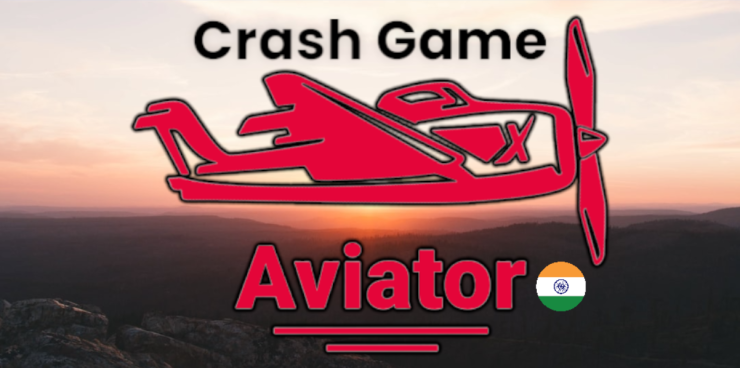 g to the gameplay.
Strategies and Rules of the Game
To maximize your chances of winning in the Aviator game, it's essential to understand some strategies and adhere to the rules of the game. Here are a few tips to keep in mind:
Start with a Budget: Set a budget for your gaming session and avoid exceeding it. Responsible gambling is key to ensuring an enjoyable experience.
Analyze the Multiplier Trend: Observe the multiplier trend before placing your bets. Understanding the game's pattern can help you make informed decisions.
Cash Out Strategically: Decide on a cash-out point based on your risk tolerance and desired profit. It's crucial to strike a balance between maximizing your winnings and avoiding a potential crash.
Manage Your Emotions: Avoid making impulsive decisions driven by emotions. Stay calm and composed throughout the game to make rational choices.
The rules of the Aviator game are relatively straightforward. Players place their bets on a multiplier, which represents the increasing value of the pot. The multiplier continues to grow until it crashes. If you cash out your bet before the crash, you secure your winnings. However, if you fail to cash out in time, you lose your bet.
The Choice of Application for the Game
When it comes to playing the Aviator game in India, you have several options for choosing the right application. Here are some popular platforms where you can enjoy this thrilling crash game:
1. Online Casino Websites
Many reputed online casino websites offer the Aviator game to Indian players. These platforms provide a user-friendly interface, secure transactions, and exciting bonuses and promotions.
2. Mobile Apps
Mobile apps have made it incredibly convenient to enjoy online casino games on the go. Several casino apps available for both Android and iOS devices feature the Aviator game, allowing you to play anytime, anywhere.
3. Casino Software Providers
Some dedicated casino software providers focus on developing crash games like Aviator. These providers collaborate with online casinos to offer their games to a wider audience.
Whichever option you choose, make sure to select a reliable and licensed platform that prioritizes player safety and offers a seamless gaming experience.
Registration and Deposit Process
To embark on your Aviator gaming journey, you'll need to register an account and make a deposit on your chosen platform. Here's a general outline of the registration and deposit process:
Sign Up: Visit the online casino or app of your choice and click on the "Sign Up" or "Register" button. Fill in the required information, such as your name, email address, and password.
Verify Your Account: After providing the necessary details, you may be required to verify your account. This usually involves clicking on a verification link sent to your registered email address.
Make a Deposit: Once your account is verified, it's time to make a deposit. Head to the cashier or deposit section of the platform and choose your preferred payment method. Popular options include credit/debit cards, e-wallets, and bank transfers. Follow the prompts to complete the deposit process, ensuring you meet the minimum deposit requirements.
Claim Welcome Bonuses: Some online casinos offer welcome bonuses to new players. Take advantage of these promotions by entering any applicable bonus codes during the deposit process or contacting customer support for assistance.
Start Playing Aviator: With funds in your account, you're now ready to dive into the thrilling world of Aviator. Navigate to the game lobby, locate the Aviator game, and launch it to begin your gaming session.
Remember to gamble responsibly and never deposit more than you can afford to lose. Setting deposit limits and taking breaks during your gameplay can help you maintain control and ensure a positive gaming experience.
Demo Game: Practice Without Risk
If you're new to the Aviator game or simply want to test your strategies before playing with real money, many online casinos offer a demo or free play version. The demo game allows you to play Aviator using virtual credits instead of real money. It's a fantastic opportunity to familiarize yourself with the game mechanics, understand the multiplier trends, and experiment with different betting strategies—all without any financial risk.
The demo game provides a risk-free environment where you can fine-tune your approach and gain confidence before transitioning to real-money gameplay. Take advantage of this feature to sharpen your skills and enhance your chances of success when playing Aviator with actual stakes.
Legality of Aviator Games in India
Before engaging in online gambling activities, it's essential to consider the legality aspect. The status of online gambling and casino games in India is subject to specific laws and regulations. While some states have legalized online gambling, others have imposed restrictions or declared it illegal.
However, it's worth noting that many offshore online casinos cater to Indian players, offering a wide range of games, including Aviator. These platforms operate under licenses from reputable jurisdictions and follow strict regulations to ensure fair gameplay and player protection.
If you're unsure about the legality of online gambling in your jurisdiction, it's advisable to seek legal counsel or consult local authorities to understand the specific regulations that apply to you.
Advantages of Playing Aviator Games in India
Playing Aviator games in India offers several advantages that make it an appealing choice for casino enthusiasts. Let's explore some of the key benefits:
Exciting Gameplay: Aviator provides a thrilling and dynamic gaming experience with its fast-paced nature and the potential for significant wins.
Accessibility: With online casinos and mobile apps readily available, you can enjoy Aviator games from the comfort of your home or on the go.
Variety of Betting Options: Aviator offers a wide range of betting options, allowing players to tailor their bets according to their preferences and risk tolerance.
Demo Game Availability: As mentioned earlier, the availability of a demo game enables players to practice and familiarize themselves with the game without risking their funds.
Bonuses and Promotions: Online casinos often provide enticing bonuses and promotions for Aviator games, such as welcome bonuses, reload bonuses, and free spins, enhancing the overall value for players.
Convenience of Payments: Indian players can enjoy the convenience of various payment methods, including popular local options, for easy deposits and withdrawals.
Privacy and Security: Licensed online casinos prioritize player privacy and employ advanced security measures to safeguard personal and financial information. This ensures a safe and secure gaming environment.
Community and Social Interaction: Online casinos often have vibrant communities where players can interact with fellow enthusiasts through chat features or forums. This adds a social element to the gaming experience, allowing players to share tips, strategies, and excitement.
Mobile Compatibility: Aviator games are often optimized for mobile play, allowing you to enjoy the game on your smartphone or tablet. This flexibility ensures that you can indulge in thrilling gameplay wherever and whenever you want.
In conclusion, Aviator games in India, specifically the crash game Aviator in online casinos, offer an exhilarating experience for gambling enthusiasts. With its combination of chance and strategy, players can enjoy the thrill of placing bets and cashing out at the right moment. By understanding the game's strategies, adhering to the rules, choosing a reliable application, going through the registration and deposit process, and taking advantage of demo games, players can enhance their chances of success. It's crucial to ensure the legality of online gambling in your jurisdiction and take advantage of the advantages offered by Aviator games, such as exciting gameplay, accessibility, demo game availability, bonuses, and convenient payments. So, buckle up and embark on an exciting gaming journey with Aviator games in India!