When many people think of slots, or as players down under call them, pokies, they automatically imagine a three-drum machine with an abundance of fruit and bar symbols. This image is often accompanied by a large lever and the familiar clinking of coins flying out of the bottom following a win. Despite slot machines having been around 1887 (under many guises) and having evolved dramatically in the last century, we still have this iconic image in our head.
In reality, the good old one-armed bandits make up a tiny portion of the world's leading slots. Instead, these games have evolved to come in all shapes and sizes. Why are we still fixated on the "old design", though? Allow us to chart their evolutionary progress to help build a better picture of what slot machines truly encompass in 2021.
Early Origins
The very first slot machine is credited to Charles Augustus Fey, although this is often debated. His machine was built on work by older poker machines. Ironically, those predecessors initially had five drums, and it would be Fey who would reduce them to three for his Liberty Bell. Doing away with the fifty playing card symbols appearing in its predecessors, the Liberty Bell served up just five symbols, namely hearts, diamonds, spades, the liberty bell itself, and a horseshoe.
Prohibition would effectively put paid to the use of slot machines with automated cash prizes. Instead, the simplistic games took on a new role, paying out chewing gum and sweets. The symbols naturally got a facelift, too, adopting the fruit symbols we know today. The classic fruit machine was born.
Electromechanical Slots
Following the end of prohibition, the slot machine came back into the public eye. By 1964, a then-fledgling company known as Bally (today's Bally Tech) would create an entirely electromechanical slot, known as Money Honey.
While it did not officially need a lever to be used, familiarity was seen as key to Bally's plans, so the lever remained. The advent of a bottomless hopper meant that players could potentially pocket returns of up to five hundred coins from a lucky spin.
Enter Video Slots
Money Honey was an electrical slot in practice, albeit one with a mechanical lever designed purely for show. The next leap forward was made by Fortune Coin, a small Las Vegas company. By using a 19-inch Sony television screen, they were able to introduce the world to the very first video slot. What made these slot games so special was that they incorporated a second screen bonus round, not seen in games before.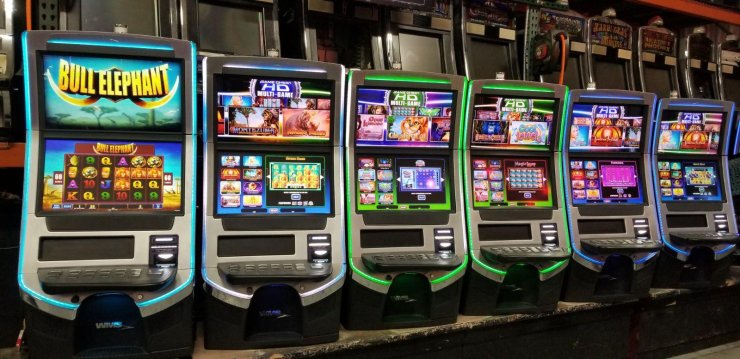 The introduction of wild and bonus symbols and multiple paylines further popularised the games. Naturally, the Nevada State Gaming Commission was quick to approve and license them. While they may have replaced the old, chunky television monitors, land-based slots at brick-and-mortar casinos have not changed much since.
Pub Fruities Dominate in the UK
By the 1980s and early 1990s, UK slot cabinet designers had decided to merge the two available types of games. They put together five-reel video slots, but that adopted the classic fruit symbols and basic gameplay of the games of yesteryear.
As it became known, the pub fruity essentially offered three or five drum gameplay, with trail bonuses and multipliers woven into the mix. These would be amongst the last major innovations for land-based slots. The slot machine's future, as developers soon noted, would be online.
Online Slots Steal the Show
In developing video slots, it became apparent that slot features could be expanded when digital screens were used. Naturally, when online gambling became a reality in the early 1990s, the slot was primed to be one of the first games available to play because of the flexibility it offered players. Recreating slots was a simple affair, as by then, most of the aspects of land-based games were digital anyway.
What followed was the most tumultuous period of innovation in the evolution of slots. Five-reel slots became the norm, payline numbers expanded, and features that were now conventional, such as wilds, scatters, bonus rounds, free spins and more, expanded to include all sorts of goodies. The 243 ways to win the engine, randomly triggered bonuses, progressive jackpots, and 3D animation all revolutionised the humble slot. From an array of a few hundred land-based games at the turn of the 1990s, the end of the first decade after the millennium saw a library of thousands of games available.
Many of the commonly found features in online slots have since been ported to land-based casinos, too. While the "cabinet" has not undergone any revolutionary redesigns since the days of video slots and pub fruities in the 1980s, the array of features they can now offer very much draws from the innovation the online slot provides. A Very Mobile Future
The slot machine is hardly done evolving. While VR (virtual reality) casino experiences are often talked of as the future, mobile gameplay dominates right now. Continual redesigns have seen mobile slots go from being downloadable apps and games that are playable with little else but your phone or tablet's browser. Mobile slots have not added much new to the game's evolution in terms of features, but the ability to wager and win on the move is a gamechanger.
Slots have come a long way since they first debuted as poker machines. However, throughout their 130-plus year history, they have never abandoned the features and imagery that made them such a fan favourite in the first place. You can still regularly find three-reel games, fruit, bars and bell symbols, and games with levers even today, albeit with a flurry of new additions and modern tech woven in. Given all of that, it is any wonder many of us refuse to let go of that classic slot image?
>>> Visit Reviews on GuruGamer.com for more useful posts!