The "Too Hot To Handle" reality dating show has drawn lots of interest from audiences since its first episodes. One year after the show ended, any of us is wondering how the contestants' life look like? Is there any difference in comparison with themselves in the past or not? Let's check out with Gurugamer.com! "Too Hot To Handle" has managed to attract a large number of audiences because of its new format and humorous narration. Contestants learned how to conquer others by their own personality and soul, instead of the look. They could flirt or gossip with each other; however, any kiss or making love is absolutely banned. If all rules were precisely followed, they would get the total prize of $100,000. It has been one year since the show came to an end and now, we have been curious about the present life of these lovely contestants.
Francesca Farago: In the first episode, Francesca Farago suddenly fell in love with Harry Jowsey. The couple couldn't refrain from expressing their natural feelings with each other many times, and therefore, they lost a big amount. Fortunately, they finally overcame all challenges and got $32,000 back. One year later, Farago has kept dating with Jowsey. The 26YO beauty even visited her lover in Australia. On her private page, she has shared lots of affectionate moments with the 23-year-old Aussie. At the moment, Francesca Farago often moves between Vancouver (Canada) and Los Angeles (US) because of her work as a model and a manager of her own swimwear line called Farago The Label. Harry Jowsey: Well-known for the 1.9m height and handsome look, the Aussie rapidly gets into girls' heart but he has some deep feelings for Farago. Their first kiss that worth $3000 made the couple discontented by other contestants. Additionally, Farago once felt disappointed with Jowsey when he lied that she was the proactive one to kiss him. His action had driven the beauty crazy for a long time but finally, she still accepted to forgive him. After Too Hot To Handle ended, the couple has been in a sweet relationship. Harry Jowsey moved to Los Angeles to begin to set up Naughty Possums - his own fashion line. When mentioning his love story with Francesca Farago, he revealed that the couple had stopped in a period of time because of his immaturity. He tried to go on a date with some girls but Francesca never left out of his mind. Finally, he decided to send a message to her with the hope to heal their relationship. Jowsey also said that the couple has had a marriage plan in the near future.
Chloe Veitch: Nice-looking, lively but a bit naïve – That's all that audiences think about Chloe Veith from the first moments. The 20YO girl has coped with lots of ups and downs in her life, but Veitch is always full of energy. She tried to date with Bryce Hirschberg, David Birtwistle, Kori Sampson; however, she hasn't found half of her life yet. Chloe sent a big thank to fans and those who supported her in the Too Hot To Handle dating show. Chloe said that love from fans was the whole world to her. After Too Hot To Handle, she has kept working as a model in Essex, UK. She has lived with Nicole O'Brien after finishing her work at the dating show. Nicole O'Brien: In Too Hot To Handle, Nicole O'Brien didn't make a strong impression because she lacked tricks, as well as didn't know how to attract male contestants. As a sensitive girl, Nicole always felt unsafe when being recorded all day. She didn't want others to analyze all that she said or did. After the dating show, the beauty moved to London from Ireland to develop her career. She is now working for an underwear brand.
Haley Cureton: She is one of the most rebellious contestants in Too Hot To Handle. Many think Haley Cureton may be a mean girl after intentionally kissing Farago and all the team got fined. She often disparaged and criticized other contestants. She was the first one the producers required to leave the show because she obviously didn't meet the program's criteria. Haley Cureton is now studying at the University of North Florida. She has also released her YouTube channel.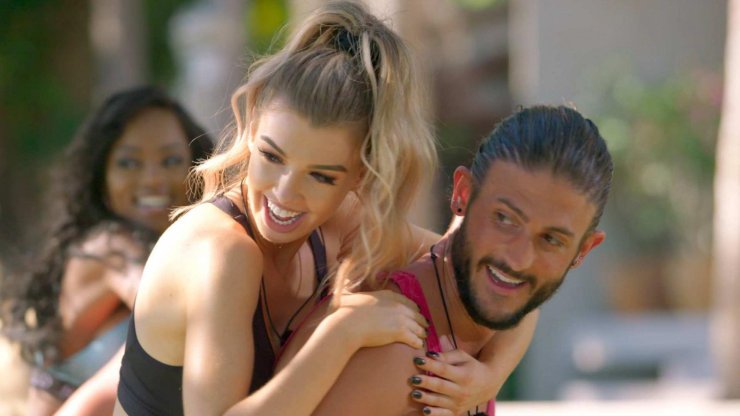 Sharron Townsend: How Townsend overcame the obsession with his ex-girlfriend and set up new love with Rhonda Paul must score with watchers. The relationship between Townsend and Paul allegedly met the strict requirements of this dating show: just gossip and support each other. However, when Too Hot To Handle finished filming, Townsend and Paul said goodbye to the other. This model now works in New Jersey, US. He has recently made an appearance in the MV Fresh and Clean of Fetty Wap.
Rhonda Paul: In addition to the hot body, Paul has also drawn the attention of male contestants thanks to her assertive and dedicated personality. In the program, other female contestants loved asking for her advice. Watchers fell in love with her because Rhonda Paul was always patient and supported Sharron Townsend. It is a pity that they stopped dating in real life. At present, Rhonda Paul has kept contacting with Townsend. She has now focused on taking care of her son, Amari, and operating her jewelry brand called Pure Luxx. According to Hollywood Life, she has recently shared that she is ready for a new relationship.
David Birtwistle: He was amongst the male contestants that watchers loved the most. David Birtwistle was always gallant and nice with both women and men. When being refused by Chloe Veitch, he was willing to listen to her and didn't feel annoyed at all. In spite of trying to date with many girls, he has now kept his heart for his own. After Too Hot To Handle finished filming, David Birtwistle continues to work as a professional fitness and nutrition coach for Endeavour. Additionally, he is now an ambassador for the Nike Training Club. Bryce Hirschberg: This guy owns a lot of talent and that's why female contestants seemed to get crazy about him. Bryce Hirschberg can compose music, sing, and play instruments. Chloe Veitch felt excited when meeting him but they couldn't reach something further. Hirschberg has now kept traveling on his own boat in Marina del Rey, California, the US since the reality dating show came to an end. Matthew Stephen Smith: Many contestants said that Smith looks like Jesus Christ. In the show, Matthew Smith was the first one to comply with the rules that were given by Lana, a virtual assistant of the program. He was also the one to decide to stop participating in Too Hot To Handle when feeling that he was mature enough after recording. His sense of humor and transparency are great plus points that help him attract lots of fans when the show ends. Smith moved to Los Angeles from Colorado to operate Dream Katchers Enterprise. He isn't just the owner of the M8W brand, but Smith has also worked as an artist and a model in the artistic field.
Madison Wyborny: Participating in the last episodes of the Too Hot To Handle show, Madison Wyborny didn't manage to make lots of impressions to watchers. She was the second female one who was eliminated from the show because she didn't meet the necessary criteria. Madison Wyborny now works as a stylist and a model in Los Angeles, US.
Kori Sampson: He was the only male contestant removed out of the show due to his rude behavior towards others. Sampson invited Farago to date although he had kissed and made love with Chloe Veitch. When Veitch asked for an explanation, Sampson chose to go away. Since the show finished filming, Kori Sampson has continued his work as a model and a personal trainer in Devon, England. Lydia Clyma: Despite appearing late, Lydia Clyma rapidly became friendly with other contestants. The beauty also got the admiration from David Birtwistle, however, their relationship couldn't go far. She has still kept contacting with other contestants when Too Hot To Handle ended. In recent days, Lydia Clyma and Bryce Hirschberg are teaming up with each other to record videos for her own YouTube channels.