The word "addiction" has always brought negative meanings. Everything goes beyond our control is dangerous, right? And the habit of watching porn is not an exception, if not to say, a very dangerous habit indeed!
You have to acknowledge that porn addiction really exists, and a lot of celebrities have admitted that they had experienced it. And lately, Jada Pinkett Smith - Will Smith's wife - was the latest one to reveal her unhealthy pornographic habit.
Jada Pinkett Smith was addicted to porn before she met Will
Jada Pinkett Smith is an American comedienne, actress, singer-songwriter, and businesswoman. She married Will Smith in 1997 and is having the happiest time of her life with her husband and two kids. However, recently in a Facebook Watch series - Red Table Talk, the actress has revealed something that she has hidden for quite a long time. Talking to her daughter -Willow and her mom that she used to have an "unhealthy relationship" with pornography. Fortunately, she had such habits before she was in a relationship.
Jada also took her chance to emphasize the seriousness of porn addiction, stating that the way she used "addiction" is still very lightly considering how serious the case was with her. Is your porn habit a topic that you will choose to tell your daughter and mother in a night talking? It's definitely unnatural, but Jada has made a bold move as the case is much more serious than you've thought. And Jada thought that was essential to let her daughter be aware of that issue, too.
What a wonderful mother!
Are your porn habits HEALTHY?
At a certain level, watching adult content doesn't cause you any problems. I mean, people have to learn something about it anyway, don't we?
However, when it was taken with irresistible dependence, then that's the time you be cautious. Scientists have pointed out that watching porn does stimulate your brain the same way consuming alcohol and drugs do. That also means, enough is fine, but too much consumption will do a lot of damage.
Signs of porn addiction are very hard to notice, but it will gradually rotten the person's private life and ruin relationships. So how do you know that you are having porn addiction? The easiest way to figure it out is when you start noticing you're covering up your pornographic habits.
People tend to use pornography as a way to solve their mental problems: relieve stress, loneliness, or lack of sexual activities. In that case, consuming some grown-up contents once in a while is healthy, and you shouldn't feel shy about it. As long as you consider it a mean of entertainment or pleasure, then it's fine! But if you start to feel dependent on it, that's very dangerous. What is "dependent"? The most suitable explanation for this case is that you watch porn to make you feel at ease, not for fun. That's the sign showing that you're having porn addiction.
Another sign of addiction is that you want to watch adult contents in an abnormal place at an abnormal time (such as 12 p.m in office). If you're feeling that way, then you should really, really go to doctors to receive some treatments.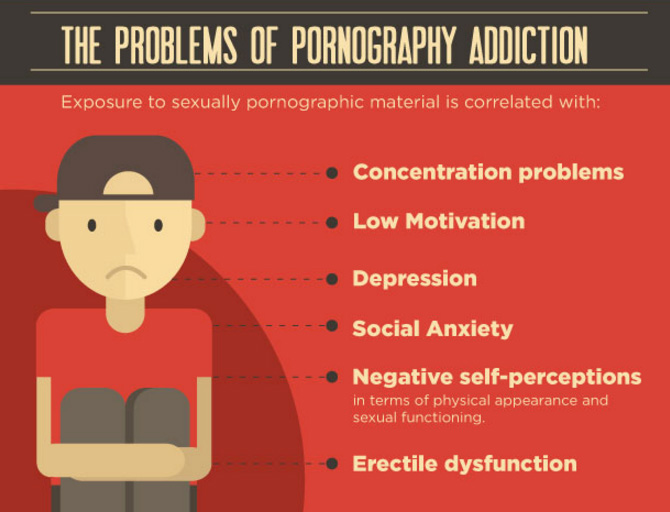 Remember, not only men are vulnerable to this mental issue. Women can also be affected too, so don't underlook the problems!