Three Card Poker is a fun game that is played with two hands and three cards per hand. It's different from regular poker and the rules are simple. You play against the dealer and if you make the best combination out of 3 cards, you win.
For starters, the player will place an ante wager and optionally a pair plus wager. Each player is dealt three cards facing down. After looking at what he got, the player will place a play wager, in the same amount as ante wager. He can decide to play against the opponent's hand or not. In case he backs down, the dealer gets his ante wager, but if he plays and has a better hand, the play wager is returned to him.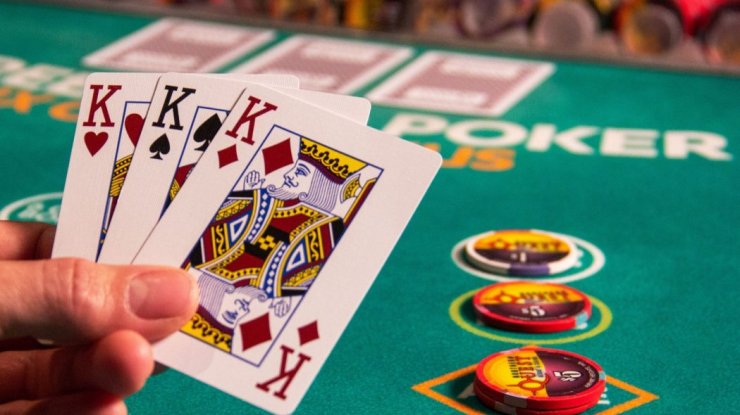 Most three-card poker casinos give their players a chance to try their hand at the game for free. This is a perfect solution for those who like to play just for fun and free of charge. On the other hand, for those who want to play for real money, there are numerous sites where to play 3 card poker games.
We collected reviews and tested five popular 3 card poker apps so you can create an image on how the playing experience will look like and choose your favorite.
Three Card Poker
This app by Megawin Casinos uses HD Graphics and a user-friendly interface, and new players are granted 100,000 Bonus chips. It's also packed with Daily Bonus every 2 hours. What players enjoy the most is a beautiful design and an attractive sound. The combination of maroon background, golden symbols, and sharp graphics attracts the players and keeps them coming back. They also like having an option to send and receive gifts from their friends in the form of chips. What makes it more fun is that three independent bets can be played - Ante, Pair Plus, and 6-Card Bonus. Triple Card Poker
Triple Card Poker by Jackpot Mobile is a very popular mobile app that can transport players to Vegas. As a matter of fact, it was made in Las Vegas, Nevada. You can play without any charge and receive free chips every two hours. The best things about its design are real pay tables, authentic ambient, and fun sound effects. Players can adjust the bet according to their needs, in a range from $1 to $20 million. If you forget the rules, it's easy to remind yourself because they're placed on the screen. 3 Card Poker Casino
The most popular table games on this app are Three Card Poker with 6 Card Bonus, Let It Ride Poker with 3 Card Bonus and Jackpot Bonus, and Blackjack single deck. The main attractions of this 3 Card Poker Casino by Chase and the Rocketeers are free chips every half hour. It keeps the entertainment going, but it must be noted that the app doesn't offer real money gambling. When it comes to design, there is a real casino vibe thanks to authentic symbols. The blue color is dominant and the bright design is a real mood-booster. Ace 3-Card Poker
This is another three-card poker game app that is very easy to play, but in case you're new at it, it comes with step-by-step instructions on how to play. Ace 3-Card Poker by Roby Labs comes with many features players like. They include Pair+ Bonus bet, 6-Card Bonus bet, Variable game speeds, and Free Bonus Credits. You can bet from 1 to 1 million credits and see real-time statistics. The appearance of the game is neat, it's inspired by green poker tables at real-life casinos. In case you don't like the soundtrack of the game, you can turn it off. Despite many qualities, this app has a bad rating, on the count of being too slow and not counting the winnings correctly. Ace 3-Card Poker
Another amazing app by Red Game, compatible with all devices, will set a real challenge for poker fans. This is a classic casino poker game, also known as "Three Card Pokers" or "Teen Patti". It has a colorful design that screams fun and neat graphics. You can choose on which level you want to play: novice, beginner, expert, or master. The mature audience will enjoy it, and it's played only for fun, without any prizes in the form of real money or chips that could be converted to money. Who is the Winner?
Even though all of these games have similar concepts and can provide a lot of entertainment, taking into consideration design and features, we've decided on the winner. The first place goes to Triple Card Poker. It's great for rookies and experienced players, and it's design resembles poker tables in land-based casinos, which makes the gaming experience much more authentic.
>>> Visit Gurugamer.com to keep updated with latest gaming news