Konami has introduced its new Master Rule 4 with the Link Summoning mechanics for more than two years now. However, unlike real-life Yugioh! trading card game, its video game counterpart - Yu-Gi-Oh! Legacy of the Duelist is not that up-to-date. The only platform that has this latest ruling and monsters are Nintendo Switch.
But it's better late than having none at all! Konami is very excited to announce that Yu-Gi-Oh! Legacy of the Duelist: Link Evolution is coming to PC, PS4 and Xbox One. Even though there's a lot of games with wider card pools and always stay up-to-date in the market like Ygopro, it's still very great to play a licensed game from Konami itself.
If you're really in love with the trading card game from Konami but can't afford to collect real cards, let's check this out!
What's new in Yu-Gi-Oh! Legacy of the Duelist: Link Evolution
If you haven't seen anything about this Yu-Gi-Oh! game yet, it has actually come out with the Master Rule 3 introducing Pendulum summoning mechanics. The game does not only let you play your favorite card game, but also experience the all seasons of Yu-Gi-Oh anime as well. You'll be able to relive your Duelist souls with the legendary characters through while dueling with other characters in the role of the protagonists, including Yami Yugi, Jaden Yuki, Yusei Fudo, Yuma Tsukumo, and Yuya Sakaki. And as the latest anime series - VRAINS has just wrapped up recently, it's time to bring that story into the game, featuring the latest duelist - Yusaku Fujiki. Bringing his titular Link Monsters to the scene, Yusaku also brought the brand new Link Summoning mechanics that have given birth to the chaotic combo-based decks in real life. Apart from that, the grinding to open card packs still remains almost the same in this new game, only with the addition of the recently added cards. And if you've ground enough for your own decks, it's time to head to the duel with other players online. Yu-Gi-Oh! Legacy of the Duelist: Link Evolution support both Player vs AI and Player vs Player, so you can enjoy your game in whatever way you want.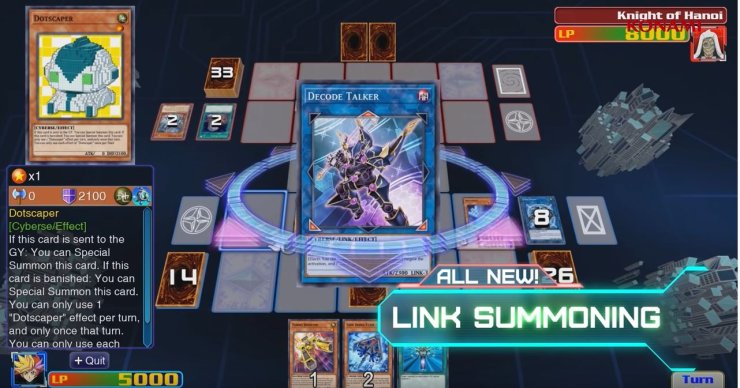 Release date and supported platforms
Yu-Gi-Oh! Legacy of the Duelist: Link Evolution is already available for Nintendo Switch, but players will also have a chance to play it on PC, PS4 and Xbox One in an unannounced date in 2020.
Hope it will not come too late!