As Dota 2's player count has been gradually falling, it is probably time that Valve would try to stem the bleed. Yesterday, a massive update for Dota 2 was released, contains two new heroes and an array of changes to literally everything. It seems that the two aren't even the main focus of this update, as Dota 2 would pretty much change forever after today.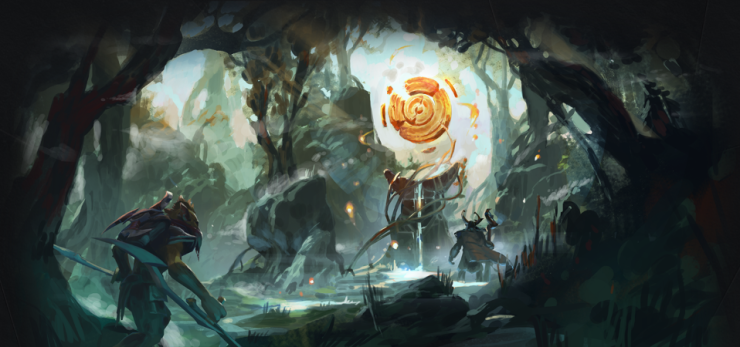 In this post, we are going to list out and analyze the new changes and how they would affect the game in general.
Firstly, let's talk about the two new heroes: Void Spirit is somewhat similar to his Spirit Brothers, with 4 active skills and unparalleled mobility. His first skill is more or less Arc Warden's spark wraith, create a spectral remnant that deals damage and slow. The second skill is similar to Ember's Sleight of Fist, rendering Void Spirit invulnerable in the process. The shield skill is similar to Ember's third skill, however, it blocks physical damage instead. His ultimate is pretty much Morphling's Waveform, which is a dash that deals damage. Overall, this hero is probably mid or position 4. Snapfire is a rather weird hero – pretty much a weaker version of Gyrocopter. Her three normal skills work as a combo, with her leaping in for an AOE stun then unloading the barrage and shotgun blasts. Snapfire's ultimate is pretty much Skywrath Mage's concussion shots but without the homing part. Overall, Snapfire is way trickier to use comparing to Void Spirit.
In the next parts, we are going to talk about the general changes, map changes, neutral drops, item and heroes changes.
Notable general changes:
Couriers are now free and each hero would get one. They would be an essential part of gameplay now, with their ability to use items, place wards and level up alongside their heroes, gaining new abilities. Along with Observer Wards become free, it looks like Icefrog has decided to remove the "sacrificial support" role altogether. Heroes now peak at level 30 instead of 25, with 4 talents unlocked at the same time. Along with the various changes in neutral item drops and courier using items, longer games would be more chaotic than ever. Side shops removed and replaced by outposts, which give true sight, exp, and a teleport spot when capture. This is similar to the bounty rune changes, which Icefrog used to encourage frequent combat and map control. The side shop regions of the map, which are pretty much abandoned after the laning phase prior to this patch, would definitely see more action now.
Neutral creep changes:
Besides the usual stat changes, the neutral now drop special items that cannot be bought in the shop. There are five tiers of those things, which in turn contain 62 unique items. This change adds "random item drops", a famous element in any RPG games, to Dota 2.  Those items cannot be sold but can be shared. This change would definitely elevate Jungling and heroes who can clear the jungle fast. Some items at higher tiers are just so ridiculously powerful that a drop could completely change the game. Most of them are standalone items, however, there are some recipes that could combine higher-end items together like Trident (Sange & Yasha & Kaya) or Fallen Sky (Blink Dagger & Meteor Hammer). Iron Talon is back as a drop. If you are lucky early on and get your hand on one of those things, your farming speed would be greatly enhanced.
Item changes:
The biggest change in this section is probably the removal of Stout Shield: All melee heroes get an innate damage block value of 8 now. This would give heroes who do not often purchase stout an extra edge. Next, let's talk about the notable hero changes:
Overall, the biggest change is that magic immunity no longer gives 100% magic resistance, so skills that are able to pierce magic immunity would also deal damage. A direct buff to heroes like Beastmaster, with Roar now dealing 300 extra damage to magic immune enemies.
Below are some of the heroes with the most notable changes that would change their playstyle entirely:
Clinkz: Death Pact is back to replace Strafe. The attack speed component of Strafe is now incorporated into Skeleton Walk, which would be rather clunky to use as you might not have it available when escaping.
Drow: Precision aura is replaced by her League counterpart's Multishot. Her kit is nerfed overall, with the biggest change being Marksmanship losing the ability to instant kill creeps. She's useless now. Enchantress: She's back to the original version, with Untouchable being the ultimate once again. The skill now pierces magic immunity so it is not as useless like it was before.
Lone Druid: Rebalanced, with spirit bear become a separate entity, gaining levels and stats based on LD's stats. Outworld Devourer: His skills are now completely based on Max Mana, with Arcane Orb no longer steal Int and Sanity's Eclipse no longer taking Int into consideration. The useless Equilibrium skill is replaced with another version of his aura. Overall, OD is great now.
Riki: Cloak and Dagger become his ultimate once again, which would make him more or less identical to the Dota 1 version. Without invisibility, he would definitely be crushed in the early game. Silencer: the Int steal was taken away from OD and reattached to his Glaives of Wisdom. Silencer would probably be able to do some real damage as a carry now.
Treant: his every skill was buffed heavily. However, the hero lost his ability to support globally. Without invisibility, the laning phase would definitely get harder now, as Treant has zero armor and 280 movement speed. Viper: He is super bad now, with Nethertoxin cooldown increased from 6 to 14. You can no longer spam your broken AOE break skill anymore. At least his ultimate, Viper Strike, damages units with magic immunity now.
Interested in more of our video games related posts? Please check out this list for the best RPGs made by Bethesda.