Casino games never get old, even though most were invented centuries ago. The first casino opened its doors in 17th century Italy, and the casino culture has only expanded. First, across Europe, in countries like France, Germany, and England, that still hosts some of the most traditional land-based venues. 
In the United States, casinos exchanged Renaissance palaces and luxurious country mansions with quirky extravagant buildings, changing the casino culture forever. However, the real revolution would come with the invention of online casinos, allowing gamblers to play wherever they are. If you don't want to risk your money but still want to feel the thrill, here are some great options for you to enjoy on your PC. Game On
PC games are perfect for practising your knowledge and strategy in a safe environment. You can play these games for free, as much as you want, and some of them emulate the casino vibe quite vividly. Also, consider learning a few jargon, so you can play it cool with your friends. Check Casino for Beginners: 20 Key Phrases, and learn to talk the talk. Learn more about the best casino games for PC at the moment. 
Zynga Poker - Texas Hold'em
Here's an excellent option for free online poker. This game is available for PC (Windows 10) and mobile devices. It allows for synchronised gameplay across several devices. Zynga is a famous developer of social games, and it shows why in this game. Graphics and sound are of high quality; it's widely compatible. Players can log in via Facebook or just play as a guest. 
Zynga Poker offers different kinds of gameplay. Players can choose between casual gaming and different types of tournaments, following the most updated game rules. Thousands of poker enthusiasts play Zynga Poker every day so that you won't find empty tables there: there's always something going on. 
AE Blackjack Online - AE Mobile Inc.
Blackjack, or 21, is another hugely popular card game that can be found in any casino, online or land-based. Also, here, players can log in using their Facebook accounts and enjoy a free online gaming environment. In fact, this game encourages players to use their Facebook accounts, giving them extra chips and keeping track of their progress. 
AE Blackjack Online has several rooms for multiplayer games, and you can also create your own room. Still, players can choose to play in the single-player mode. Each player starts the game with 1,300 chips and can buy more via in-app purchases. This game also gives a daily bonus to every player.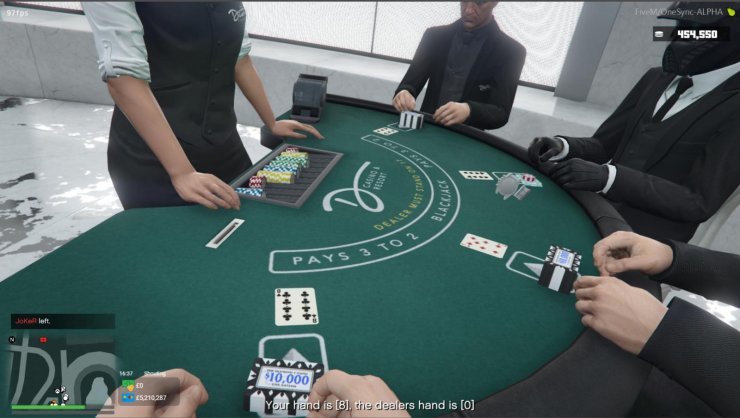 GTA's Casino - Rockstar Games
If you're walking around Los Santos, battering random people in the streets for petty cash, consider risking your "winnings" at the Diamond Casino and Resort. That's right: there's a fully functional casino resort inside GTA V, where players can play with in-game money. 
There's no real money involved, though, not even for buying in-game cash. For that, you'll have to smash a few more innocent pedestrians around Los Santos. It's possible to play blackjack, roulette, poker, and an exclusive slot machine. Additionally, players can bet on lucky wheels and even horse races. On occasion, lucky gamblers can win special cars and other kinds of luxury items. 
Casino Mega Collection - Gunnar Games
There aren't many titles in this genre with so many games in them. Here, you'll find more than 60 casino games. The list includes classic games and also exclusive versions. It has a fantastic selection of table games, with blackjack, Pai Gow, roulette, craps, and Caribbean Stud.
There are even live dealer games available. The live dealer games work pretty much like any regular online casino and allow for more interaction between players. Video poker and slot fans weren't left behind, and there are several options for them, too. Casino Mega Collection is an all-in-one game for online casino enthusiasts.
The Four Kings Casino and Slots - Digital Leisure Inc.
Four Kings is surely among the best casino games for PC and consoles. It offers an MMO (Massive Multiplayer Online) environment with jaw-dropping 3D graphics. It's as close as it gets to a real-life casino, where players create avatars and "explore" the venue. Four Kings hosts a wide range of games, like every great online casino.   
Here, players can enjoy incredibly realistic versions of bingo, keno, roulette, blackjack, poker, and more. The graphics and soundtrack emulate a compelling Las Vegas vibe, with VIP rooms that will surely please the most demanding high-rollers. IGT Slots: Diamond Galaxy
Slots are among the most popular casino games. It's quite a new one if we consider that games like roulette and craps are centuries old. The first slot machines were built in California by Charles Fey. Early versions had only three reels, a handful of symbols, and a single payline.  
IGT is among the best software developers in the market, supplying hundreds of games to countless online casinos worldwide. In this PC game, IGT includes various gaming styles, like 3-reel and 5-reel games, and even 3D games. It's easy to find IGT games for real money, but this software is perfect for getting to know the developer's style. 
WMS Casino Gaming Slots - Phantom
WMS is another giant in the online casino world. Like IGT, it provides loads of slots monthly to the best online casinos worldwide. Here, you have the chance to enjoy their best games without risking a dime. WMS Casino Gaming Slots is among the most entertaining options for slot lovers. Here, they'll find 15 of the finest WMS slot machines.  
WMS or Williams Interactive has been in the casino market since the 90s, although it started with land-based machines. However, the company's history goes back to 1943, when it manufactured pinball machines. Nowadays, it's one of the main software providers for online casinos worldwide. 
Cashing Out There is plenty of PC software for online casino lovers. They offer a realistic experience (sometimes, even with live games) and don't require any money to start playing. These PC games are perfect for those who want to practice new skills or play casino games without bothering their bankrolls. 
Mechanics, sounds, and graphics are usually quite realistic, and players can always count on fair RNGs (Random Number Generators). If you can't travel to a land-based casino or don't want to spend your money this way, these PC games can still be quite entertaining. 
 >>> Gurugamer.com updates latest gaming news and reviews, check in daily for more!