There is no denying that Megaways slots are among the most popular and user-friendly games that any casino lover can play. However, with the many games in the market, it is easy to get confused when finding your ideal option, especially when you're a beginner. This article will enlighten you on the top five best Megaways slots that beginners can play, enjoy, and maximise their earnings. 1. Buffalo Rising Megaways
Developed by Blueprint Gaming, Buffalo Rising Megaways slots is among the most exciting casino games for beginners. It has five reels and six rows which guarantees you over 117,640 ways to win. Even more, the game has a North-American wilderness theme with lots of bonus features to maximise your winnings. Gamblers can use the free spins rounds and multipliers to win up to 10,000 times their wagers. As you play the Megaways, you need to be on the lookout for the mystery symbol as it mysteriously maximises your winnings.
Features
• RTP of 97.01%
• A mystery symbol that maximises the players' earnings
• Free spins and multipliers
• Great winning potential
• Exciting graphics and design
2. Vikings Unleashed Megaways
Blueprint Gaming is a huge name in Megaways slots. They developed yet another huge title, Vikings Unleashed Megaways, to tease and satisfy gamblers' needs. With six reels and over 117640 ways to win, gamblers can enjoy the medium-high variance game and win up to 50,000 of their stake. Even more, the game has several bonus features to help you maximise your winnings. You can use the mystery symbols, cascading symbols, and free spins with an unlimited win multiplier to rake in more money. Try it today and experience a Norse Vikings theme. Features
• RTP of 96.5%
• Demo to hone your skills
• Medium-high variance slot
• Lots of free spins
• Mystery symbols to maximise your winnings
• Unleashed multipliers
3. Gonzo's Quest Megaways
Powered by NetEnt and Red Tiger Gaming, Gonzo's Quest is a popular Megaways slot that you should try your hand in. It stands out as one of the most anticipated Megaways slots releases in history. The game has a lot of ways to win as well as substantial potential payouts. Besides the interactive design and play, gamers get access to cascading reels, unbreakable wilds, and the unique 'Earthquake feature'. The latter feature replaces all your least valuable symbols with high-money raking values. It is an excellent shot for beginners and experienced gamblers.
Features
• RTP of 95.77%
• Free spins and scatter symbols
• Gamblers can maximise the 'Free fall' feature
• Exciting avalanche feature
• Medium-high variance in the slot
• Over 21000 times your wager
4. Diamond Mine Megaways
Blueprint Gaming is a huge stakeholder in these Megaways Slots. Diamond Mine Megaways is its other title with six reels, a mining theme set against a mineshaft backdrop, and an RTP of 96.43%. Besides the exciting gameplay, gamblers also get over 117640 ways to win with this Megaways variation. Its biggest highlights include cascading reels, mystery transformation symbols, free spins, and an expanding multiplier. Every time you land a cascade win, your multiplier increases. With over 10,000 times your stake win, this game is a popular option for Megaways beginners.
Features
• RTP of 96.43%
• The game is volatile
• Stakes as low as 20p per spin
• Win over 10,000 times your wager
• 3/4 sacks of gold scatter symbols
• Unlimited free spins 5. Extra Chilli Megaways
Extra Chilli Megaways is a fun and exciting slot by Big Time Gaming. With six reels and two to seven rows, the game gives you over 117600 ways to win. The game came after Bonanza, which was Big Time's first and most famous title. The game comes with a Mexican theme with chillies and hot peppers, and fireworks to symbolise the Mexican Day of the Dead. Unlike other titles, Extra Chilli Megaways is a high-volatile slot game that gives you a chance to enjoy feature symbols that you can quickly understand.
Features
• RTP of 96.19%
• Maximum win of over 20,000 times your wager
• Buy bonus feature
Tips to Play Megaways Slots
Understanding the Platforms
Megaways slots accept online deposits and are compatible with popular platforms such as Android, iOS and Facebook. Other casino sites accept one or two of these platforms, but some allow you to use all three. Know what works best for you and your selected platform.
Know all your Megaways Symbols
The symbols in Megaways slots are a mix of high-value fruits and Megaways logos. In most cases, the high-end prizes are usually 2,000 times your original bet, while some highly volatile games go as high as 50,000 times your bet. Before you can play, learn the symbols and know your estimated payouts.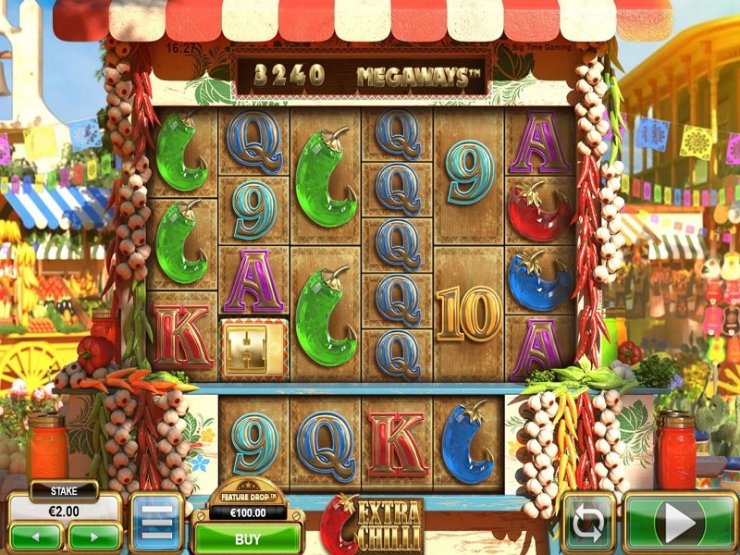 Know the Winning Combination and Payout Table
While Megaways slots are known for their volatility, there is one thing that can help you keep a tab on what to expect; the payout table. Whenever you see a Megaways slot game, it would usually show you the payout table on one of the pages. The winning combination is usually shown on the paytable, along with the corresponding win amounts and odds.
Understand the RTP (Return to Player)
Players sometimes miss out on good slots because they can't find any reliable information about how much money they stand to get back after playing it. One way to know that is to check out the return to player (RTP) percentage, which can be found on most payout tables.
Conclusion
While there are many Megaways Slots in the market, we have only featured the top five that we feel beginners have a shot at. It is crucial to choose a game that you know and feel comfortable with. As you select, ensure you try out as many variations of the Megaways slots before settling for one. Besides maximising your fun, it also guarantees you better gameplay in the end. Have fun.
>>> Visit GuruGamer.com for more gaming information!