Garena Free Fire has established itself as one of the most prestigious names in the mobile Battle Royale genre. The game offers exciting gameplay as well as an extensive collection of cosmetics for players to enjoy. Some of them are exclusive rewards that only available in the Elite Pass. Garena introduces a new one every month, refreshing its prizes. Now that Free Fire Next Elite Pass January 2021 is here, we can't help but wonder what comes next in February. But, before we jump into all that, let's get to know this micro-transaction system a little bit more!
What is an Elite Pass in Free Fire?
Basically, an Elite Pass is the Free Fire's version of a Battle Pass. It's a tier-based system that rewards players upon reaching a certain level, also known as Badge. Players level up their Badges by completing missions to unlock new items. The rewards may include character bundles, emotes, weapon skins, and consumables. Each Elite Pass lasts for a month only, which means Garena replaces them every month.
Elite Pass Price in Free Fire
The Elite Pass is not free. All players have access to the Normal Pass, which offers rewards of lower grades. To unlock the Elite Pass, players must purchase it with Diamonds or subscribe to the Free Fire Seasonal Passes. Another option is to order the Pass in advance for extra rewards. There are two price points for the Elite Pass in Free Fire:
Elite Pass: the Pass alone - 499 Diamonds
Elite Bundle: Get the Pass + exclusive bundles and other items instantly + additional 50 Badges Or Pre-order Elite Pass - 999 Diamonds
Free Fire Next Elite Pass January 2021 Rewards
As we celebrate the new year of 2021, Garena also introduces a brand new Elite Pass for January 2021. It's the Season 32 Elite Pass, taking the theme of Specter Squad. The main color scheme of the Pass is a gradient purple, with a dash of pink. Here are the notable rewards of the Free Fire Elite Pass 2021 January.
Specter Heart Grenade (Exclusive Pre-order Reward)
Only players who pre-order the pass can get access to this exclusive hand grenade skin.
Specter Squad Bike - 0 Badge Ghost Basher - 10 Badges
The Elite Pass Season 32 includes a Ghost Basher Bat skin. It has a simple design with no animation. Specter Raider Female Bundle - 50 Badges
Players can unlock the Specter Raider Female Bundle at Badge level 50, or get it instantly by purchasing the Elite Bundle purchase (999 Diamonds) or pre-ordering the Season 32 Elite Pass. It has a subtle animation on the jacket with a purple aura, as well as a flaming gradient green hairstyle.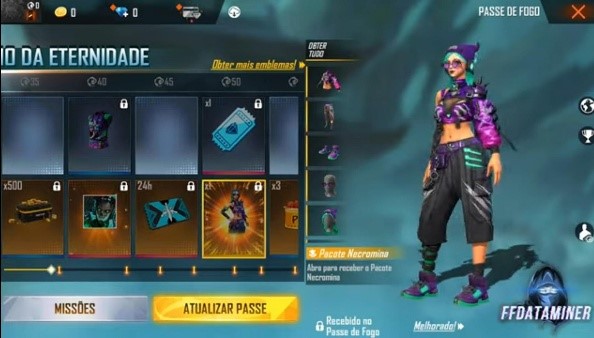 Thompson - Specter Squad - 80 Badges
Each Elite Pass comes with an exclusive weapon skin. In Season 32, it is the Thompson. Players can claim the Thompson - Specter Squad at 80 Badges. Surfboard - Specter Squad - 100 Badges Grenade - Specter Mischief - 125 Badges Ghost Gamer Lootbox - 150 Badges Evolution Stone - 180 Badges Ghost Trapper Backpack Skin - 200 Badges
As usual, the Season 32 Elite Pass also introduces a new evolution backpack skin. Reach Badge level 200 to unlock this backpack. Specter Basher Male Bundle (Grand Prize) - 225 Badges
Well, this is perhaps the reason many buy the Elite Pass for. The Specter Basher Male Bundle features blue flame animation on the head, along with a cool-looking mine design on the jacket. It also emits a purple aura. Players can unlock this bundle at level 225 Badge. Elite Pass Exclusive Chest - 250 Badges
After reaching Badge level 250 in the Season 32 Elite Pass, players will unlock the final reward - an exclusive chest. It guarantees a Magic Cube as well as several other legendary aesthetic items. Here's a guide on how to complete Free Fire Next Elite Pass January 2021 in Tamil:
Free Fire Elite Pass Season 33 - February 2021
Though the Season 32 Elite Pass has just begun, we already have a glimpse into what may be coming next in February 2021. From the look of it, it seems like the Season 33 Elite Pass will take on a bit of Chinese influence. There are leaks all over YouTube right now, check it out for yourself here:
That's everything you need to know about Free Fire Next Elite Pass January 2021. Fans of anything spooky should not skip this cool-looking Specter Squad Pass. Though we haven't quite catch the exact name of the following Elite Pass, aka Season 33, it really looks promising. With all the jewelry and traditional style clothing items, it will be hard to miss! Follow our website at GuruGamer.com for the latest update regarding Free Fire and more!