The next Season 32 Elite Pass will hit the Free Fire live server in January 2021. From the look of it, this Elite Pass takes on a spooky and funky appearance, with the main color scheme being purple and pink. Let's learn more about the upcoming pass below!
New Bundles
Male Bundle
The male bundle of the Elite Pass will follow the theme of Ghostbuster. Players will unlock blue flame animation on the head, along with mine animation on the jacket, and purple aura. This bundle is the reward for completing the Elite Pass at 225 badges. Female Bundle
The main female bundle will be of the Ghost Killer theme. You can easily notice subtle animation on the jacket portion (the purple aura) and a flaming hairstyle. To obtain this bundle, players must complete 50 badges of the Elite Pass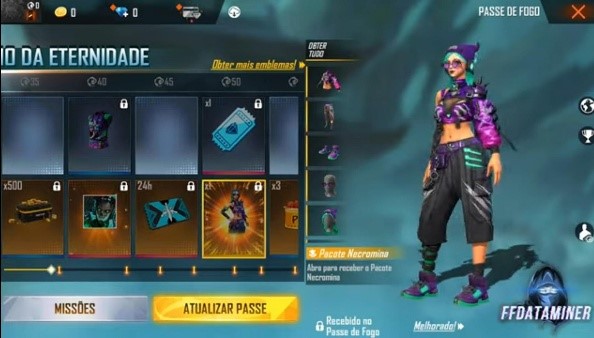 New Backpack Skin
Level 1
The backpack skin from the Elite Pass will include 3 forms as usual. In the first form, it features a simple design that resembles a tank and a glowing green circle in the center. Get to level 200 Badges to obtain this backpack skin. Level 2
In the second form, the backpack looks bigger with a black border surrounds the two gas tanks. However, it will still feature no animation in this stage. Level 3
In the final form, there will be a digital themed animation that displays a ghost and a chimney with black smoke coming out.
Exclusive Weapon Skin
The new Elite Pass will bring an exclusive Thompson skin. It comes like a rare or pink background gun skin. This skin shares the same theme as Chrono or Ghostbuster. You can claim this skin after completing 80 Badges. Bat and Grenade Skins
Bat Skin: The Elite Pass Season 32 will introduce a Ghost Hunter bat. This skin features a simple design with no animation to aid its color and design. Players can claim this melee skin claim at 10 Badges. Grenade Skins (125 Badges) Exclusive Ghost Finder Death Box (150 Badges)