The new nation Inazuma is highly awaited. It will arrive with many new features, land, and quests. Check out the Genshin Impact Inazuma release date and all details of the new map here.
Genshin Impact Inazuma Map Release Date
Inazuma is the new content in the upcoming month, but it will be a part of Genshin Impact 1.6. or patch 1.7. Because Genshin Impact 1.6 Inazuma release date is set for July 21, 2021, it's about the end of the current update.
We also welcome the next update 1.7 on around July 20th to 25th, 2021. It means that you will have over three weeks left to learn about Inazuma and get prepared for your adventure in this new nation. All Leaks About Genshin Impact Inazuma
The map and many details of the new Electro nation have been leaked before the official release date. It made a lot of players excited and highly awaiting. Check out all the latest leaked details of Inazuma in Genshin Impact here.
#1. Map & Locations
The official map of this new nation has not released by MiHoYo yet. However, you can check it out on Genshin Impact's interactive map - the third-party map tool of this game. According to the leaked map of Inazuma, this island nation is located far in the southwest of Liyue harbor. You cannot create an ice bridge, swim, or glide to reach this nation. Moreover, it contains three big islands and many small islets around.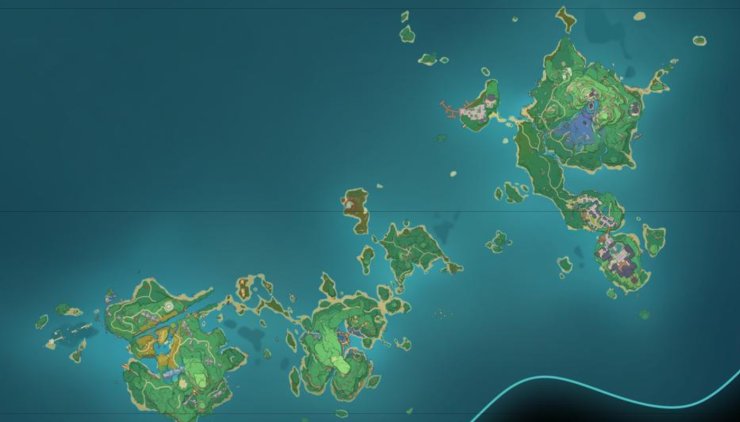 The central city of Inazuma is likely to be placed on the east-most island. According to some leakers, it's only a part of the full Inazuma nation. This map can be expanded to the south. Like Mondstadt and Liyue, this country will have three Statues of Seven on the three largest islands and many Teleport Waypoints scattered around the country. #2. Concept
This Electro nation is inspired by Japan because the outfits of NPCs look like Japanese Kimono. Besides, many leaked images of Inazuma city also revealed the Japanese architectures, such as towers, houses, bridges, paths, etc. Besides, the name Inazuma in Japanese means Lightning which hints that it's an Electro nation in Teyvat. #3. Geography
The latest Genshin Impact Inazuma nation is designed based on Japan, so, all regions in Inazuma resemble the real world in the Land of the Rising Sun. According to Princess Ayaka of House Kamisato, Inazuma will be a snowy island. She is also an upcoming playable character in patch 1.7. Besides, it will have a blue forest or something like that which may resemble large bamboo forests you have seen on TV. #4. Government
Princess Ayaka also revealed that the government of Inazuma will resemble the Tokugawa shogunate government of Japan. It will include many noble families and Shogun. Her House Kamisato is one of those noble families in this country. In addition, the Electro Archon Baal is the leader of Inazuma. However, as she was not one of the seven archons getting victories in the Archon War, she didn't have the Vision like other Archons. Instead, Kazuha from a descending samurai nation got it by accident. Then, he became the target of Baal's Vision Hunt Decree. Then, this free samurai fled from Inazuma with the help of Beidou. #5. Areas
Inazuma has a lot of areas and sub-areas. Here are all the names of those islands:
Yashiori Island: It's introduced as the giant skeleton of a huge snake. This island has a lot of evils.
Watatsumi Island: This is a dense green forest with a lot of plants and trees. It also has a distinct color from other islands in Inazuma. Tsurumi Island: This mysterious island is covered in fog. No one has explored this secret land for many years.
Seirai Island: An eternal storm destroyed the center of this island. Natural disasters are very normal on Seirai Island.
Narukami Island: It seems to be the most peaceful and beautiful island in Inazuma. The city of Inazuma, Grand Narukami Shrine, and Sacred Sakura on the mountain are on this island. Kannazuka: There is no information about this region.
#6. Sub-areas
Like Liyue and Mondstadt, this nation also has a lot of sub-areas with many NPCs who will give you quests. Let's explore some significant subareas before the Genshin Impact Inazuma's release date here.
Tatarasuna in Kannazuka is a stunning mountain with a colorful flower layer. Mikage Furnace in Tatarasuna, Kannazuka is the biggest smelting facility in this country which is surrounded by jagged, rocky terrain.
Inazuma City on the coast of Narukami Island is home to the Tenshukaku.
Tenshukaku in Inazuma City is the house of the country leader. Therefore, it's also the highest point in this city which has a large view over Inazuma. Grand Narukami Shrine on the summit of Mt. Yougou on Narukami Island lies on a beautiful cherry blossom garden. It's the biggest shrine in this nation.
There are many other sub-areas that you will explore later.
#7. New Characters & New Bosses
In addition, this nation also comes with many new characters, such as Kaedehara Kazuha, Kamisato Ayaka, Sayu, and Yoimiya. Those characters will definitely arrive in the upcoming time. Besides, many other characters haven't been confirmed, such as Yoimiya, Kujou Sara, Gorou, Scaramouche, Yae Sakura, Ayato, and Ako Domeki. Those are all leaks about Inazuma as well as the Genshin Impact Inazuma release date you need to know. Stay tuned and wait to explore this land.
>>> Also Read: Genshin Impact Inazuma - 9 Things About The New Nation Of Electro Archon