There are many apps for headshot hack Free Fire 2020 that a lot of players are using to cheat in this game. You can also learn some tips and safe tricks to kill enemies with a headshot safely without hack here. Check it out with Gurugamer.com.
Hack Free Fire Headshot Hack App 2020 Download
Free Fire players can find a lot of hack applications on the internet that have auto-aim or headshot advantage. Free Fire MOD APK v1.56.1 is the most popular and reliable hack app that is widely used. This is also the latest version of the Free Fire MOD APK hack app franchise with the newest content and features.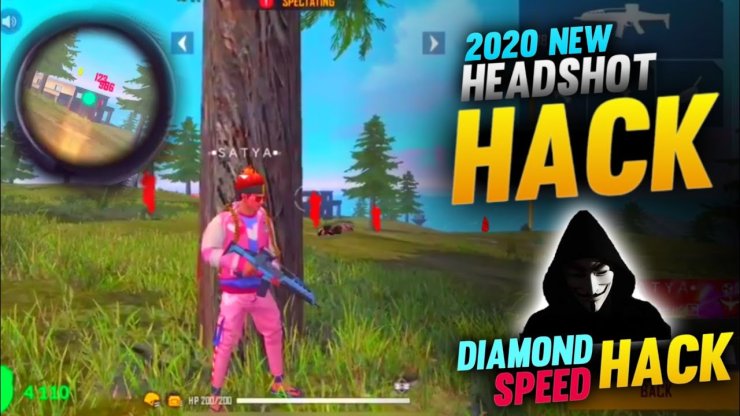 Hack Features
Ghost mode: You will appear to take the enemies down easily like a ghost and the victims cannot see you. That's why this feature is called the Ghost mode.
Unlimited diamond: Cheaters don't need to top up diamonds but still the unlimited diamonds for free. Then, you can use these diamonds to unlock characters, skins, costumes, and more spins. No recoil: When you activate this feature, you will no longer have to deal with gun recoil. It helps cheaters shoot with higher accuracy with zero recoils.
Auto-aim: If the no recoil feature makes your aim stable, the auto-aim or aimbot feature helps you take the target down with a headshot exactly without accurate aiming. No scope shaking: The scope shaking problem is also removed in this mod version.
Wallhack: It removes all obstacles, such as house walls, rocks, and trees in this game. Then, cheaters can spot opponents and shoot them down through walls. It's very annoying because players cannot hide to avoid bullets and fire back.
Control grass, trees, and fog: You will play the game as a game developer when you can remove the fog, trees, and grass to spot enemies.
Other hack features: There are many other hack features in the hack menu, such as flying vehicles, speed hack, ESP, night mode, and shorter reload duration.
Hack Free Fire Headshot Hack 2020 App Download
Download the APK file of this hack app and the data file. Then, go to the security setting and agree to allow All Unknown Source. Next, you need to move the OBB file of Free Fire MOD APK to the OBB folder in the Android folder in the file manager section. After that, you can install this hack app on your Android device. Then, you can go to Free Fire Auto headshot setting 2020 hack to activate the headshot feature and use it during playing this game. When you open the Free Fire headshot hack app, you will see the hack menu which lists all hack features of this hack app. Choose the features to activate and use to get unfair advantages.
Pro Headshot Tips Without Headshot Hack Free Fire 2020
Although it's easy to use a hack app to headshot and win, you may get banned when using hack tools. Therefore, you should use safe and legal tips and tricks to kill enemies with headshots instead of using hack apps. Best headshot setting
Free Fire offers a feature of aim precision in the Control setting to help you aim precisely. In this section, choose the option "Precise on scope" for headshot aiming with scope in. Besides, increase the sensitivity setting of the camera, red dot, and 2x scope to 100%. Then, you should leave the sensitivity of 4x scope and AWM scope at 0%. Have the best character skill combo for headshots
You can use a good character skill combo to aim and shoot accurately. With the best combo and enough practice, you can easily take the target down with a headshot. Garena Free Fire's character list includes some characters with good aiming and shooting abilities. For example, the sniping combo includes Sharpshooter of Laura, Drop the Beat of Alok, Hacker's Eye of Moco, and Armor Specialist of Andrew. With this skill combo, the precision of your aim increases significantly. Moreover, you can still aim and shoot the target hiding behind the Gloo wall with the powerful sniper rifle M82B thanks to the Hacker's Eye ability of Moco.
Choose proper weapons and gun skins to increase the accuracy
To kill enemies with headshots, you also need proper weapons for different ranges of combats. For example, shotguns and sniper rifles are the best choices for one short one kill and headshot kill in this game thanks to the huge damage per hit. M82B is a great choice for snipers to make headshots. Besides, this game introduces many gun skins to increase the accuracy of the weapons. It helps you increase the chance of accurate headshot in Free Fire. For example, the Black Widow skin helps increase the accuracy of Famas. Tropical Parrot will make the powerful shotgun M1887 more accurate. If you are a sniper, you can equip the Swallowtail skin for AWM to increase the rate of fire for a deadly headshot with this rare SR.
Those are things you need to know about Free fire hack headshot app and some tips to headshot without hack tools. To update the latest Free Fire game news as well as more tips and tricks for gamers, let's visit our website.