Everyone must have been already really familiar with the famous MOBA game League of Legends from Riot Games. It was released in 2009 based on the legendary mod Defense of the Ancients in Warcraft 3. With fairly simple gameplay and friendly graphics, the game blew up quickly and became one of the biggest esports in the world until now. But not until recently, Riot announced the mobile version for this title. Here is everything you need to know about it, gameplay, League of Legends Mobile release date, platform,...
League Of Legends Mobile Overview
League of Legends mobile's name is League of Legends: Wild Rift. According to the gameplay in many videos of YouTubers who got to test out the League of Legends mobile beta,  the gameplay of League of Legends: Wild Rift will be almost exactly the same as League of Legends on PC with same champions, same skills, same maps, mechanics. With this, players can perform outstanding plays and make unbelievable moves to outplay opponents just like on League of Legends on Pc.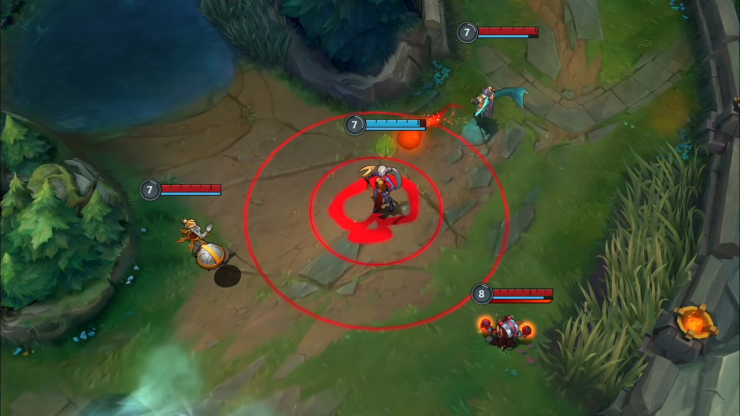 The only major difference is that you are playing the game on a mobile phone instead of a PC. You can check out the trailer of League of Legend: Wild Rift below.
About League of Legends
If you haven't played League of Legends ever, then here a quick break down of how things work in the game. The main objective of the game is to destroy the Nexus of your opponent first. And in order to do that, you are going to need to understand about champions in League of Legends.
Each game will have 10 players divided into 2 teams fo 5 players. There is a wide choice of champions in League of Legends, each with their own unique abilities, role, strengths, and weaknesses. Each player will control 1 champion of their choice to play the game. The game has 3 lanes and the jungle area. Normally, your team will consist of 1 player on top lane, 2 players on bot lane, 1 player on mid lane, and 1 player in the jungle. Each lane will have towers of both teams that players need to destroy to reach the Nexus. Minions will spawn on each lance every 30 seconds. You can kill enemies minions to get golds and make use of your minions to push towers. There are boss monsters appear on the map that could give you buffs to make your team stronger. There are a lot of ways to win the game with all kinds of champions combinations. You can win by overwhelming your opponent with kills, gold, level, or you can avoid them and focus on destroying their buildings. The possibility is endless and that is why the game is fun and addictive.
The game is also very friendly to new players with the level system and a smooth learning curve. There are also several other different game modes in League of Legends for players to have fun in different ways with their favorite champions such as ARAM or Teamfight Tactics.
Possible changes in the mobile version
As mobile games are meant to be played during small breaks to kill time, they need to have short matches. Meanwhile, each League of Legends match last on average about 35 minutes,  too long for a mobile game. Furthermore, there are many skills of champions in League of Legends might be too overpower or not suitable for the control scheme on mobile devices. So the mobile version of League of Legends will have some major changes to solve these problems:
Less building in the main base: There will be no Inhibitors and 2 Nexus towers. The Nexus will be able to deal damage instead.
There will be much fewer champions in the pool: There are currently 148 champions in League of Legends, but League of Legends: Wild Rift will only have around 50 champions.
There will be no chat function: No more toxic words from your teammates and your opponents.
Some heroes will have minor changes in their skills. For example, you can active Vayne passive to increase her attack speed for a while. Miss Fortune Q will be changed into a skill shot skill. Some of these adjustments might be changed when the League Of Legends Mobile release date is announced.
League Of Legends Mobile Release Date
Initially, Riot Games planned to have LoL Mobile release date in early 2020. However, the year 2020 started off with a global crisis which is the coronavirus outbreak, causing the development of the game to withheld.
In one of the latest videos of the developer about League of Legends: Wild Rift, they reveal that the development of the game is still in process and Riot Games hasn't made any official announcement yet so the game might not come out later this year. We will have to wait until 2021 to try out this title. As for the League of Legends Mobile release date in India, it might be the same date as the League Of Legends Mobile release date international. The game is expected to be released on Android, iOS, consoles for free. The developers are also looking into the ability for cross-platform. Of course, there will be in-game transactions in League of Legend: Wild Rift, which might be for buying skins, champions,... just like League of Legends.