My Talking Tom 2 Game Play online will blow your mind right away. This funny game will be a nice choice for a boring and lazy day. My Talking Tom is the sequel of interesting mobile game My Talking Tom. These casual games are produced and launched by Outfit7. Here are things you need to know about My Talking Tom Game Play online free here with Gurugamer.com.
About My Talking Tom 2 Game Play Online
My Talking Tom 2 is the sequel of the popular casual mobile game My Talking Tom introduced by Outfit7. This mobile game lets you play alone or connect with friends from other countries in the world. Moreover, like the prequel of My Talking Tom franchise, there are many minigames for players to play and enjoy this game with more fun. Moreover, the Outfit7 team also added many new features to this game to make it unique and enjoyable. In My Talking Tom 2, you will have more fun with many new toys and pets of Tom. Despite many additions and new features, this game is not as large as the prequel My Talking Tom in size. This game is available to download and play on iOS and Android mobile phones. You can interact with your cat by tapping, holding, wiping the phone screen. With My Talking Tom 2 online game, you can raise your cat and play with him after long stressful days.
My Talking Tom 2 Game Play Online Features
My Talking Tom online play has some old and new features in comparison with the sequel My Talking Tom. There are five mains tasks you need to fulfill to take care of Tom in My Talking Tom 2. When your cat levels up, he also grows up in size. Moreover, you can unlock many interesting features to enjoy in this game.
Taking Care Of Tom
To take care of your cat and bring him up, you need to feed Tom with foods in the shop or winning in the minigames. You can buy the food with coins or blue stars, two main currencies in this game. You can also watch videos to get free food. However, make sure that your phones have a good internet connection to watch the advertisement. To go to the shop and buy foods, you tap on the refrigerator behind Tom.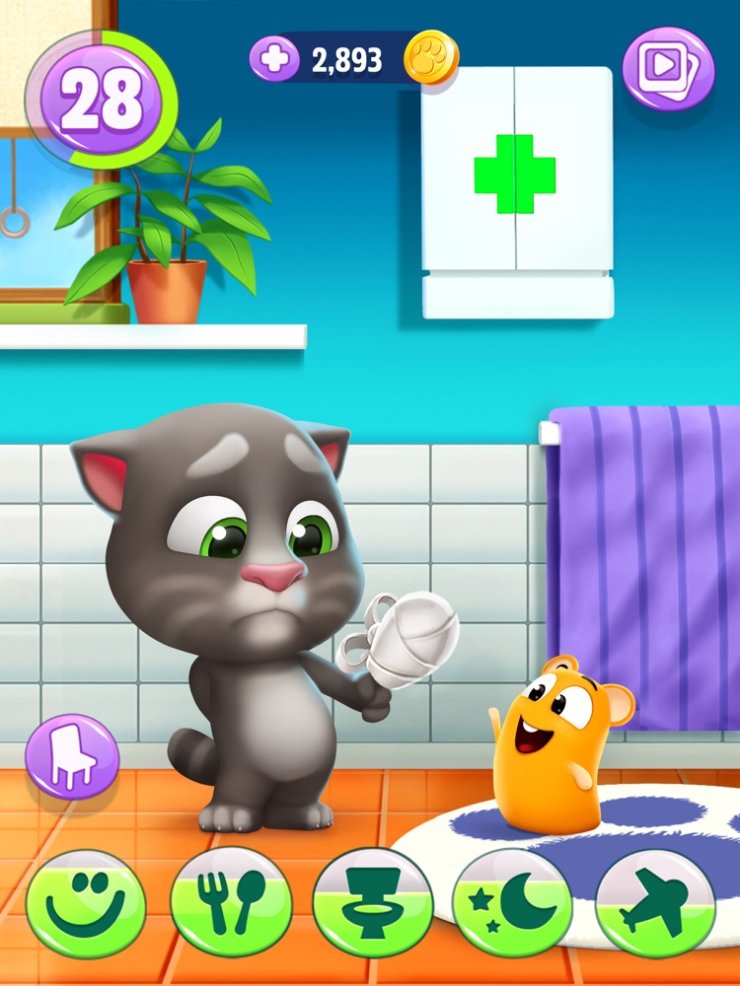 There are a lot of fruits, cakes, sweets, ice-cream, and also magic drinks. Unlike the previous game, this game lets you make the juices or smoothies for your cat with a blender in the kitchen. You can make a lot of drinks without having to buy juices in the shop.
Entertain Your Tom
Next, in My Talking Tom 2 Game Play online, you also let Tom go to the toilet or play with him to make Tom happy. Besides, you also let him go to bed when Tom feels asleep like in My Talking Tom. Another feature in this game is taking journeys to collect rewards. You can get coins, blue stars, household items, and foods. In addition, there is a new feature of the first-aid box in the toilet. When your Tom gets sick or tired, you open the first-aid box and take the right medicine for him until the health bar gets full. When the percentage of these features gets low and the buttons turn red, you need to do missions to fulfill it. For example, when Tom feels asleep, you need to let him go to bed, turn off the light and wait until the percentage of this feature reaches 100%. Or else, you can buy the magic drink to wake him up. When your Tom gets upset, you play the minigames with him or just stroke Tom to entertain him.
New Toys And Pets
The Outfit7 team also added many new pets and toys to play with Tom in this game. They are Sugar, Flip, Gus, Dot, and Squeak. You can choose a pet to accompany Tom. Squeak is the only free pet in My Talking Tom 2 Game Play online. You need to collect and spend blue stars to unlock other pets. In addition, there are many fun games for these pets to play and collect flight tickets, such as playing with music, rocket, hairstylist, etc.
In the front yard, you find a toy box of Tom. Then, you can find a lot of games to play and entertain him by tapping on that box, such as basketball, boxing, jumping, etc. The minigames are available to play with the game console on the left of the phone screen.
Outfits and Decorations
You can change the design and decoration of each room in the house by tapping on the chair icon above the Happiness Indication. There are many options for the decoration, paints, and designs of furniture, floor, walls, and also background, etc. However, these changes also cost you coins or blue stars.
Besides, My Talking Tom 2 Online Play also allows you to change the outfits of your cat. There are five outfit items you can choose to equip, including hats, the color of eyes, glasses, suits, and the color of Tom's fur. Moreover, in the clothes room, you can take a photo of your Tom to share on social media.
These are things you need to know about My Talking Tom 2 Game Play online. This relaxing casual game is easy to download and play. You will definitely have the most enjoyable time with your cat and see him grow up days by days. To update the latest mobile game news of My Talking Tom 2 as well as more tips, tricks, and reviews for gamers, let's visit our website.