PUBG mobile has been a roaring success during the last few years. The mobile version of the renowned battle royale has soared in popularity thanks to its frequent updates and a diversity of unique options. One of the most notable features will probably be the option that enables players to change characters' names and customize their in-game appearances.
Knowing that players constantly seek for innovation, PUBG mobile' devs have integrated multiple options to meet their customers' demand. In royle battle, it's understandable that players get bored of their nicknames and their in-game appearances after a while. However, it's not the case with PUBG mobile as it has solutions for this problem. With options provided by PUBG mobile, Players are able to decide their characters' name appearance by customizing features as please.
If you ever start to find the game monotonous, remember that you can always breath a life into your character. Follow these steps to change your in-game name and your appearance:
Disclaimer: only default characters are available for appearance customization. You can not personalize other characters. Change character name in PUBG Mobile
Having an interesting, eye-catching name is definitely an upside when engaging in a royale battle match. It's undeniable that in-game names play a fundamental role since top players' names will be featured and names will also appear on the left side of the screen with every kill. Therefore, a cool name will help players stand out and make a certain impression on other players.
In case you are no longer keen on your nickname, you should change it. Here is how:
1. Get a rename card
So the game actually gives you a free rename card upon reaching level 10 and completing all the progress missions. However, you can go to the shop to purchase your rename card if you don't have the free one. First thing you need to do is go to the Treasure Crate, where you will see the rename card. In order to purchase it, you will need 189 UCs. 2, Use the card
After buying it, go to the Inventory where the card is stored. Select the Rename card and you will see a pop-up name box.
3. Enter your new name
Now you just need to enter a brand-new name and select ok to finish. Your name will change immediately after you click "ok". Also remember that you can only change it one time per day.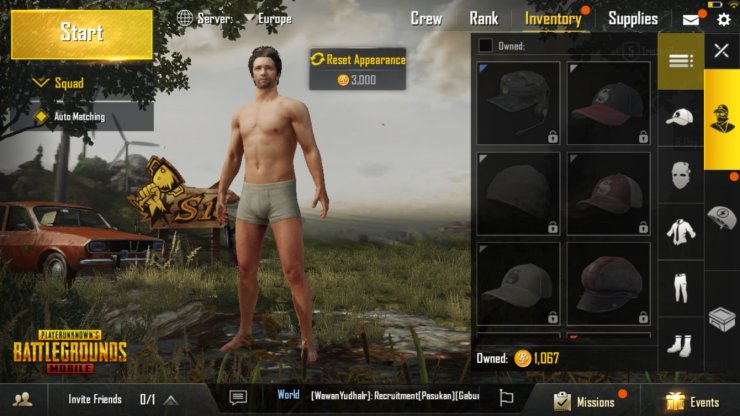 Change PUBG Mobile character appearance
Make sure you are playing with a default character. To be able to customize your character, first and foremost, you need to change it to default character.
1. Find Appearance sector
To change your characters appearance, also go to the Inventory. Here, you will find the appearance button on the left side of the screen. Tap in.
2. Customize your character as you wish
After choosing the appearance button, the appearance room will appear. This is where you discover various available option to change its gender, face, hairstyle and skin colour. For changing face and gender, you will need 1000 gold coins.
3. Finish and confirm your final look
When you are satisfied with your in-game look, it's time to select "OK". In exchange for the customization, you will need to let go some of your battle points. The amount of your battle points spent for the customization depends on the changes that you make.
With an amazing sensitivity to players' needs, Tencent manages to not only secure long-time players but also attract new ones. It seems like frequent updates and introduction of new features are doing great.