Dear fans of PUBG Mobile, your favorite battle royale game actually houses a slew of powerful weapons, but have you wondered which ones are designed to wreak damage on your enemies the most? We've stuck around such guns for quite a while, and here're top 5 weapons with the highest damage in PUBG Mobile so far.
1. AWM Sniper Rifle
Damage: 105 hit points The AWM is always a nightmare for everyone in several shooting games. In PUBG Mobile, this sniper rifle also makes a player unstoppable once he gets it on hand. With only one single shot, the gun can kill an unlucky roamer in a matter of seconds or take a headshot from long-range distances, even when he's equipped with a level-3 helmet. This lethal gun is only available in airdrops, so don't hesitate to push your luck with it!
2. Crossbow
Damage: 105 hit points Having the same damage as AWM in PUBG Mobile, Crossbow casts a deadly threat on all players due to its high damage, which can result in 105 hit points per bullet. Please keep yourself away from this gun to safeguard your own life because your name will get listed on the board easily. On the downside, Crossbow is not an ideal choice as the process of reloading is quite slow, making it ineffective in close-range combat.
3. MK14
Damage: 61 hit points Let's put one-shot-one-kill guns aside. The third name in our list is MK14, which generates up to 61 hit points in one bullet. Not only does MK14 act as an Assault rifle but it can also be used as a fatal DMR. As voted by many players, MK14 is the most outstanding gun in close-range encounters because three to four bullets on target mean a farewell to your gameplay. Just be careful!
4. SLR
Damage: 58 hit points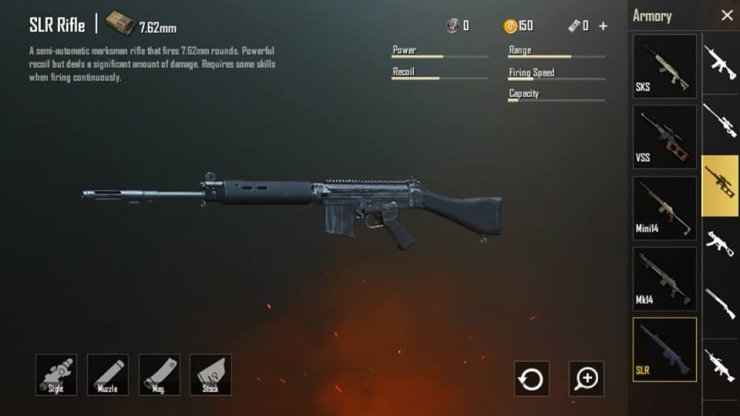 SLR is made available to all maps in PUBG Mobile, except for Sanhok. It's considered one of the most destructive DMRs you can find in the game thanks to a high damage of 58 hit points. However, you'll have to spend a lot of time mastering it – the high recoil appears to be a challenging obstacle for most gamers. If successful, you'll be able to take down anyone in combat with ease, especially when it comes to mid- and long-range gunfights.
5. Groza
Damage: 49 hit points Similar to MK14 and SLR, Groza also comes paired with robust 7.62 ammunition. This close-range assault rifle has much better performance if you combine it with an extended QuickDraw Mag and a suppressor. For your information, Groza is only found in airdrops.