Free Fire by Garena contains a great deal of in-game characters, weapons, outfits, customizations, skins, and much more. You can purchase these rewards directly from the shop or redeem them when completing Elite Pass missions. Regardless, every player needs diamonds to possess these items, and you can purchase diamonds themselves via the Diamond section of Free Fire. Some players even resort to using Free Fire diamond hack.
Garena allows you to get Free Fire free diamond occasionally, but it's not very convenient, and the amount you get is often very little compared to the time you invest in the game. The best way to get free diamonds is often just outright purchasing more of it.
However, the game's extra items tend to cost a lot of diamonds, and they can end up emptying your pockets pretty quickly. Which is why some players try to get around that by using Free Fire diamond hack. Not only are they illegal and leave you vulnerable to bans, but Garena also works hard at identifying cheaters and almost every cheater gets caught eventually.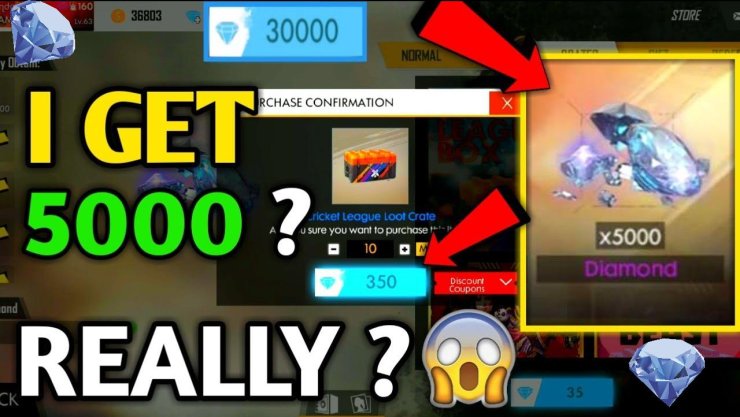 Instead of asking how to hack free fire diamond in India, you should be looking into some legitimate ways that can fetch you Free Fire free diamond. Here are the 5 most common ways of how to get free diamonds in Free Fire:
1/ Free Fire Diamond Hack: Getting a Weekly or Monthly membership
Topping up diamonds by purchasing them is one of the most expensive options. Therefore, you should instead get yourself a Weekly/Monthly membership and get the most bang for the buck. The weekly membership costs ₹159 while the monthly membership can be purchased by spending ₹599. By getting these memberships you will get access to more diamonds at highly affordable rates compared to direct purchases. Not to mention the in-game benefits diamonds can't buy like the S-VIP card. With a weekly membership, you will receive 60 diamonds daily and 420 diamonds in weekly total, while there are about 2000 diamonds available for free in a monthly membership.
>>> You might also like: Free Fire Unlocked Game: Guide On How To Unlock Free Fire In-Game Features
2/ Free Fire Diamond Hack: Doing online surveys
This is a great way to not only kill some time but earn some extra diamonds. Legitimate survey apps and sites like Google Opinion Rewards pay you real money and other rewards for filling in their surveys. In addition to money, these also offer Google PlayStore credits that you can use to buy diamonds or any in-game items like memberships that give you diamonds. The more online surveys you do in your free time, the more money you make. It's legal and secure, and better than trying to get a Free Fire hack for diamonds.
3/ Free Fire Diamond Hack: Downloading a few new apps
Like the online survey apps above, apps and sites like GrabPoints also give you extra PlayStore Credits, but for installing new apps instead of answering surveys. Simply visit and download different apps and use them for a certain task. The PlayStore credits should transfer to your account once you are done. Then of course you use the credits to purchase what you need in Free Fire, including diamonds.
4/ Free Fire Diamond Hack: Free Fire in-game events
There are frequent events that offer Free Fire free diamond or give some exclusive discounts to buy them. A player should keep checking the latest in-game event to save some money if they plan on buying diamonds. There are events called 100% Bonus Diamond top-up event that can give you a buy one get one discount. The previous top-up event back in April could net you an extra 500 diamonds for making your diamond purchase. Combine this with doing surveys and installing apps and you could get free diamonds that way.
5/ Free Fire Diamond Hack: Free Google Play credits
Google Play Store can occasionally give their users free Google Play credits to encourage making purchases. You can use the extra credits to purchase diamonds in Free Fire no problems. The way in which Play Store gives out free credits is random and you can't redeem them in any other way. Whatever you want to do, using Free Fire diamond hacks, cheats or any other illegal option would eventually lead to a ban. And besides, Free Fire would get boring very quickly with cheating.
What is the Best Free Fire Diamond Hack?
If you are a big Free Fire fan and want to spend lots of time on it, but also want lots of diamonds, the best option that doesn't involve Free Fire hack diamond is getting a membership. If you don't feel like that many diamonds, you can purchase weekly memberships whenever you need them. And if you like to spend more diamonds to get more diamonds, you should invest in a monthly membership. It costs slightly less than four weekly memberships put together, in addition to other perks and even a 30-day skin you can get.
The best method to get free diamonds as much as possible is to purchase both. That will cost you roughly Rs 1250 each month and S-VIP premium membership. By doing this, you are getting around 3,500 diamonds in a month, which is a lot less than spending money to buy them at the store. It's also a good idea to keep an eye out on the 'Daily Special' tab in the store for discounted items. Hold off on purchasing your favorite items until you see them discounted. The best way to get Free Fire free diamond is knowing when and when not to spend diamonds.
If you are looking for more news, updates, guides, lists, etc. on gaming and entertainment like this Free Fire Diamond Hack article, visit our website at GuruGamer.com for more of what you need.