On some Hollywood movies and TV series where passionate and sensual moments are seen, the actresses look like they are enjoying every moment of intimacy on display. However, behind these scenes, many actresses had to suffer pressure and abuse to undress and/or be in s.e.x scenes that were far from pleasant.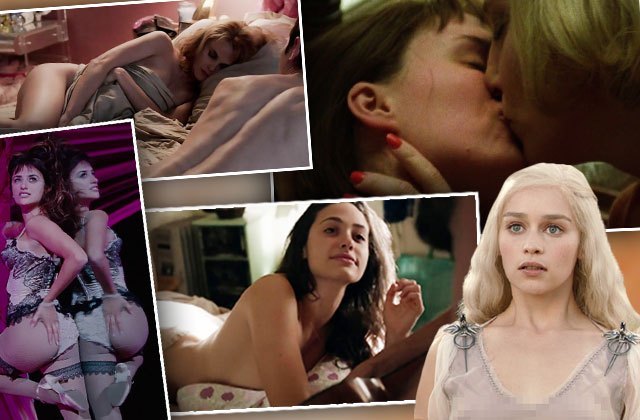 Thanks to movements like #MeToo, we are now finding out a little more about the abuses that exist in the Hollywood world. Above all, it is becoming very clear that actresses do not always agree to what the director orders as part of filming, especially when they have to do with s.e.xual scenes or scenes that have nudity.
Kim Basinger, who is now 66, experienced this situation firsthand during the filming of 9 1/2 Weeks (1986). To create the degree of tension that was needed between the characters John (Mickey Rourke) and Elizabeth (Basinger), director Adrian Lyne created enmity between the two actors.
According to the director, to create the sexual tension between the two, he made Rourke treat his costar badly and isolated Basinger at certain points in the shoot. The actress herself pointed out that during the filming she felt confused by the director's attitude and the work was so tough on her that it had an impact on her marriage. But this Hollywood star was not the only one who had to go through with swallowing the bitter pill of filming a nude or s.e.x scene under pressure, abuse, or discomfort. Here are 10 actresses who have been shaken by these experiences during their shoots:
10 Hollywood Actresses Who Filmed Nude and S.e.x Scenes But Despised Them
1. Kim Basinger in 9 1/2 Weeks (1986)
At the audition, Basinger had to act like a prostitute and left the scene crying, feeling humiliated. Later, when the director Adrian Lyne felt that a scene about a suicide pact was not being intense enough, he told Mickey Rourke that he should "break" his co-star.
The actor slapped Kim and when she began to cry, they began recording the dialogue. The moment was cut from the film in the final edit.
2. Maria Schneider in The Last Tango in Paris (1972)
In 2007, the actress revealed that the scene in which Marlon Brando's character rapes Jeanne, using butter as a lubricant to sodomize her, was not in the script and she was forced to film it.
The trauma was such that Maria Schneider developed a fear of butter, fell into addictions, never undressed in movies again, and tried to commit suicide several times before her death, at 58, from cancer.
3. Emilia Clarke in Game of Thrones
When she accepted the role of Daenerys Targaryen, Emilia Clarke knew there would be nudes involved in her character, but she had no idea there would be so many. While filming she felt insecure and would often go to the bathroom to cry before takes and return to film, until Jason Momoa (who played Khal Drogo) intervened.
According to Clarke, Jason realized that she was very uncomfortable and assured her that the way she was being pressured was not normal when filming. Often, Jason was the one who had to ask the production for robes to cover Emilia up on set, as she was shivering with cold.
4. Evangeline Lilly in Lost
In 2018, the actress confessed that she had been pressured to film a partially nude scene on Lost. "I felt had no choice in the matter," confessed Evangeline Lily, who said she cried when they finished filming. To get through the moment, she drank heavily and didn't sleep well.
5. Emma Stone in Easy A (2010)
In the movie, there is a scene where Emma Stone's character pretends to have sex. The tension was so great when filming that Emma had an asthma attack, something that had never happened to her before.
6. Vanessa Hudgens in Spring Breakers (2012)
During the filming of the movie, Vanessa Hudgens shared a nude scene alongside James Franco. The actress said that it "was very nerve-wracking" and that after filming it, she told her agent that she would never do something like that for a role again.
7. Kate Winslet
The seasoned Hollywood actress is not a fan of nude scenes. "You can literally be tangled in sheets and you turn to the other actor and say, 'What the f-ck are we doing?" The star said. "It's sort of unethical if you think about it in those terms." ​
8. Mila Kunis in Black Swan (2010)
Because Mila Kunis was already friends with Natalie Portman prior to filming, her experience with nudity in the film was "uncomfortable." "You're with 100-something crew members, lighting you, repositioning you. There's no comfort whatsoever," she claimed.
9. Dakota Johnson in Fifty Shades of Grey (2015)
Fifty Shades of Grey is known among Hollywood movies for its raunchy scenes, but for Dakota Johnson, her experience was just not "sensual or pleasurable." "On top of that, my hands and legs were tied, I was blindfolded and I was being hit with this bizarre tool [in Fifty Shades of Grey]. It was emotionally taxing," she said.
10. Salma Hayek in Frida (2002)
The actress wrote about how Harvey Weinstein harassed her on and off set. At a certain point, the producer refused to continue with the film if Salma Hayek did not agree to film a sex scene with another woman and demanded a full nude from the actress.
If you are looking for more news, updates, guides, lists, etc. on gaming and entertainment like this article, visit our website at GuruGamer.com for more of what you need.