Amongst the many gaming genres, JRPG is probably one of the oldest and most enduring. They usually focus on storytelling, with some of the best stories ever witnessed in the history of gaming. In this article, Gurugamer is going to showcase the top 7 best JRPGs of all time, based on Metacritic.
Table of Contents
1. Persona 5 Royal (95)
Overall, Persona 5 Royal (P5R) got all the basics of JRPGs right: from exciting with turn-based combat with lots of customizations to dungeons with a rich variety of challenges. Furthermore, it also succeeds at telling a modern thriller, with a realistic story and settings. P5R follows a group of teenagers that confront various social issues as the Phantom Thieves. Following a calendar year structure, you'll spend your days and weeks going to school, taking on classes, getting to know your fellow students and companions, and even developing a romantic relationship should you choose to. The excellent soundtrack alongside all the social sim aspects makes Persona 5 Royal's gameplay loop super refreshing. This plays a big role in boosting the game from just a good JRPG to a masterpiece.
2. Final Fantasy IX (94)
The last Final Fantasy for the original PlayStation, Final Fantasy IX returns to the pure fantasy roots that spawned the series. Every aspect of this Final Fantasy game is superb. The characters, the story, the abilities system, the game world and especially the art. The storyline is captivating, surprising you with unexpected plot twists that intertwine with each other flawlessly. Each character also has his/her own story which leads you to a deeper understanding of them and how they have come to be where they are during the game.
While there are people who complained about its gameplay, the slower pace of battles compared to previous entries is actually a good thing. It allows players to enjoy the game's beautiful world, story, charming characters and overall "fantasy" setting.
3. Chrono Cross (94)
Chrono Cross is an outstanding game and sequel to Chrono Trigger, which twisted the time-bending nature of its predecessor into daring new directions. The story follows a young man who must travel between two alternating realities (one in which he lived and the other where he died). This dimensional hopping adventure asked hard questions that relate to anyone and everyone in such a beautiful way. Sometimes, no matter how hard we try, what we really want will always be out of reach. It's good to see a game promoting realism and the unfair nature of life, while still maintaining being an enjoyable experience. This is why Chrono Cross is amongst the best JRPGs of all time.
4. Persona 4 Golden (93)
The reason that Persona 5 became such a good game is that it stands on the foundation that Persona 4 built. Persona 4 Golden's story revolves around a murder mystery, and a REALLY good one. The story as a whole is incredible, which offers an extremely good balance of slice of life things and seriousness. The best part of P4G is the cast. It has one of the best casts of main characters I have ever had the pleasure to see in a game. Your friends feel exactly like that: friends. Despite being fundamentally very different, every person in the group has such amazing chemistry with each other that everything involving the group feels… natural.
5. Final Fantasy XII (92)
Whilst previous Final Fantasy games were rather linear, Final Fantasy 12 lets you go exploring for yourself in a large open world. The game looks great, sounds great, has great writing, offers a lengthy and satisfying journey, has a great technical element and engaging sword-swinging and spell-slinging. It would be difficult to find a game out there with better production values, or that meets its goals so successfully while still introducing new ideas and innovations.
6. Chrono Trigger (92)
This classic '90s JPRGs still stands as one of the very best you can play today. Created by a supergroup of game developers, it showcases the talent of Hironobu Sakaguchi, creator of the Final Fantasy series; Yuji Horii, creator of the Dragon Quest series; and Akira Toriyama, who's most famously known for designing the characters in Dragon Quest and Dragon Ball. Following a story of time travel that unfolds across many different eras, there's plenty of humor and charm to be found in what becomes an unforgettable journey with real-time turn-based combat.
7. Xenoblade Chronicles (89)
Mechanically, Xenoblade Chronicles combines elements of various other JRPGs and streamlined them. This successful fusion is why it is considered one of the best JRPGs of all time. Wield a future-seeing blade, chain together attacks, and carefully position your party members in strategic, real-time combat as you journey across a massive world.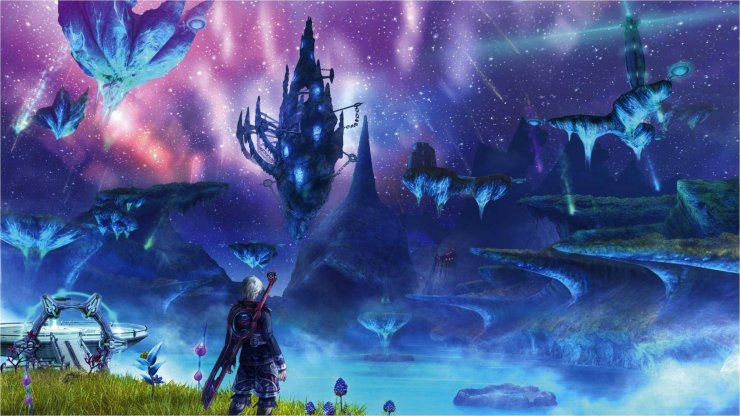 It has some of the best side quests of any RPG. With a day/night cycle that leaves players waiting to access certain areas and tonnes of enemies to slay with awesome abilities and powers, it's a brilliant adventure with hidden secrets everywhere.
>>> Read more: Top 8 New Upcoming PC Games 2022 - Details, Release Date, And More!