Grand Theft Auto: Vice City is an action-adventure game developed in 2002 by Rockstar North and made public by Rockstar Games. The game was revolutionary at the time of its release and since then has influenced various spin-offs. Grand Theft Auto Vice City in PC received an outstanding critical review, praising directly at its music, gameplay, and the open-world schemed design. If you're seeking a reminiscing feeling of the glorious GTA past, why not download the game to your personal computer and play? Stay tuned as we guide you through every step to Grand Theft Auto Vice City download for PC.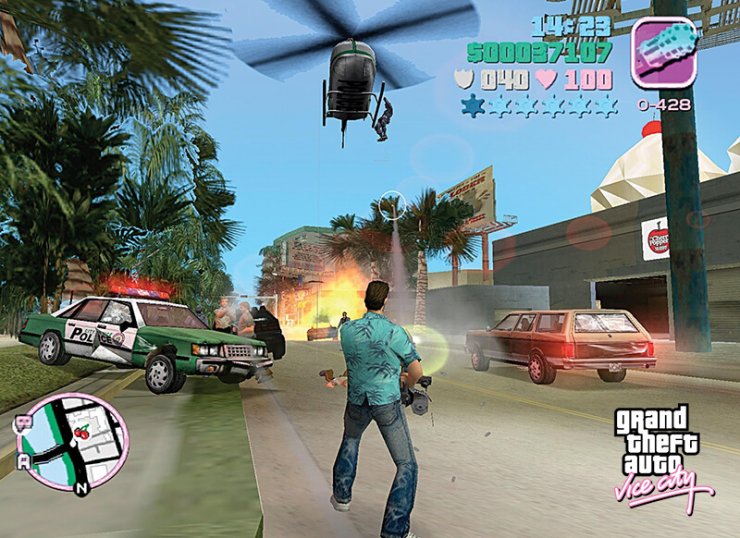 Grand Theft Auto Vice City In PC - One Of The Most Notable Titles Of The 6th Generation Of Video Games 
GTA Vice City was Rockstar's first entry after the release of GTA III in 2001. The game revolves around Tommy Vercetti, a mobster who has just got out of prison. After being set up for an ambushed drug deal, he ventures across the city, searching for those who are responsible as well as builds his own underground empire. Vice City was released in October 2002 for PlayStation 2, the Xbox version came a year later in October 2003 - 5 months after the PC ports dropped. GTA Vice City is played from the third-person perspective, much like other installments in the series. What makes the title unique is the open-world design - which allows players to roam around just about anywhere on foot or by vehicles. Critically Acclaimed for Revolutionary Gameplay and Design
It's based on the real story of the city of Miami, with Cubans, Haitians, bikers, and drug crime in the 1980s. Vice City was created with a vision of making it meet the inspirations and trends of that period in time. Such an idea had the development team conducted numerous intensive researches in Miami to design the "perfect" world.  Grand Theft Auto in PC was so successful that not only did it received numerous praises from critics, it also sparked debate over the controversy of the promotion of violence and inter-racial conflict. Despite all that,  the game still won the "Game of the Year" awards and sold over 1.75 crore copies to become the best-selling video game of 2002. This colossal revenue paved the way for the series' next installment - Grand Theft Auto: San Andreas in 2004 and its direct prequel - Vice City Stories in 2006. Grand Theft Auto Vice City In PC Download
If you're down to buy a fully licensed edition, Vice City is currently available on Steam for $10. However, in case you're in a tight budget, there's always an alternative. You can download the pirated version of Grand Theft Auto Vice City in PC from websites such as oceanofgames.com. They have a large collection of famous games including Vice City as well as other installments of the series that you can grab for free. Grand Theft Auto Vice City download for Windows 10 is also available. It's a trusty site since many people use its service. But if you're really, really, really into the thrilling journey to become the city's "Mob Lord", then pay some extra cash and get the licensed one. It will contribute to the developers and help them create more games in the future. Grand Theft Auto Vice City In PC System Requirements
Being a game that was released over 18 years ago, you're definitely not expecting any hefty computer requirements from this famous title. Of course, Vice City was revolutionary at the time of its release, but technology has come a long way since then. So don't be surprised if the graphic quality doesn't turn out as great as you remember it to be. A mod pack was developed by fans of the game, transforming it into a masterpiece just as beautiful and detailed as GTA V. Nevertheless, here are the specifications you need to play Grand Theft Auto Vice City in PC:
Minimum Requirements: 
Operating System: Microsoft® Windows® 2000/XP

Processor: 800 MHz Intel Pentium III or 800 MHz AMD Athlon or 1.2GHz Intel Celeron or 1.2 GHz AMD Duron

Memory: 128 MB of RAM

Hard Drive: 915 MB of free hard disk space

Graphics: 32 MB video card Recommended Requirements:
Operating System: Microsoft® Windows® 2000/XP

Processor: Intel Pentium IV or AMD Athlon XP

Memory: 256 MB of RAM

Hard Drive: 1.55 GB of free hard disk space

Graphics: 64 MB video card Grand Theft Auto Vice City In PC Cheat Codes
A part of what makes Grand Theft Auto such a fun series to play is the dynamic collection of cheats available at players' disposal. You can employ a crazy set of equipment, vehicles, perform dozens of ridiculously overpowered things to rule the underground. However, there's one tiny problem, you must first memorize the cheat codes for Grand Theft Auto Vice City download for PC. Here are some fun cheats to try:
THUGSTOOLS: Acquire weapon set #1 

PROFESSIONALTOOLS: Acquire weapon set #2

NUTTERTOOLS: Acquire weapon set #3

ASPIRINE: Fully recover HP

PRECIOUSPROTECTION: Get armor

ICANTTAKEITANYMORE: Commit suicide

YOUWONTTAKEMEALIVE: Increase wanted star

LEAVEMEALONE: Decrease wanted star

FANNYMAGNET: Add a female follower

CERTAINDEATH: Tommy smokes 

PANZER: Give a Rhino Tank

TRAVELINSTYLE: Give a Bloodring Banger

GETTHEREFAST: Give a Sabre Turbo

GETTHEREVERYFASTINDEED ~ Spawns a Hotring Racer

THELASTRIDE: Give a Romero's Hearse

GREENLIGHT: Turn all traffic signals green

SEAWAYS: Drive over water (why not?) 
Though being a game with outdated graphics and design, Grand Theft Auto Vice City in PC is brings its own attractive sides in this day and time. Flawless audios, in-depth gameplay, and a nostalgic feeling are what keep players coming back for more. If you're looking for a trusted site for gaming news, updates, guides, tips, and tricks, make sure to visit our website at GuruGamer.com.