There's something about watching a game of cards or another casino-type game unfold in real-time as opposed to playing it yourself that has electric, exhilarating energy. It's probably the suspense, the uncertainty of what will happen next. The thrill of the unknown is what makes live dealer casino games so enthralling. 
If you love the feeling of a brick and mortar casino but also love staying indoors, in the comfort of your own home, then playing at live dealer no deposit casinos is probably a dream come true. And don't worry if you're new to the scene, because this article's been written with novice players in mind. So sit back, relax and take note of the best tips, tricks and strategies you'll want to adopt.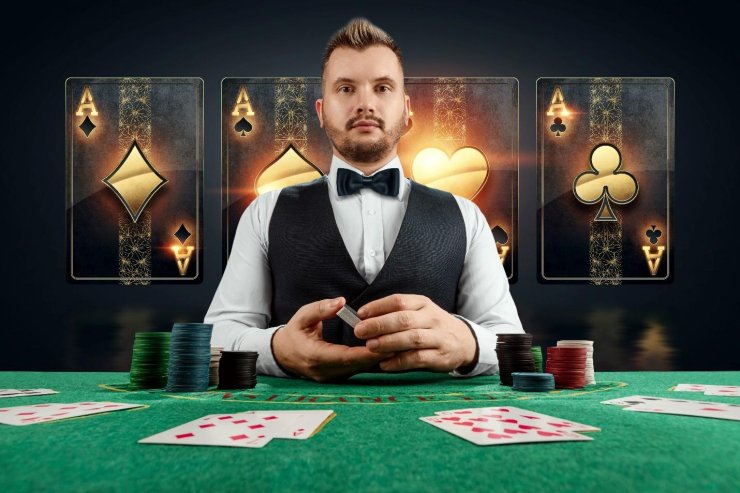 What's So Great About Live Dealer Games?
Live dealer games are a hybrid between online and offline gambling and offer an experience that can't be replicated by any other kind of game. They also have a huge amount of variation, with hundreds of different games to choose from. From blackjack to roulette and everything in between, there are variations of almost every casino game you can think of, with new games regularly being added to the ever-growing roster.
How do Live Dealer Casino Games Work?
When you're playing at an online casino, you'll be able to select the live dealer games from a menu, choose the amount of money you want to wager, and then hit "spin" or "deal" to get the game underway. Once you're in the game, you'll be able to see the dealer in a box to the side of the game screen, and you can communicate with them via chat or by clicking on a "call" button that will connect you over the internet. Live dealer games will also have a "help" button, which will usually have information on how to play the game and what the rules are.
Why Are Live Dealer Games So Popular?
This category of online casino games allows you to experience playing against an actual dealer in real-time, with the dealer's reaction, expressions, and movements being broadcast to the players. This can make the games very exciting, with the dealer's reactions and emotions making a big difference in how the game plays out it also allows for a social element that is not present in computer games. If you're playing against other human players, there will be plenty of opportunity for banter and fun, and you can also talk to the dealer to make the experience even more immersive.
The Best Live Dealer Games to Try Out
There are a huge number of live dealer casino games available, and the best ones to try out are those that have the highest RTP (return to player) percentage. This means that the casino will make a profit on average, but it's also a good indicator of which games are the most fun to play.
Blackjack

- A classic casino game that sees players trying to get as close to 21 without going over. The dealer's hand has to be higher than the player's hand without going over. A great game for beginners as it's easy to understand, and there are lots of tips available online.

Roulette

- A game of chance where players bet on where a spinning ball will land. The best live dealer roulette games have a high RTP percentage and feature a double-wheel design, which makes them even more exciting.

Craps

- A fast-paced game where players bet on whether a roller will roll a 7 or 11 before any other number.

Blackjack Switch

- A blackjack game that is played in teams, allowing you to play with a friend as you both try to outwit the dealer.
3 Tips for Beginners Playing Live Dealer Casino Games
If you're not familiar with how these types of games are played but would like to try your hand at one of them, keep the below tips in mind.
#1. Take Your Time to Get Understand the Game
It's easy to become overwhelmed by the new experience of live dealer games, especially if you're used to playing standard casino games. Take the time to get used to the new environment and the people around you, and make sure you understand the rules of the game before you start to place bets.
#2.  Learn From More Experienced Players
If you're playing in a live dealer casino with other players, try to pick up new strategies and tips from more experienced players. You can ask them about how they play and if they have any tips they're happy to share.
#3. Communicate with the Dealer
One of the biggest advantages over other casino games is that you can talk to the dealer. This means you can engage with them, ask questions, and make the game even more exciting and immersive.
Don't Neglect the Help Features
It's important to remember that all online casinos offer helpful tools and tips for both new and experienced players. These are designed to help you get the most out of your experience, improve your skills, and help you avoid costly mistakes that could result in the loss of your winnings. These can be accessed in two ways: through the "help" section of the site or via a pop-up dialog box. Be sure to take advantage of these as often as you need and feel free to ask for additional assistance as-needed – most online casinos have highly responsive and helpful support staff. 
With these tips and tricks to keep in mind, you'll have no trouble getting your feet wet and enjoying these games to the fullest!