 When you take a quick look at slots they don't seem too competitive. So, how come there are slot tournaments taking place at all times? Whether you plan to participate in one or you're just curious, there's a lot to learn about these events. And you're at the right place as we're going to cover everything that you need to know about slot tournaments. Let's dive into it.
What are slot tournaments?
When you're in a brick-and-mortar casino, you might see a portion of the venue that's blocked by ropes. Behind them, there are usually a number of people spinning slots at ridiculous speeds. Those are slot tournaments.
In an event like this, a player is given credit and a set amount of time to play through them. The casino then tracks the winnings and the player who's won the most coins wins the entire thing.
These events are huge in the world of gambling. They often take place in some of the biggest casinos in the world and gather slot enthusiasts from all over the region. And although there are no head-to-head duels like in some other championships, these affairs are just as competitive.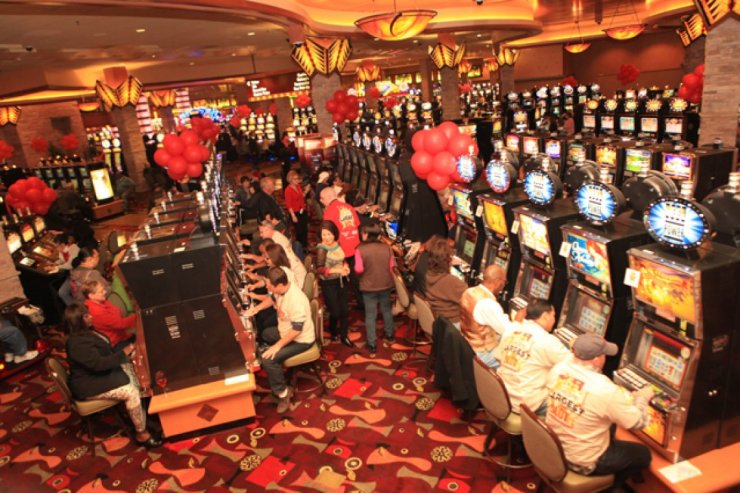 Are slot tournaments free?
Above, we mentioned that the casino gives players credits to use in the tournament. Does that mean that participating is free? Unfortunately, the answer is no.
Usually, there's a fixed entry fee called a 'buy in' to get your place in the tournament. The money the casino gets from these fees is then used as a prize for the champion.
Obviously, the casino takes a partition of it, and the rest is sometimes split between the top three ranked players. However, some tournaments take a winner-takes-it-all approach.
When you think about it, this is a win-win situation. Players want a chance to turn their $25 or $50 into more money and the casino wants to attract more players. By organizing an event like this, they give casino enthusiasts exactly what they want while simultaneously promoting their brand. Even if the tournament doesn't attract new players, they still haven't lost any money since the prizes are made from buy-ins.
Additionally, some casinos organize private tournaments for regular players. Sometimes, they don't even have buy-ins and are all about connecting to the most loyal customers. The quality may vary depending on the casino but most of these events tend to be fun and memorable.
Types of slot tournaments
Earlier, we talked about the basics of slot tournaments. But there's a lot more you need to know if you plan to take part in one. This is especially the case because there are different types of these events.
So, how do slot tournaments work and how do you win one?
To be able to answer this question, you first need to know what kind of event you're participating in. There are two main variations to be aware of - Go Tournaments and Scheduled Tournaments.
The former are tournaments that don't have a set timeframe. Basically, you can join anytime you want and still be in the game for the big prize. They usually stay open until there are enough players. Most of the time, these are smaller events with not as many players as you'd see in a scheduled tournament. Also, they don't last as long, and the more time it takes to determine the winner, the bigger the prize pool gets.
Scheduled tournaments, on the other hand, have a fixed start and end time. They can last anywhere from 5 minutes to an entire month. These events are more formal and they typically offer larger prizes. Are there any specific rules?
Another thing to keep in mind are any tournament-specific rules to follow when spinning.
The rules depend on the casino organizing the event, but there are some of them that are enforced most of the time.
For example, there's usually a time limit you have to be aware of while playing. Since you're not using your own money but the credits from the casino, you don't have to spend a lot of time strategizing. It's all about spinning as much as possible and increasing your chances of winning. Also, many players waste time on celebrating their wins, which doesn't necessarily pay off.
It's best if you've already played on that specific machine and you know how the timeframe works.
Tips for winning
What you're probably wondering the most is are there any tips and tricks you can follow to increase your chances of winning,
Generally, it's all about preparing for the event. For example, if it's an online tournament, you want to make sure your computer is working and can run the casino software. You also have to ensure your internet connection is fast enough.
For tournaments in brick-and-mortar casinos, it's a good idea to watch a few of these events before participating. If you happen to be in Vegas, coming  across  one shouldn't be difficult.  Even once you're ready, you can start slow with free and low buy-in tournaments.
And if you use a pre-register form to register for the event, don't forget to look at the start date and time.
The bottom line
If you're a casino enthusiast, you'll absolutely love slot tournaments. Not only that there's a chance to win large prizes but these things are also fun. They bring a bit of dynamic to spinning slots and make the feeling of winning that big jackpot even better. So, if you come across a slot tournament and you're aware of how these events work, there's no reason not to sign up for it and test your luck.
>>> Visit GuruGamer.com for latest updates on the gaming industry!