Gone are the days when avid card players were required to go to casinos to play poker. Online poker games allow avid fans to play their favourite games at maximum convenience. Whether novice or protégé, online poker playing tips apply to all punters. The online poker platform is an uncharted game space that is unpredictable. However, some tips help maneuverer the uncertain online game and maximize wins. 1. Get familiar with the game
Experience in online poker playing entails understanding the gameplay. Taking time to get familiar with the game, the options it offers helps maximize its chances. Experts confirm that starting small with low stakes provides an opportunity to get conversant with the gameplay.  High stakes players affirm that starting low is essential in understanding the game and how it works. Think of it as a tutorial session for how the game functions.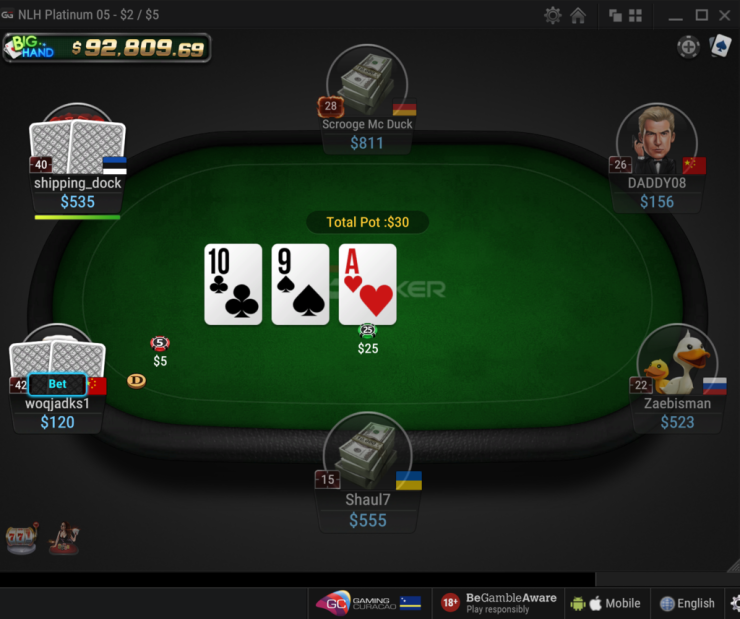 2. Start with lower stakes
Playing with low stakes allows you to get familiar with specific bonuses, online poker games, and sites provide. Knowing how these promotions work gives an edge in the game when going on a live run. The information is essential because online games handle computational analysis online using software and servers. As a gamer, you will need to react fast due to snappier responses on the COMs side. 3. Determine the right gaming website
Getting wins online is useless if the handler is not legitimate. It is decidedly investing in a pitfall without returns. Getting a good poker run depends on landing on a legit website with favourable offers. Many factors go into choosing a good website, including information safety, accessible deposit and withdrawal options, and compliance with local government regulations. If you cannot access trusted sites in your area, consider using a VPN. Online poker providers vary depending on decisive factors. While many stand out with specific services, they offer the best poker handlers provide favourable terms across the board. These include security, pay-outs, bonuses, customer support, and deposit and withdrawal options. Such factors are well covered in casino review websites where online poker providers are tested. Examples can be a review of the slots.lv casino that offers an in-depth look into slots.lv casino.
4. Choose the right stakes
Online Poker games offer more options for stakes than live poker. This resultantly leads to greater variations in outcomes depending on the stakes you choose. Furthermore, the six-handed nature of online poker games edges further into unfamiliar territory with increased variants. Getting a good win significantly depends on picking the right stakes relative to your bankroll. Blending the right stakes with a proper understanding of your bankroll provides an edge. 5. Get a favourable playing environment
Despite online poker offering a good chance to play anywhere, finding a good environment becomes a challenge. Live poker games handled this factor by offering a closed environment with handlers that honed your attention on making the right strategy to maximize a solid win. Getting a favourable environment without distractions ensures your mind is in the game. A distracted setting leads to mistakes like dealing with a wrong hand or skipping crucial information for making that win. We advise getting a dedicated working space in a quiet setting that helps maximize focus on a specific task. This can be a home office where work gets done.
6. Anticipate faster gameplay
The competitive nature of online games results in split-second decisions compared to traditional poker. Computers calculate the odds by algorithms in the gaming software. This is essential because traditional poker dealing with live players is more natural according to a player's pace and capacity to understand the next move. However, you can counter this by building experience through playing low-stakes games and familiarizing with the gameplay before hand. 7. Playing without stimulus from other players
Expert poker players attest to the importance of physical interaction and how understanding your opponent's body language provides an advantage. A skilled player can read the opposite side's body language to try and understand the next move. This is advantageous as knowing the possible opponent's thoughts can help prevent dealing a band hand. Online casinos provide a single mode of interaction, the screen. Other players' metadata is not available, resulting in fast gameplay and reliance on statistical predictions. 8. Take your time before playing
Behavioural cues are not fixed to live casino playing. As a novice, the tendency to rush a deal while on a weak roll stands out to a more experienced player. Taking time before dealing helps dissipate the tendency to read your card strengths according to the speed you deal your cards. 9. Play fewer hands
Treading carefully is better with online poker. The game offers limited interaction with little time to think about what hand to play. Consequently, playing with fewer, more decisive hands is advantageous over blind placement, especially in preflop play.
Such scenarios hold for raising stakes of other players are behind you. Raising makes you vulnerable to reraise and calls that work to undermine your stance especially playing between two aggressive players. However, such a position can benefit from strong hands like eights that can burst through reraises.
Online poker is an unpredictable game to engage. It is a worthy successor to live poker and does its best to offer similar gameplay to live poker. These points provide a significant competitive advantage in the game regardless of your level in online poker.