Have you ever dreamt of packing it all in and swapping the big city life for a sweet haven in the country? Well, dropping everything to become a farmer is probably a tad more complicated than we've just made it sound. That is, in real life.
The gaming medium has long gone crazy for planting crops and feeding livestock, largely because there is something utterly soothing about living the farming dream in video games. Incidentally, farming sims take the opposite approach of high-difficulty action RPGs, which leave you exhausted after a couple of tries. So, tired of hard games? Perhaps you are just looking for a chill mobile game with a bucolic flair? Let's check out five simulation games for wannabe farmers on mobile.
My Time at Portia
My Time at Portia sends you off to a postapocalyptic village, where you get to restore your grandfather's dilapidated workshop. Start growing plants, fulfilling villager requests, and gathering resources to craft your way to success. Maybe then will you restore Portia to its former glory. You can look forward to many more activities, from mining buried treasures within ancient ruins to hunting ghosts in the mysterious Haunted Caves, not to mention sparring with other characters in friendly boxing matches. Bonding with your fellow townspeople is crucial to settle into your new home, indeed. Each milestone unlocks new social interactions, leading up to marriage with the romance candidate of your choosing.
Blocky Farm
Next up is a charming farming sim available on iOS and Android. Blocky Farm is all about living the village life with a hint of Minecraft in the visuals department. Managing your lands, harvesting fields, and creating ever-lasting friendships with your neighbours are all on the menu.
This endearing role-playing game also introduces innovative elements, such as a unique system of animal interactions and a physics-based tractor drive system. These features add much to the freshness of this indie tycoon game. Besides, you can connect with like-minded virtual farmers online and enter epic competitions. Like all free-to-play titles, though, microtransactions are needed to unlock the game's full content.
Sumikkogurashi Farm
In love with JRPGs? Granted, Sumikkogurashi Farm isn't on par with Japan-made classics like the Persona and Final Fantasy franchises. Still, this free-to-play farming sim remains quintessentially Japanese. And for good reason, since the game was created by the same company behind the iconic Rilakkuma bear. In Sumikkogurashi, which translates into "life in the corner," you come across a series of cutesy characters settling down in all corners of a tranquil town in the country. Your farm lies in the centre of town, leaving you free to plant a variety of crops and use them to make different dishes to deliver to your villagers. You might as well relax by customising your little farm or dressing up your Sumikkogurashi characters in adorable outfits.
Stardew Valley
Single-handedly developed by American gamer Eric Barone, Stardew Valley is arguably the best farming sim around. This country life RPG takes after masterpieces of the genre, such as Story of Seasons. Selling over 20 million copies on multiple gaming devices, Stardew Valley eventually landed on mobile. This farming sim is not free-to-play, but the price is worth paying if only for the game's sheer amount of content and replayable value. Whether you carefully design your farm layout, befriend the locals, or grow crops to cook ever-so-yummy recipes, you might not put your phone down in a while.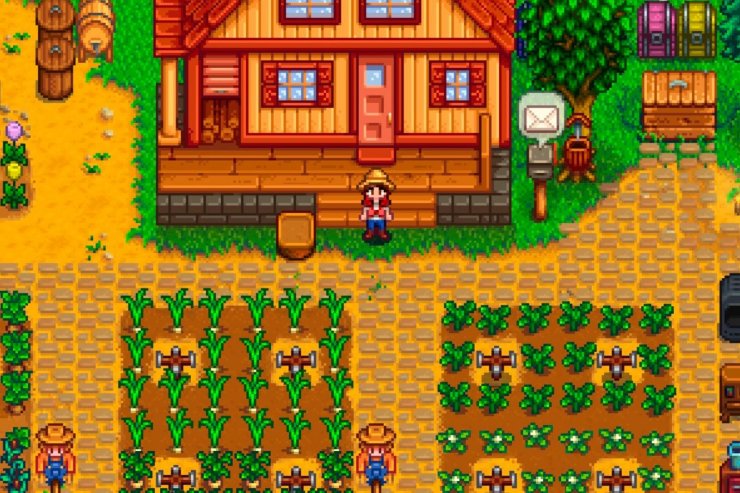 Fun minigames also await, from the arcade machines of the saloon to the slot machines of the Calico Desert casino. If you feel like scratching that gambling itch beyond Stardew Valley's limited options, though, new online casinos await. Up-and-coming platforms typically reward newcomers with juicy welcome bonuses and promotions. Better yet, the best new casinos on the block are all mobile-friendly. Fun games from the top software providers are a click away, including 3D machine slots and live dealer tabletop games.
Township
Township leans toward tycoon territory more than sheer farming sim. But that's all part of the appeal of this mobile city builder meets real-time farming simulation. In Township, you can simultaneously turn into an industrial giant making bank out of your farming empire and build up your town. Roll up your sleeves to boost your income through agricultural operations and expand your territory.
As your community's prosperity depends on your farming activities, you may gradually increase the population to create a thriving city full of factories and cosy houses. Over 200 decorations can spruce up the place, while casual minigames and challenges pop up on the regular. Township also features a social component allowing you to share the experience with fellow players by joining clans or co-ops.