Minissha Lamba is no longer a stranger to Indians anymore, as she has come out of the limelight in both Bollywood and TV screens. Her popularity mainly came from her success with Bigg Boss 8, in which she became a familiar face to TV viewers. On the other hand, her Bollywood appearance is also quite remarkable with Honeymoon Travels Pvt. Ltd (2007) and Bheja Fry 2 (2011). However, fans did not only know Minissha Lamba as a famous celebrity with her movies and shows but also from her ravishing look on social media as well. The actress/model often shares her vacation photos showcasing her curvy figure on Instagram. Currently, more than 4 lakh people are following her on the social network. And recently, Minissha has treated fans again with her bikini looks beside the pool. She has posted three pictures on Instagram with her wearing three different bikinis, and you can have a look with Gurugamer below to see which one is your favorite!
But before that, let's see how hot Minissha Lamba is under the water for her recent movie 'Kidnap' in the MV below:
Minissha Lamba shares her three different bikini looks!
Summer is coming, and Minissha Lamba is here to give us some early vibes. The TV and Bollywood actress was widely known as a sexy celebrity that is never shy to show herself to the public, and these three bikini pictures from Minissha are the best proofs!
The first of them is a selfie featuring Minissha in a floral two-piece bikini, in which we can only see the upper part. I don't know if it was the angle or not, but it seems that her bottom part is transparent. Have a look at this to see for yourself. Nevertheless, the most noticeable thing in this one is her quirky smile and glamorous body that the 35-year-old Minissha is very proud of!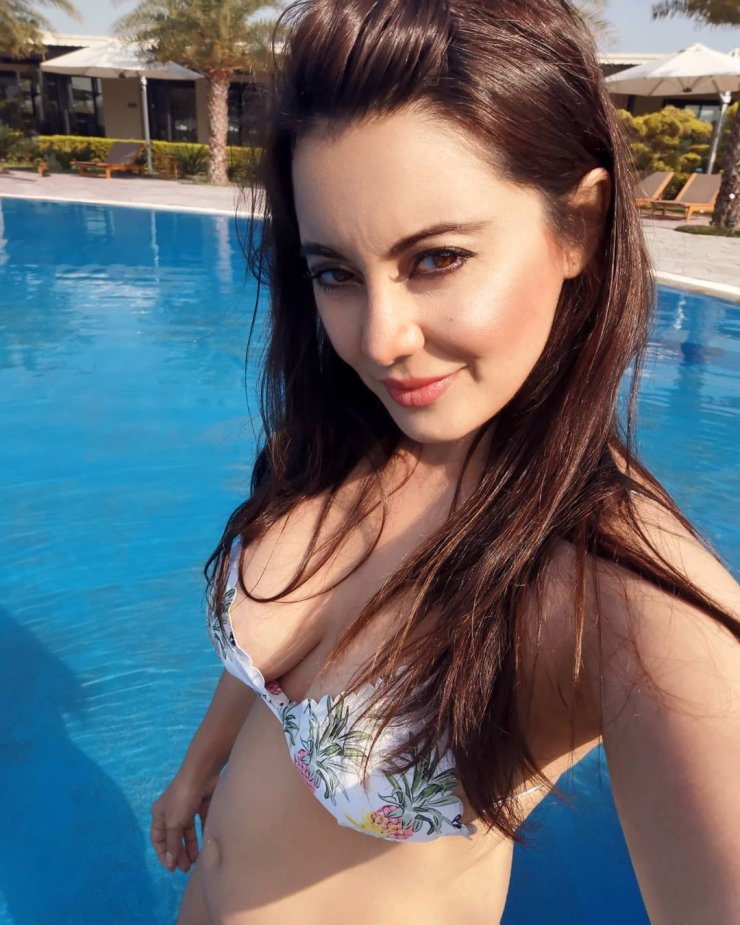 The second one is a less revealing but more triggering one, as Minissha Lamba wears a white see-through top, a pair of tight shorts. In the picture, she poses scorchingly sexy beside the pool while pretending to answer a call with her phone. It might be a call to announce that she was arrested for being too sexy! The last one was uploaded yesterday, and it's definitely the ones that will catch you nosebleeding. In this photo, Minissha Lamba wears a one-piece bikini with a fish-net coat on the outside, which is no less ravishing than the previous two. The highlight of this picture is the revealing bikini with sexy leopard patterns, which makes her beauty a bit less brightening with summer vibes, but more darkeningly sexy! On the working front, Minissha Lamba has stepped down from her Bollywood career after the 2017 action movie 'Bhoomi'. She has become a professional poker player recently and was often seen in international matches.