If you watch YouTube often, then there's a good chance that you have encountered the AFK Arena ads at least once or twice. It's a casual action card game, most emphasized for the idle gameplay feature. The game follows a simple concept: players collect characters, build up a personalized team to combat AI missions or other players. The game's developer, Lilith Games Support, adds an interesting touch to their creation - the redemption codes. Today, we're going to take you through everything there is to know about AFK Arena codes 2020 June.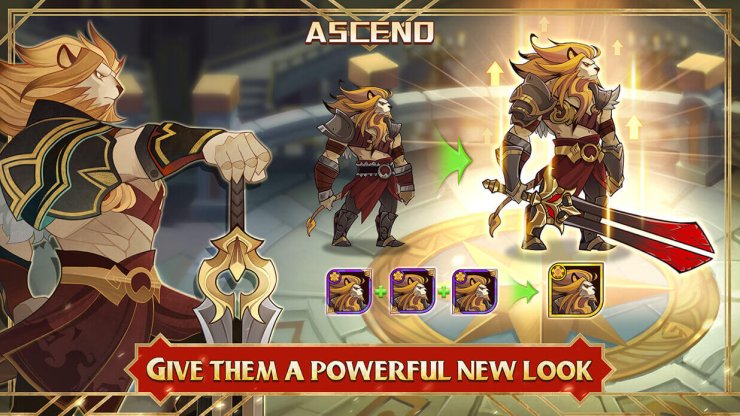 AFK Arena Codes 2020 June: About The Game
Join players all over the globe on the fantasy journey to explore the realm of Esperia and to destroy the presence of evils in AFK Arena. Staying true to its name, the game enables idle gameplay feature - which allows you to gather resources while not in-game. Released less than a year ago, the game has rallied over 7 lakh downloads in May 2020 alone. Before getting into the list of AFK Arena codes 2020 June, let's take a look at what the game has to offer:
Incredible and vivid art style: Most of AFK Arena characters and factions draw inspiration from the classic Celtic mythology. They're reimagined and illustrated with a new sense of design, each with a unique and meticulous art style.

Idle Gameplay: Even without the help of AFK Arena codes, it's still a fun idle game to play. The game's simple concepts, the easy-to-follow strategy makes it the perfect choice for you to put your feet up and enjoy. 

Share-leveled heroes: You can use Resonating Crystal to level up newer heroes instead of grinding them all over again in AFK Arena Full customization: The game offers a wide collection of heroes for you to fully customize your teams, together with various strategies to choose from. Build your ultimate team and dominate the arena!

Dynamic gameplay: AFK Arena isn't just a game where you fight the AI to death. It provides so many other game modes, side missions, and events to you to enjoy. You'll never run out of things to do in the game. 

Free hero trial: Log in right now for a chance of playing with Ukyo Tachibana - the game's newest character at the cost of absolutely nothing. 
What Are AFK Arena Codes 2020 June?
AFK Arena codes, or redemption codes, are certain sets of random symbols and numbers that you enter to exchange fore rewards and bonuses in the game. They usually offer crystals, which you can trade into other items in the store, such as heroes, and equipment. You can get these codes during real-world holidays, such as Christmas or New Year, or during in-game events. To keep track of AFK Arena codes, visit its official website to check or simply add the site to your browser's bookmark (Ctrl D) if you're a regular. How To Use AFK Arena Codes 2020 June?
To enter the redemption codes in AFK Arena, simply follow our instruction below:
Log into the game, tap on your player's avatar

Choose the setting tab at the bottom right of the window

Tap the "Redemption Code" button

Enter the exact redemption code you received and hit "Confirm" If your AFK Arena codes are valid and you enter it correctly, a message should pop up to inform the rewards you have. 
List Of AFK Arena Codes 2020 June
Valid Codes
Here are the currently available AFK Arena codes in June 2020:
uf4shqjngq:  30 Common Hero Scrolls

AFK888: 20,000 Gold, 100 Hero's Essence, 300 Diamonds

misevj66yi: 500 diamonds, 5 Common Hero Scrolls, 60 Rare Hero Soulstones

m6h4wepz7u: Get free character, Gwyneth, the Light Light-bearer Archer

jenrmb3n3a: 500 Diamonds, 3 Common Hero Scrolls

j8wspdd8rk: 1,000 Diamonds, 120 Rare Soulstones and also 10 elite Soulstones

PQGEIMC6DA: 300 Diamonds Youtuber Codes
There are 5 YouTubers who are paid to do AFK Arena promotions on their channels. Apart from playing and introducing the game to the audience on stream or videos, they also give away redemption codes. These YouTubers are BunnyFuFuu, Lachlan, Iamwildcat, Top5Gaming, and OrangeJuiceGaming. Codes offered by them will give the same reward, and you can only use one. Actually, many YouTubers also do AFK Arena promotions, but since the rewards don't change, and each player can redeem once only, you shouldn't care too much about that. If you want to redeem the YouTuber AFK Arena codes 2020, enter the name of the mentioned ones above. However, the BunnyFuFuu code has expired and you should make sure to leave it out of the equation.  Expiration date: Unknown Reason: Game promotion  Rewards: 120 Rare Hero Soulstones, 1,000 Diamonds, 100,000 Gold Coins
Expired Codes
If you get one of the following AFK Arena codes 2020, don't even bother entering them since they're expired:
tt9wazfsbp: 1,000 Diamonds

mrpumpkin2: 300 Diamonds; 5 Common Hero Scrolls

happybday0409: 500 Diamonds, 10 Common Hero Scrolls, 5 Chests of Wishes

te9gig7y58: 1,000 Diamond

tvb5zkyt47: 1,000 Diamonds

afk2020: 180 Rare Hero Soulstones, 3 Common Hero Scrolls, 300 Diamonds

Don00001: 3,000 Diamonds

s7yps9phsj: 200 Diamonds, 20 Elite Hero Soulstones

s4vyzvanha: 100 diamonds, 10 Elite Hero Soulstones rvgv3b8g4i: 60 Hero Soulstones

yuanxiao: 300 Diamonds, 60 Elite Hero Soulstones

7xinggaozhao: 10 Hero Essence Pilesm, 188 Diamonds

66dashun: 4 Faction Scrolls, 188 Diamonds. 

5fulinmen: 4 Hero Experience Pile, 188 Diamonds. 

4jipingan: 4 Gold piles, 188 Diamonds.

3yangkaitai: 4 Hero Essences, 2020 Diamonds.

2longtengfei: x4 Hero Experience, 188 Diamonds. 

1fanfengshun: 6 Small Piles of Gold, 188 Diamonds. 

afknewyear2020: 300 Diamonds,  60 Elite Hero Soulstones

THANKSGIVING2019: 60 Elite Hero Soulstones, 300 Diamonds
That concludes our list of AFK Arena Codes 2020 June. Don't forget to redeem your rewards as soon as possible for extra resources to build your team. For more guides, news, tips, and tricks regarding gaming, visit our website at GuruGamer.com.