Fauji game release date has been revealed. After PUBG Mobile was banned due to being a Chinese game, a lot of Indian PUBG Mobile players was upset. Therefore, a game developer made an alternative game for PUBG Mobile players in this country. Let's check out the release date, trailer, and some requirements to download and play this made-in-India PUBG Mobile game here with Gurugamer.com.
About FAU G Game
FAUG is an alternative game for PUBG Mobile that an Indian game developer named Akshay Kumar. It is an Indian version of PUBG Mobile, one of the most popular and favorite battle royale games in this country. FAU-G game (Fearless And United: Guards) will be an exciting alternative game for PUBG Mobile in this banned country. It's a product of NCore Games and Akshay Kumar. This game will be available to download in the Google Play Store. The game has been released yet but some details of this game have been leaked. According to the introduction, the game size will be about 500MB to 2GB. Like PUBG Mobile, FAU-G mobile game is also a multiplayer battle royale game. As revealed in the trailer of this game, this upcoming shooting game will have similar gameplay and other features like PUBG Mobile. Weapons, vehicles, characters, and most of the features are recreated pretty excellently. However, the map and some locations will be pretty different. The game developer and publisher want to bring players an exciting game. More importantly, they hope players can understand the sacrifice of Indian soldiers while they play this game. Moreover, the developers also revealed that the first stage of this game will be based on the Galwan Valley event. In addition, the publisher also claimed that they would donate 20% of the profit of this game to the Bharat Ke Veer Trust fund.
Fauji Release Date
FAU G Game release date is scheduled to fall at the end of October. It means that there are about over a month until the release of this PUBG Mobile-like game. The game publisher seems to release it between the 10th and 20th of this October. Obviously, it's one of the most awaited games this year in India. It will replace the exciting shooting game PUBG Mobile after it's banned in this country. It also has many names, such as FAUJI, FAUG, or FOU G mobile game. However, the official name of this game is FAU-G, standing for the phrase Fearless And United: Guards. The poster and trailer look pretty similar to PUBG Mobile. The developers also bring some legendary weapons to FAUG, such as M416, Kar98k, QBU, etc. Moreover, you also see some familiar characters like the PUBG game. Therefore, it made a lot of game players in India excited and highly anticipated. You will also fight other players in a classic match on a map of an abandoned island. Players will land on the island, find weapons, supplies, and try to defeat enemies to survive. The last man staying alive on that island will be the winner of the match. FAUG Game Download
One of the most asked questions among Indian gamers is how to download FAUJI or FAU-G Mobile game. This mobile game will be launched for Android devices first. You can easily download it from the Google Play Store when it arrives this October. Check out these system requirements and get ready to play this game now. FAUG Game Details And System Requirements
FAU-G mobile will be a pretty light game that is only about 500MB to 2GB in size. Besides, it will initially run on the Android platform. It leaves a lot of Android users happy and excited. FAU-G is a survival game. Here are some details and system requirements for mobile users who wish to download and play this upcoming game. Operating system: Android 6.0 or above.
RAM: 4GB.
Internet connection.
FAU-G is not an offline game. Therefore, you need a good internet connection to play this game without lag.
How To Download FAU-G Mobile?
The game app will come after over a month. To download the game app, you go to the Google Play Store. Then, follow these steps to download the game app here.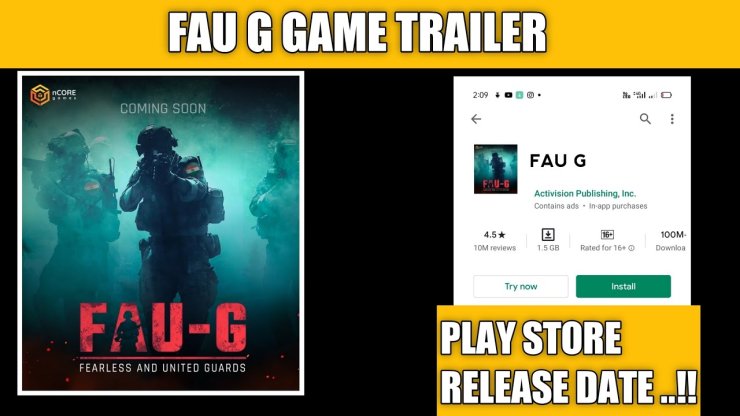 Search NCore Games and find the game list.
Find the FAU-G game on the list.
Download and install the game.
Create a new account and play.
The game will arrive on iOS devices soon. Then, iPhone users can download the game from the App Store and enjoy the game. You can play it like PUBG Mobile. But you still need to get familiar with the control, movements, actions, and settings of the game. Possibly, the game developers will also bring players many exciting events to join and win rewards.
This is the latest update of the FAUJI release date as well as a completed guide on how to download this game. This alternative game for PUBG Mobile will arrive between the 10th and 20th of next month. To update the latest mobile game news as well as more tips and tricks for gamers, let's visit our website.