This Free Fire Diamond Top Up list will bring you useful information you need to top up diamonds in this game. You often need diamonds to purchase things and unlock characters in this game. And you may need these details before doing a diamond top-up in Free Fire. Check it out with Gurugamer.com.
Free Fire Top Up Price List In India
Free Fire diamond is the main currency that you need to unlock characters, pets, bundles, buy skins, and more. When your diamond wallet is empty. you cannot go shopping in this game and buy the things you want. That's why you need to top up diamonds to continue shopping. First of all, you need to know how much you have to pay for each package of diamonds in this game. Garena Free Fire offers you many diamond packs at different prices. As normal, the more diamonds you buy, the more bonus diamonds you get. Here is a list of diamond prices in India when you buy Free Fire diamonds from the Free Fire shop.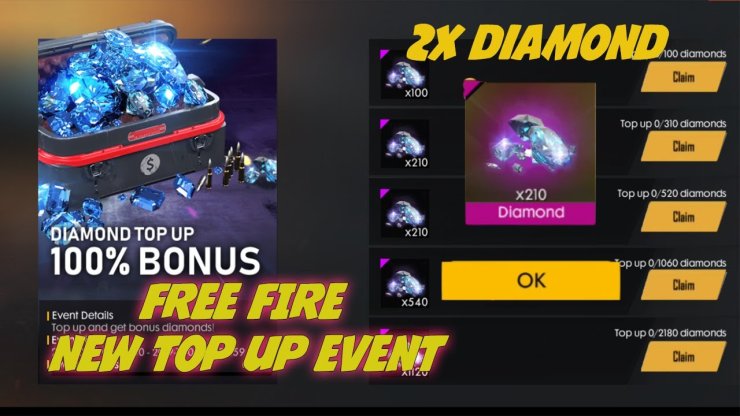 Rs. 40: 50 diamonds
Rs. 80: 100 diamonds
Rs. 250: 310 diamonds (+155 for the first top-up)
Rs. 400: 520diamonds (+260 for the first top-up)
Rs. 800: 1060diamonds (+530 for the first top-up)
Rs. 1,600: 2180diamonds (+1090 for the first top-up)
Rs. 4,000: 5600diamonds (+2800 for the first top-up)
If it is the first time you have ever bought diamonds in this game, you can even get a great bonus of 50% of the diamond packs. For example, you can get 310 + 155 bonus diamonds when you pay Rs. 250. But Free Fire players cannot get this bonus if they have done diamond top-ups before. Those are attractive rewards for beginners in Free Fire.
Free Fire Diamond Top Up List: Apps/Methods
There are many apps and websites that you can use to top up diamonds and get great discounts or bonuses. Here are some methods and apps that help you top up diamonds in Free Fire. These methods and apps are legal and easy to use. So, you don't need to worry about the ban.
Free Fire Diamond Top-Up Via Codashop
Codashop is a diamond top-up website that lets Free Fire players do the diamond top-up on the mobile phone. You can also access the official website of Codashop on the laptop or PC to do the diamond top-up. You only need to do some simple steps to buy diamonds easily. Moreover, this app is very reliable, safe, and legal to use. Access the Codashop website here.
Enter your Free Fire ID in the box of 'Enter Player ID'. You can copy the ID in the game app if you access Codashop on your mobile phone. Or else, open the game app and check out the ID in the profile details.
Select the diamond pack you want to purchase. Choose the payment methods this shop offers. Codashop let you pay the bill via NetBanking, UPI, or PayTM. The prices of the diamond pack in the Free Fire Diamond Top Up list are the same.
Tap on the Buy button to purchase. If you want to get the receipt, enter your email in the Email box before tapping on the Buy button.
Free Fire Diamond Top-Up Via SEAGM
SEAGM is another website that helps you do Free Fire diamond top-up with ease. The price of diamond packs you need to pay when doing diamond top-up via this website is pretty different. To know the price of the diamond, you choose the region or country you are from. Then, the system will show the price of Free Fire diamonds in your country. For example, you need to pay Rs. 167 for 210 diamonds or Rs. 824 for 1080diamonds. Next, you also enter your ID and Nickname in Free Fire in two boxes below the price list. Then, you choose the payment method. This website offers two payment channels, including many online wallets, such as Paypal, Boost, Maybank, GrabPay, etc. Indian players can choose to buy diamonds via Paypal. You also find the player ID in the game app, copy, and paste it in the Player ID box. To use this app to top up diamonds in Free Fire, you need to log in to SEAGM. Moreover, this app lets you log in with some kinds of social media accounts, such as Facebook, Twitter, Google, etc. Or else, players can create a new SEAGM account to use. It's required to provide an email address to sign up. Then, you follow the sign-up steps to create a SEASGM account to do the diamond top-up. However, it's recommended to log in the app with the Facebook account that you use to log in Free Fire to create a direct link you get diamond.
Free Fire Diamond Top Up List: Problems
Sometimes, Free Fire players may encounter many problems while doing the diamond top-up.
Payment issue: check out the balance of the bank account.
Transaction issue: if you don't receive the diamond you buy, contact the support service of the diamond top-up app.
Cannot buy diamonds: it can happen due to the wrong ban if you have not used any hack tool. Then, you should contact the support team in Free Fire to report the problem.
Those are things you need to know about the Free Fire Diamond Top Up list. To update the latest Free Fire game news as well as more tips, tricks, and guide for gamers, let's visit our website.