If you're feeling lucky, why not try to pull a loot crate and get some skin in Free Fire? Loot crates contain some of the best weapon skins in the game. On top of that, purchasing a loot crate is way cheaper than actually buying the skin itself. But the catch is your chance of winning the big prize doesn't seem great. However, when there's a free loot crate heading your way, we always advise you to take it! And the Free Fire redeem code for today (September 7th) provides just what the doctor orders. Here's how you can get a Winterlands Weapon Loot Crate for free.
Free Fire Redeem Code For September 7th
Rewards: 1x Winterlands Weapon Loot Crate
Redeem code: BQ3679972QVT Notice: This redeem code is exclusive to players who are residing in Europe. Players from other regions/servers will not be able to use it. 
How To Use Free Fire Redeem Code for Today?
Follow the steps below to use your redeem code for Garena Free Fire:
#1: Browse the official Rewards Redemption Site. There's only one at the link provided in this article. The others are fake.
#2: Log into your existing Garena Free Fire account on one of the following social networks: Facebook, Google, VK, Twitter, Huawei ID, or Apple ID.
#3: Copy and paste the Free Fire redeem code for today in the text field. Confirm and hit OK to close the dialogue box.
#4: After a successful redemption, the rewards will arrive at your mailbox within 24 hours.
Problems When Using Free Fire Redeem Codes
When you're using a redeem code in Free Fire, here are some major issues that may pop up:
Missing or Redundant Characters: A valid Free Fire redeem code for today has exactly 12 characters. If yours has more or fewer, the code isn't valid.
Expired Codes: Each redeem code has an expiration date and use limit. They will expire after one of these two limits is reached.
Wrong Region: You cannot use redeem codes for other regions of the game other than your own.
Account Not Bound: Guest accounts cannot use the Rewards Redemption Site. Always remember to bind your account first.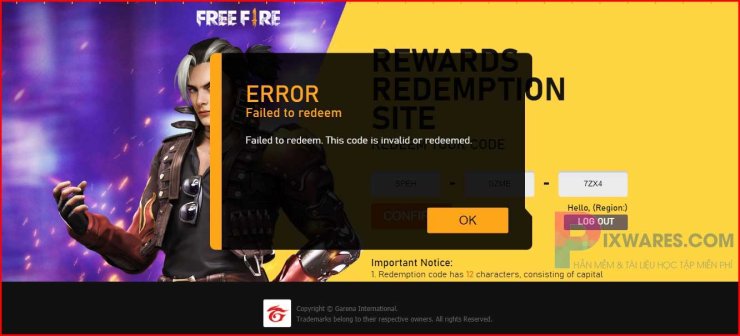 >>> More details at: Free Fire Redeem Code Problem: What Prevents You From Redeeming Codes?