Free Fire Tournament 2019 - Free Fire is one of the hottest Battle Royale games that Garena launched on December 4, 2017. Along with PlayerUnknown's Battlegrounds, Free Fire is also a popular game in India. Free Fire players in this country have lots of opportunities to compete in national and regional Garena Free Fire tournaments.
Today, let's check out the two biggest Free Fire tournaments taking place in India in 2019. They are India Today League and Asia Invitational Indian Qualifiers.
Free Fire Tournament 2019 - India Today League
This is a national Garena Free Fire tournament 2019 in India, held by India Today and Garena for all Indian Free Fire players. The prize pool is up to Rs 35 Lakh. The winner of this league will represent India to join in the global competition in Brazil.
Free Fire Tournament Format
The Free Fire tournament registration date lasted from August 27th to September 12th, 2019. Every Free Fire players in India can join to compete in this tournament. There's no requirement of rank. However, registers must be over 13 years old and his account must reach at least Level 10 to enter this competition.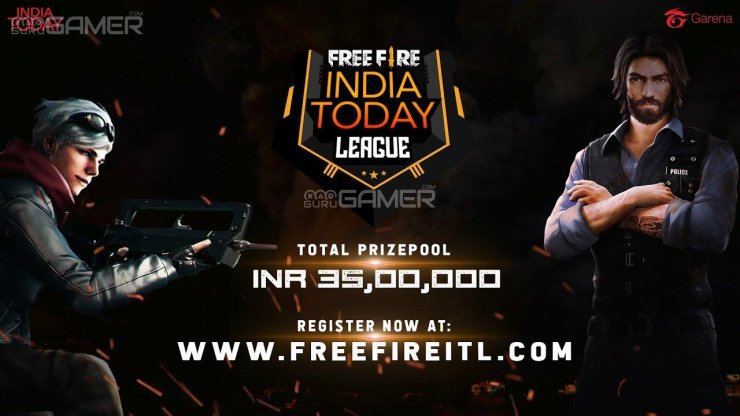 The qualifier stages took place on September 12th. Then, on October 12th, the tournament group finals were held in New Delhi to find out the winner. The perhitungan poin of this Free Fire tournament is similar to other international and regional tournaments in the world.
Free Fire India Today League Result
After a month of competition, they found the ultimate winner of the league. Nawabzade, a team of four young talented players won the highest prize of this Free Fire tournament India. Vivek Choudhary, Prakash Bharvad, Radhe Thakur, and Krupesh Choudhary are four excellent members of the winning team.
Nawabzade defeated many teams all over the country and 12 best teams in the final stage. Hence, they deserved to get the trophy of this champion league. After this tournament, these four professional players from Gujarat will represent India in Brazil. Free Fire Tournament 2019 Asia Invitational - Indian Qualifiers
Another large regional Free Fire tournament in India is the Qualifiers of Asia Invitational 2019. The qualifier stage in India attracted a lot of competitors although the finals didn't take place in this country. And, Free Fire players from every corner of this country competed for a common target: a ticket to Indonesia.
Overview of Asia Invitational
Asia Invitational is a regional Free Fire tournament for local players. It took place on September 7th, 2019 in Jakarta, Indonesia. Asian countries held qualifier phases to find out the most qualified teams for the finals in Indonesia.
Two best Indian teams got the ticket to Indonesia for the final competition. After the national qualifiers, TSG Army and GJ Kings proved themselves and got the tickets to the finals in Jakarta. Registration, Format, and Result of Indian Qualifiers
Garena sent Free Fire players a letter of invitation to sign up for the tournament. In the letter, organizers informed users about the format and schedule of the tournament. Also, there was a register link for users to sign up.
They chose 864 teams to compete in Asian Invitational Indian Qualifiers. Then, two best teams from these 864 teams got the slots in the finals. The Qualifiers took place from 15 – 16 of August. After a lot of matches, TSG Army and GJ Kings won the ticket to the finals as the two Indian representatives. In Jakarta, they competed with other Asian Free Fire teams to find the last winner for the total prize of Rs35 lakh. These are summaries of the two largest terbaru Free Fire tournaments in India this year. To update the latest game news as well as tips and tricks for gamers, visit our website.