A few leaks have finally come out with information regarding the Dendro Archon Nahida. Being an Archon, she is guaranteed to be the strongest support character of the Dendro element and players are definitely going to pull her in 3.2.
In this article, Gurugamer is going to showcase all the leaks available so far about Genshin Impact Dendro Archon Nahida. Dendro Archon Nahida Elemental Skill
Apparently, Nahida's Elemental Skill will have a lot of options for players to choose. This means players might want to use a different mode of her skill based on the situation. As the archon traditionally has a kit similar to the Traveler (but more powerful), it is highly likely that Nahida can place a Dendro construct with her skill.
Usually, the Hold version of the ability is more powerful. Below are options players can expect from Nahida's skill:
Elemental Skill has 2 types of activation, Press and Hold.
It can be aimed like Fischl or Itto, which means players can place the ability strategically.
Apparently, Nahida is going to have a unique sprint like Ayaka or Mona, however, it also applies similarly to Fischl's Q. This means she might not have the usual underground dive/sprint move. The most interesting part of Nahida's skill is that it allows her to move around while casting. This means players might be able to walk or sprint around as they aim the summon, giving more controllable placement. This could also mean that Nahida will have a unique form of movement during the skill, as the data is similar to lines used in Mona, Ayaka, and Fischl's unique movement abilities.
Genshin Impact Nahida Banners
With 3.0 just released, players won't be able to pull for Nahida any time soon. However, given the beta for 3.2 is about to start, leakers will likely release more details about Nahida's kit in the upcoming weeks. The 3.2 patch is likely to come out on November 2, 2022. Below is the banner schedule for versions 3.1 to 3.3:
3.1:
New Characters: Cyno, Nilou, Candace
Rerun Characters: Venti, Eula
3.2:
New Characters: Nahida, Layla
Rerun Characters: Yae, Childe
3.3:
New Characters: Scaramouche, Faruzan
Rerun Characters: Albedo, Raiden, possibly Ayaka
Dehya and Reruns Coming in 2023
It seems that the debut of Dehya, the badass Eremite we meet in Sumeru City, will be until next year. The 5-star Pyro Claymore warrior will be part of the Second Update of 2023, which is likely to be 3.5.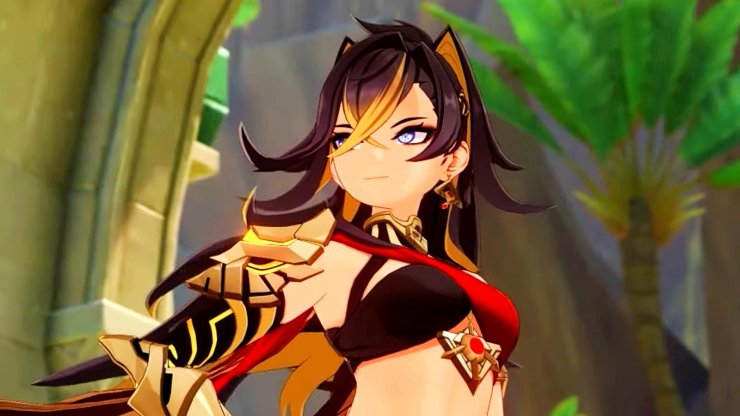 >>> Read more: Genshin Impact Fontaine Leak - Location, Expected Release Date, Characters, And More!