Genshin Impact weapon banner in a wish event will give you information about high-tier weapon rewards. Here are the most favorite weapon banners in this game as well as the latest weapon banner. Check them out with Gurugamer.com.
Table of Contents
Which Genshin Impact Weapon Banner Worth It?
MiHoYo has introduced a lot of weapon banners since they launched the game in September 2020. These weapon banners give you all information about the weapon rewards of wish events or introduce new weapons in this game. You should check out the weapon banner to know whether there are needed weapons for your characters or not.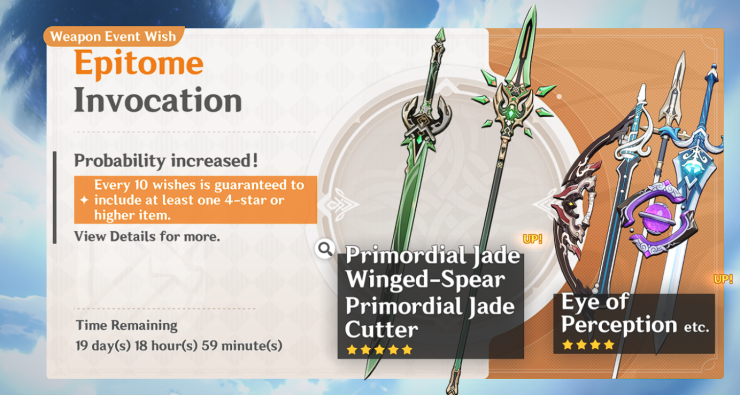 Thanks to these weapon banners, you won't miss any events and wished weapons. Therefore, you should check out all weapon banner Genshin in the event center of the game or on the official website of MiHoYo. You can check out all wish event banners and weapon banners in the News section. Genshin Impact Weapon Banner History
There are a lot of weapon wish events and weapon banners in Genshin Impact since the game was launched. Here are the most attractive weapon banners in Genshin Impact up to now.
This weapon banner was introduced in the update version 1.2. Travelers who meet the Returnee Eligibility conditions can join this returnee event. The 4-star sword Prototype Rancour is the grand prize of this event. This weapon is very powerful that has an excellent attack effect. For example, its base ATK at level 50 is 293 and the physical damage bonus is 22.4%. This wish event ended at the beginning of this month. You need to reach Adventure Rank level 20 and above to unlock this wish event. It requires you to use Intertwined Fate to generate wishes. In addition, travelers will have the chance to get a lot of high-tier weapons for Pyro, Anemo, and Geo characters. The weapon prize pool includes The Black Sword (4-star), Serpent Spine Claymore (4-star), Solar Pearl Catalyst (4-star), The Viridescent Hunt bow (4-star), and Deathmatch Polearm (4-star). There is a new Epitome Invocation wish event that gives two five-star weapons, including Wolf's Gravestone Claymore and Staff of Homa Polearm. Both of these weapons help boost the attack's damage to your enemies. You should equip these weapons for Pyro DPS characters who use these weapons, such as Diluc and Xiangling. Besides, there are many four-star weapons, such as Sacrificial Bow, Lithic Blade, Lithic Spear Polearm, and Lion's Roar Sword. There are many Epitome Invocation events in the past. Those events also gave players many high-tier weapons. For example, the Epitome Invocation wish event from after update 1.2 to Jan 12th, 2021 had two five-star weapons, including Summit Sharper Sword and Skyward Atlas. Besides, the previous Epitome Invocation event in late 2020 had many 5-star weapons, such as Amos' Bow, Skyward Harp, the atlas named Lost Prayer to the Sacred Winds, Wolf's Gravestone and Skyward Pride claymore, Primordial Jade Winged-Spear and Skyward Spine polearm, Skyward Blade and Aquila Favonia swords.
Fading Star Battle Pass Event
Fading Star is a previous battle pass event in update 1.1 of Genshin Impact. Travelers also had the opportunity to win many attractive rewards, including some 5-star and 4-star weapons. For example, you can get a The Black Sword, Solar Pearl Catalyst, Serpent Spine Claymore, a bow named The Viridescent Hunt, and a Deathmatch Polearm. All of those weapons are 4-star Genshin Impact past weapon banners. Genshin Impact Weapon Banner Leak
The latest weapon banner of Epitome Invocation Event 1.3 has been launched a few days ago. There is no leak for the next weapon wish event or upcoming weapon banners.
MiHoYo will introduce new weapons in new battle pass periods and celebrations. They will give travelers the appearance, name, and details of the weapon in those weapon banners. The latest weapon banners will be displayed in the wish lobby or event center. You can also update the latest Genshin Impact weapon banner on the official website of MiHoYo. The leak is often shared on YouTube and many community social media channels, such as Facebook and Twitter. A lot of YouTubers also share leaked details of Genshin Impact's upcoming events in their videos.
How To Get The Best Weapon In Genshin Impact?
Genshin Impact weapons are rated base on their power and effects. The more powerful and effective the weapons are, the higher tier it's labeled. Five-star weapons are the best weapons in Genshin Impact. You can only get them in Wish events. The opportunity to get these 5-star weapons is very low. 4-star weapons are also difficult to obtain. To get the best weapon in Genshin Impact, you need to join Wish events that have weapon banners. In addition, you should use ten fates to generate wishes at once to increase the chances to get high-tier weapons. It increases the chance to get high-tier items in this game. Many players have to use hundreds of fates to get high-tier weapons in Genshin Impact. Those are things you need to know about the Genshin Impact weapon banner and how to get high-tier weapons in Genshin Impact. To update the latest Genshin Impact game news as well as more tips, tricks, and guides for gamers, let's visit our website.