One of the most striking features of Genshin Impact at a glance is the characters in the game. There is a wide variety that we can collect in the game and we can obtain some of them as we progress through the story, or via making wishes that can be purchased with protogems, etc. But the characters themselves require access to Genshin Impact weapons. Of all the weapons available in Genshin Impact, it is important to get hold of Genshin Impact strongest weapon in the entire game, because we want to equip our characters with the most powerful arsenal, those that are worth maxing out the level and of which you take full advantage.
Therefore, we are going to show you which are the best weapons in this Genshin Impact weapons list accompanied by their appropriate tiers from S to B. And before showing you the best Genshin Impact weapons broken down in a tier list by types, remember that Genshin Impact weapon 5 star rarity ones are only obtained as a random reward when making wishes, as these are the most valuable, along with 4-star ones.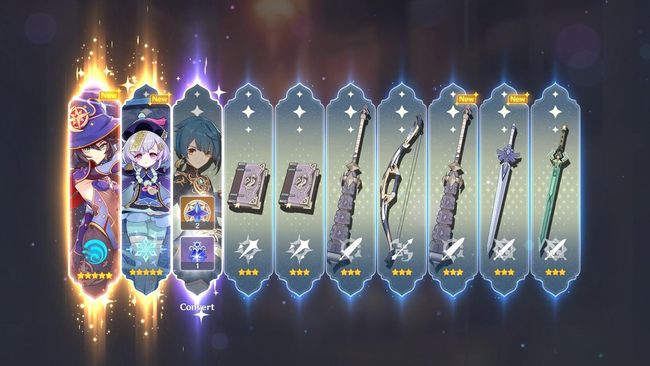 This also means the Genshin Impact secret weapons are all out there waiting to be discovered without being hidden from anyone. The Genshin Impact weapons list presented below could change in the future, but as of now it is useful and takes into account the base statistics of the weapons, starting from level 0:
Genshin Impact Weapons List And Tiers
Genshin Impact Weapons - Tier S
Aquila Favonia
Type: Sword
Base Attack: 48
Passive: "Falcon's Defiance". Description: Its main feature is to allow us to heal ourselves when we attack enemies. Additionally, its bonus Physical Damage is increased by up to 320% and HP Regeneration equals up to 160% of its damage, which occurs every 15 seconds.
Skyward Spine
Type: Polearm
Base Attack: 48
Passive: "Black Wing".
Description: It gives us a greater probability and speed in critical hits by having an 8% increased critical hit rate and a 12% bonus in attack speed. It also has a 50% chance to transform into a "Vacuum Blade" during normal or charged attacks, which functions as an AoE.
Wolf's Gravestone
Type: Claymore
Base Attack: 46
Passive: "Wolfish Tracker". Description: By default, it increases our base attack by up to 40%. If we hit enemies that have HP below 30%, then it will also increase the base attack of all your allies by 80%. It is ideal to equip this weapon on characters with Pyro DPS.
Genshin Impact Weapons - Tier A
Amos' Bow
Type: Bow
Base Attack: 46
Passive: "Strong-Willed" Description: With Amos Bow Genshin Impact, we get a damage bonus on our targeted shots of up to 24% of the base attack. Additionally, each arrow that hits the target in midair has up to 16% increase in damage, which can be multiplied by x5. That equates to an 80% maximum total damage increase.
Skyward Atlas
Type: Catalyst
Base Attack: 45
Passive: "Wandering Clouds"
Description: It increases all elemental damage by 24% regardless of its type and its ability has the power to grant our weapon a 50% chance to actively search for enemies around and deal up to 320% base attack damage during normal attacks.
Skyward Harp
Type: Bow
Base Attack: 45
Passive: "Echoing Ballad" Description: Increases critical hit damage by 40% and has a 100% chance to land an air attack that equals 100% physical attack damage.
Genshin Impact Weapons - Tier B
Prototype Rancour
Type: Sword
Base Attack: 44
Passive: "Smashed Stone" Description: Every time we make a normal or charged attack, our defense stat will increase by 12%. This ability can stack up to four times, which equates to a maximum defense increase of 48%.
Royal Grimoire
Type: Catalyst
Base Attack: 44
Passive: "Energy Blast"
Description: During a normal attack, you have a 50% chance to fire an Energy Blast, a powerful projectile that can deal up to 480% of basic attack damage.
The Flute
Type: Sword
Base Attack: 42
Passive: "Chord" Description: Ideal for healers, since during normal or charged attacks it has a 100% probability of producing a harmonic. If we obtain five harmonics in a row, the Power of Music will be activated, which is capable of inflicting up to 200% damage and healing our allies.
If you are looking for more news, updates, guides, lists, etc. on gaming and entertainment like this Genshin Impact Weapons article visit our website at GuruGamer.com for more of what you need.