The Grand Theft Auto franchise is not a strange name to gamers around the world. With the blockbuster installment of GTA V, the franchise has catapulted itself into one of the most prestigious games of all-time. However, the game was released in 2013, and things have changed in the last 7 years. The mobile gaming market is showing massive potentials to redefine the very concept of gaming. It is evidenced in the increasing search for GTA 5 Android Download APK + OBB No Verification. But the thing is, Grand Theft Auto V is originally designed for PC and consoles. Though Rockstar Games did release some mobile versions of previous installments, GTA V is not one of them. It is still a PC-and-console exclusive game. Hence, there has been a surge in searches for the GTA 5 for Android APK + OBB free download full version. Check out all the details you need to know below.
GTA 5 Android Download APK + OBB No Verification
Before we dive deeper into the matter, let's cover the basics first.
What is APK?
Android Package, or APK for short, is the package file format that can only be used by the Android operating system. The purpose of it is to distribute the installation of mobile apps, mobile games, and middleware. To make an APK file, an Android program is first compiled using Android Studio. Then all of its parts are compressed into one container file. An APK file contains all of the program's code, resources, assets, certificates, and manifest files. The Android system allows users to manually install APK files after enabling the"Unknown Sources" setting.
What is OBB?
An OBB file is a supplementary expansion file for Android apps distributed using the Google Play online store. It contains data that does not come in the application's main APK file, such as graphics, media files, and other large program assets. OBB files are often stored in a device's storage folder.
GTA 5 APK and OBB
7 years after its initial release, the publisher still shows no sign of moving GTA V to the mobile platform. As of December 2020, GTA 5 is only currently available on PC, MacBook, PlayStation, and Xbox. The game weighs a massive 95 GB, not a good figure for mobile operating devices. That's where the GTA 5 Android Download APK + OBB No Verification comes into play. They offer a solution to gaming enthusiasts who wish to play the game on mobile phones. The APK file contains an optimized version of GTA V for the Android operating system, while the OBB file stores other game assets.
According to speculations, the APK and OBB version of GTA 5 includes story missions, compressed to run on the mobile platform. However, it is important to note that this is not an official release from Rockstar Games. In other words, it is a third party program and is not available on Google Play.
Where is GTA 5 Download For Android APK And OBB Ninja Gamer?
As GTA 5 mobile is not an official version, you can not find it on Google Play Store. In order to install the game, users have to scout the Internet for the APK and OBB files. Follow the steps below to get the latest version of the game from Ninja Gamer: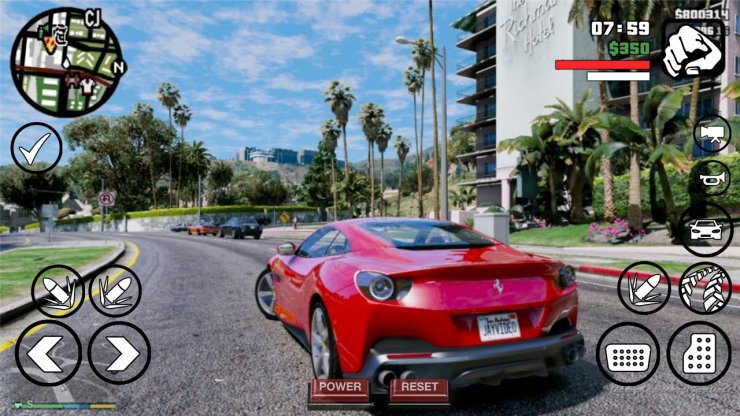 #1 Get the GTA 5 mobile APK here
#2 Wait for the download to complete
#3 Enable the 'Installation from an unknown source' option, then open the Files app, go to the Downloads folder, open the APK file to start installing.
#4 Copy the OBB file into the system folder.
#5 Launch the game and enjoy!
Note: The latest APK and OBB files for GTA 5 weigh around 998.95MB. Make sure you have sufficient storage.
To install the game, you don't necessarily root your Android devices. In other words, this is a GTA 5 Android download APK + OBB no verification version.
The minimum Android OS version for this app is Android 4.4.2 KitKat, Android 5.0 Lollipop is recommended.
Risks of GTA 5 Android APK And OBB?
As we have mentioned many times in this article, GTA 5 APK and OBB is not authorized by Rockstar Games. Upon installing this app, your device is exposed to severe cybersecurity risks. They may include malware, spyware, or viruses. Personal information and data could also be stolen. On top of that, users have reported that the APK and OBB files do not run. There is no fool-proof plan, no matter how appealing the advertisement may sound. But there is one thing that will always hold true: by downloading and using the authorized GTA V mobile, you're violating the intellectual property ownership of Rockstar Games. That is all you need to know about the GTA 5 Android Download APK + OBB No Verification. It's plausible, but not advisable. Instead, players should try using the Steam Link to connect and play GTA 5 on mobile devices. Visit our website at GuruGamer.com for more guides, tips, and tricks on GTA V.