Grand Theft Auto San Andreas is by far the most popular GTA game on Android, with a huge supporting community. This allows players to enjoy a lot of things normal Android games do not have... like modding, for example. In this article, we are going to show you how to install GTA San Andreas Android mods with CLEO MOD Master.
Table of Contents
1. What is CLEO MOD Master?
CLEO MOD Master is the top application for all players to mod GTA SA on Android. CLEO simplifies the modding process greatly - players only need to pick the mods they want in a list and the app will automatically download and install it without any fuss.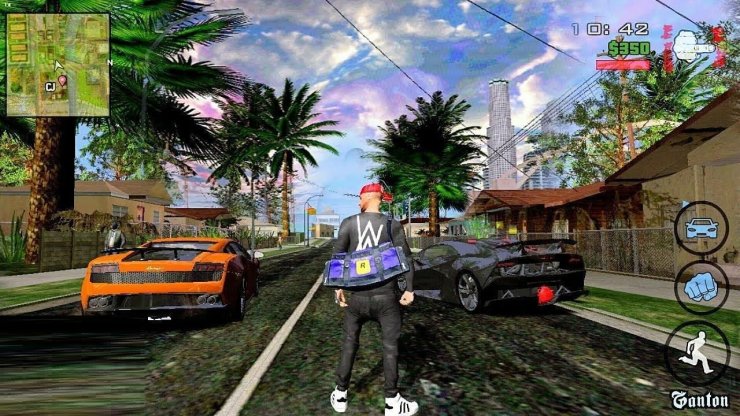 With mods, the usual capabilities of GTA are extended. You can select and install up to 200 GTA SA scripts and mods, making the game even more fun and interesting. CLEO MOD Master works on both the legit and the pirated version of the game. Device Root is not needed. You can download the app on the Google Play Store page for CLEO MOD Master.
Note: This is not an official application of Rockstar Games or GTA and has no relation to official sources whatsoever. Use at your own risk.
2. How to install GTA San Andreas Android Mods
All mod files are automatically saved in folder /Android/data/com.rockstargames.gtasa. Use CLEO MOD only if you have pre-installed GTA SA.
Step 1: Modify files
Use file explorer to rename two folders named com.rockstargames.gtasa in the two directories/Android/data and /Android/obb. You can add anything, like a number for example.
Back up your save files if you have any. They are located in /Android/data/com.rockstargames.gtasa/files/. The name of the save files are in this format: GTASAsf(1->10).b. Copy these files to any other directory. Step 2: Uninstall the game
Remove the game from your phone. As you have changed the name of the data folders and backup the save files, nothing would actually be removed.
Step 3: Install game version with CLEO Menu
Install GTA San Andreas with Cleo Menu. This is a special mod that incorporates a "mod menu" into the game's feature. Without this, CLEO MOD Master does not work. The download can be found in the "Instruction" part of the CLEO Menu. However, you can just use the below links. Step 4: Open up Cleo Menu
Rename the folders in step 2 to the original. Start the game and check CLEO MENU. To open up the menu, you can either:
Hold the menu button on your phone until the menu is shown.
Slide from the top to the bottom of your touchscreen (from #4 to #6) To control the mod menu, you can use touchpoints 4 and 6 to move up and down, touchpoint 5 to select and run the script. If you have multiple pages of scripts/mods, you can move between them using touchpoints 2 and 8. Open up CLEO Menu and activate whichever mods you want.
Step 5: Install the mods
As mentioned above, CLEO MOD Master is a very straightforward way to install GTA San Andreas mods. Just pick between the mods in the app, select them and press "Install". The content will be automatically added to your instance of GTA SA. However, the app is not really designed for deleting mods. Because of that, uninstalling a mod you don't like is somewhat harder.
You need to remember the time and date of each mod you install, then go to data/com.rockstargames.gtasa and delete the files manually. To know which mod is which, you need to sort them by date.
>>> Read more: Top 5 Reasons Why GTA 4 Is Better Than GTA 5
3. What mods can you install with CLEO MOD Master?
Below are the various popular features that you can install using CLEO MOD Master.
Feature mods
Invulnerability
Cheat menu
Skin selection
Teleport
Handling
First-person mod
Use weapons while driving
Passenger mod
Digital speedometer
Save anywhere
Peds walk with phones
Vehicle spawner
Choosing a fighting style
Security at home
Call friends
Zombie mod
Air traffic
Gasoline
Turbo button
Immortality
Tsunami
Crazy Train
CJ Flies
Nuclear mod
Dual wield mod
GTA San Andreas car mods
BMW i8, BMW M4. Renault RS, GTA V Lampadati Fenol, GTA V Obey 9F Cabrio, Nissan GT-R Nismo
GTA San Andreas graphics mods
VISA2 ( GTAV ), Winter, Racing Mod, Animals, Mysterix mod
Boot menu mods
GTA V menu style, GTA IV style, GTA III style, Kamen Rider menu style, Iron Man load screen, Race Fever 1.0, Watch Dog style
Game control buttons mods
XBOX controller, Green buttons, Transparent buttons, Black buttons
Bonus mods
Cheatcodes for all platforms, guide to pass all missions, maps with all markers unlocked (Easter eggs, jumps, buildings, cars)
Interested in more of our articles related to the GTA Series? Please check out this post to find out more about the Top 5 Rarest Vehicles In GTA Online That No One Has.