In case you're searching for some offline games like PUBG under 100MB to play, it must be that your passionate love for battle royale games like PUBG and PUBG Mobile will never unwind in your heart. As long as you always keep in mind that the graphics cannot be on par with the authentic PUBG game due to light size, here're the top five games we've ever known so far.
Offline Games Like PUBG Under 100MB - Notable Picks
1. Giant.io
Honestly speaking, Giant.io is much similar to the renowned game title Fornite rather than PUBG. Whatsoever, they're all based on battle royale concept, and so is Giant.io. At the beginning stage of the insane battlefield, pick your parachute and try to become the last survivor in the game. You should start hiding inside a safe-looking house to ambush opponents or investigate the map by driving vehicles. The Building Mode even allows you to train building skills before getting your own "chicken dinner".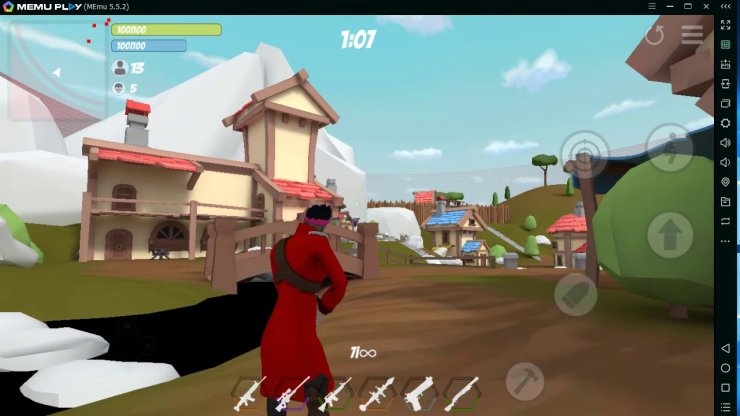 Giant.io features a unique system that will gradually boost you into "giant" with every kill you earn, making it easier to rule the combat zone. Just stay strong and become a giant literally! What makes this game take the first place in our list of offline games like PUBG under 100MB is that Giant.io is one of the few games allowing you to play offline against bots offline. Otherwise, you can also choose to take part in a tremendous battleground with up to 30 human players via the Internet.
2. Survival Instinct: Battle Royale
Survival Instinct is a popular game like PUBG for low-end devices under 100MB. The game is designed with the familiar context of battle royale games, where you are sent to an isolated island by skydiving and the ultimate goal is to be "the last man standing". You can find almost everything on the island to fulfill your needs, from water, boosters, protective armors, medical kits, guns, ammo, and so on. In Survival Instinct, you should gather these resources as soon as possible to combat against several opponents. Each fight round feels like a new adventure and it's time to gain experiences to kill more enemies and win the overall battle.
3. Battle Craft Survival
If you are a hardcore fan of PUBG Mobile and all you need is nothing but one of the most favored offline games like PUBG under 100 MB, while other names have yet to come packed with such a mode. Battle Craft Survival is quite small in size, so don't expect too much from the graphics quality. But after all, this game is not far from ideal in terms of best games like PUBG under 100MB without Internet connection. Despite its lightweight size, you'll have a dedicated weapon inventory, including AWM, M24, Kar98, M416, Uzi, etc., and various vehicles like UAZ, Buggy, Dacia, and more. That's why we put Battle Craft Survival into the roster of best offline games like PUBG under 100MB. If you don't have high-end flagships, this game is a great pick for you.
4. Practice Fornite
Fortnite Practice Arena comprises of a wide scope of weapons for you. As one of offline games like PUBG under 100MB, you will fight against AI rivals with all your combat abilities and skills. Let's control the gun recoil, point at the enemies, and take a head-shot like a pro. That's all about how you play a PUBG-like battle royale and shooting game as well. Besides the Player vs. AI Mode, the game also offers three other modes, including Battle Royale, Infinity Battle, and RocketRide. Everything you need is ready for use - shotguns, snipers, AR rifles, sub-machine guns, and even rocket launchers as you might expect.
5. Grand Battle Royale: Pixel FPS
This game establishes a deadly battleground on a distant island, where you have to hop out of the plane to get involved in a monstrous open-world game. Find your own loadout as soon as possible - it can be a sub-machine gun, an assault rifle, pixel firearm, etc. and prepare your strategies carefully, because you'll stumble upon human adversaries from all around the world. Play wisely and don't hesitate to punish their blunders. Unlike the aforementioned offline games like PUBG under 100MB, Grand Battle Royale: Pixel FPS requires you to have a stable internet connection before entering the battleground. Not a big problem for you, right?
>>> Related post: Free Fire Low MB Download Guide & Experiences