PUBG hack rooted device tool is good or bad? Should PUBG Mobile players root their device or not? Those are some most asked questions among PUBG Mobile players. Let's learn everything about PUBG Mobile hack for rooted device tools here with Gurugamer.com.
What Is Rooted Device?
Rooting a device is a process that lets users of Android smartphones and tablets attain control over the subsystem. Obviously, the device developers and producers do not encourage you to root your device due to some disadvantages of it. Moreover, rooting a device also brings about some risk to your smartphones, such as data loss, loss of automatical updates, etc. However, a lot of people still want to root their smartphones to delete unwanted apps. Besides, they can get full control of the device's operation. Moreover, it's easy to use hack tools when playing games in rooted devices. That's why a lot of PUBG Mobile players rooted their Android devices to hack the game.
What Is PUBG Hack Rooted Device?
PUBG Hack for Rooted Device is using illegal third-party to get unfair advantages when playing this game. It's obviously prohibited in this game. When you use a hack tool in a rooted device, you can install the hack tool more easily and your smartphone will not send notification or prevent you from using third-party apps.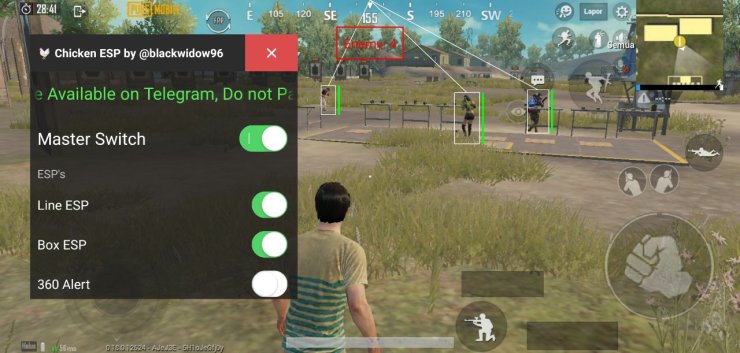 PUBG Mobile MOD OBB is a popular hack tool for rooted devices. According to the introduction of the developers, this hack tool brings you a lot of advantages, such as wallhack, no recoil, no grass, etc. Especially, the developers of this app also claimed that this PUBG Mobile hack rooted device tool is totally safe.
PUBG Mobile Hack Rooted Device 2020 Features
These PUBG hack rooted device tools have many features that give users unfair advantages over true players. Wallhack and no recoil are the two most popular features of hack tools. Besides, PUBG Mobile MOD OBB also offers many features such as no grass, no fog, 120 FPS, etc. Check them out below. Wallhack: lets players see and shoot through walls, trees, and any obstacles.
No recoil: Users don't have to deal with gun recoil. So, they will shoot more accurately.
No grass: Hackers will spot and shoot you when you are prone and use grass to cover. Especially, in the last zone, a lot of players in Erangel or Sanhok need to use grassland to hide. Then, cheaters will spot other players and eliminate them with ease. Remove Fog: It's another feature of this cheat tool. The current update brings back foggy weather to all maps of PUBG Mobile that limit the sight of players. However, PUBG Mobile hack for rooted device tools will remove fog so that hackers can see other players easily.
Remove Rain & Thunder Sound: The developers of PUBG Mobile even added the thunder and rain sounds to make the game more realistic. However, they sometimes distract players and help enemies hide their footprint. A lot of PUBG Mobile players make use of the rain sound to rush house and attack suddenly. Therefore, these hack tool developers remove these sound from the game in their mod game file.
Black Sky: the developers also remove the default color of the sky. Increase FPS to 120: it increases the chance to win combat.
No Camera Shake: the latest update of this PUBG hack rooted device tool in August 2020 remove the problem of camera shake.
No Footstep sign: It also hides the footstep sign in the minimap. Therefore, PUBG Mobile players can hardly notice when hackers approach them.
No Ban: The last feature of this cheat tool is no ban because the developers of this tool removed the anti-cheat system from this mod game app.
How to Hack PUBG on Rooted Device?
This hack tool has a lot of unfair features. However, PUBG Mobile MOD OBB does not let players use ESP hack from the third party app. Therefore, cheaters will not know other players' positions on the map. But those advantages are enough for many cheaters to get unfair Chicken Dinner. Using the hack is illegal in PUBG Mobile. Moreover, you will lose your skill when using cheat tools. Although it's not difficult to hack PUBG Mobile on rooted devices, you should not install these third-party tools. It still has many risks of getting viruses and spyware in download links of untrusted parties. Moreover, the Chicken Dinner you get by cheating will not make you happy. However, if you still want to experience this third-party tool to know how cheaters are playing PUBG Mobile, you can follow some steps below:
Download the PUBG ESP Root file and install it in your device.
Open the PUBG Mobile game app on your rooted smartphone or tablet.
Open the cheat tool and grant root permission.
Type some random Alphabets and log in.
Open the game app and tap to Activate to turn on the Hack tool. Those are things you need to know about PUBG hack rooted device tools and how to hack this game. Keep in mind that cheating is unfair and illegal. Many tools are also unsafe to use. Therefore, you need to be careful. To update the latest PUBG Mobile game news as well as more tips, tricks, and reviews for gamers, let's visit our website.