How to make a server in Minecraft PE remains sought-after by a lot of players ever since Pocket Edition was released. In fact, the safest and easiest method to this is to buy a Realms subscription from the MCPE application itself. However, players would need to create an Xbox Live account in case they have not had one.
On another hand, if you are searching for how to make a server on Minecraft PE for free, Aternos or Server Maker app would be suitable to host your server. In this article, we will list a thorough guide with two methods using Aternos and Realms.
#1: How to make your own server in Minecraft Pe using Aternos
Here's the first way to get your server in Minecraft on a desktop. Check the 12 steps below!
1. Open Aternos website on your computer at this address here.
2. Click on Create Your Server. For your information, it is the blue button in the middle of the page. 3. Enter a username. In the textbox of "Choose a username", type anything name you want to represent yourself in the server. 4. Click "I agree" and then click "Next" at the bottom of the page
5. Enter a password and an email address. Fill out all of these corresponding fields:
Email — Enter an email address which you have access.
Password — Type in a different password than that you used for your email address.
Retype Password — Re-type the password in. 6. Signup by clicking the button at the page's bottom. You will then be taken to the Alternos dashboard.
Note: In case you use an ad-blocker, you will get a warning on the following page. You can choose to turn off the adblocker and reload this page, or click the "Continue with adblocker anyway". 7. The next step on how to make a server in Minecraft PE is to click on the Software button on the left side.
8. Click Win10/MCPE on the right side of the page. Then, choose to Reinstall the application. 9. After confirming Yes, Reinstall, it will install PocketMine as an add-on for the Aternos server. Afterward, click on the Server tap.
10. Click Start in the middle of the website, then Connect which will prompt a pop-up window. 11. Note the port number and server address. Players will see both of them in a pop-up window.
Moreover, they are all essential when it comes to how to make a server on Minecraft PE for free. 12. Connect to your server. In order to get in your server and start playing, do as follow:
Open Minecraft PE -> Tap Play -> Servers tab -> Add Server.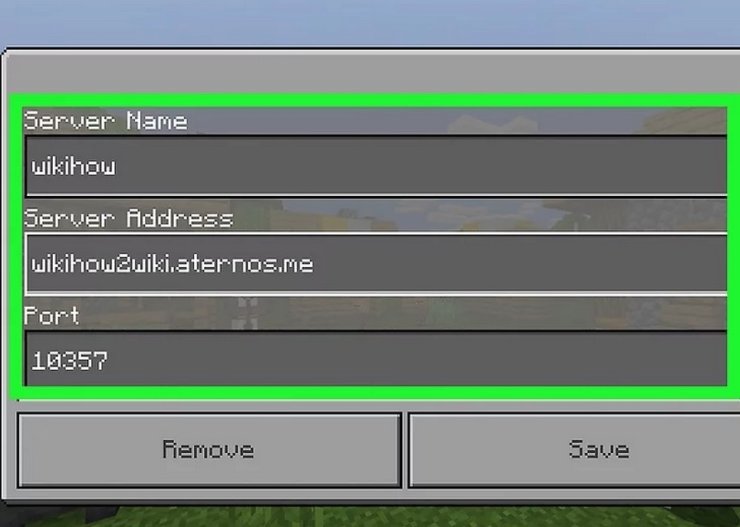 Then, type in a name for "Server name" as well as the address of your server in "Server Address".
The last thing to do is to type your server's port number in "Port" and start playing!
#2: How to make your own server in Minecraft PE using Realms
Another way that answers your questions on how to make a server in Minecraft mobile is to use Realms. Make sure that you connected to Wifi as cellular data will not work for this method.
Moreover, both Android and iPhone systems can use this way to install Minecraft Pocket Edition.
Remember that you will also need to have the latest version of the game on your device.
1. Sign in to your Minecraft game. In case players see their Xbox Live account name there, skip this and move on to the next step.
2. Enter Xbox Live credentials by entering your email address, tap Next, and then "Let's play" when asked.
3. Choose "Play" and tap the "Worlds" box on the screen's top-left corner. 4. Tap Create New. It's at the top of the Worlds page.
Choose "Create New" and then "New Realm" on top. Afterward, click "Create New Realm". 5. Name your Realm by entering the "Realm Name" box. You can opt for any name you want.
6. Choose a tier.
By default, the Realm will host you along with 10 other players. If gamers want to hose a less expensive server for a number of friends, tap "2 Players" under the "Tier" heading.
And then, check the "I Agree" textbox. 7. Click the "Create" button. Remember to provide your Touch ID, passcode, or payment information if prompted.
8. Click "Subscribe" when asked as it will establish a Realm under the name you assigned.
In fact, players cancel their Realms subscription any time they want. Tap the pencil icon next to the Realm, choose "Subscription", and "Manage Subscription". Follow the on-screen options to cancel the subscription.
Check out more tips similar to how to make a server in Minecraft PE on Gurugamer!
>>>Also check 10 Best Minecraft Seeds For Diamonds 2021