Have you ever wonder what a witch does deep in the forest either than creating potions? Let's find out through Little Witch in the Woods - a new Zelda-like role-playing game. This game is the brainchild from the indie developer Sunny Side Up, and from the name of the developer, you can already tell that it's going to be funny and vibrant.
The game was revealed back in June, but at that time, it didn't have any specific release date. But now, it's time to pay some attention, as Little Witch in the Woods is coming for PC and consoles next year!
Below is the trailer for this announcement, which you can have a look to see how playful our protagonist looks:
Overview of Little Witch in the Woods
In this game, you'll learn that witches are just human with magical power and knowledge, and they're not always wicked as the stereotype says. To be more specific, you'll take control of a little witch - Ellie in a fantasy world, who is almost finishing her witch school.
In order to initially graduates and become a true witch herself, Ellie will have to head to in a witch's house hidden inside the forest, and experience the life of a witch as an apprentice. The school will grade her based on her performance at the witchy tasks that she must do, so Ellie must try her best to get good scores. Here goes the story of Ellie!
Gameplay features
As I've mentioned, Little Witch in the Woods is a pixelated RPG game that takes inspiration from Zelda. To be more specific, you'll play in the role of Ellie, and learn what a witch normally does every day - if they do exist. However, you don't have to bring your sword around this fantasy world and slay monsters. Instead, you're just a little girl doing non-violent magical stuff!
There are a lot of activities that you can try as Ellie. Her main task to get good grades and graduate from witch school is to make magical potions. In order to do that, she'll have to explore the environment around her and find the necessary ingredients for her potions. But you will not do that by wickedly slaying animals, but befriend them and blend in their life. In exchange, the plants and animals will give you the part that you need. The ecosystem in this game was quite impressive with many kinds of species that only appear in the fantasy world.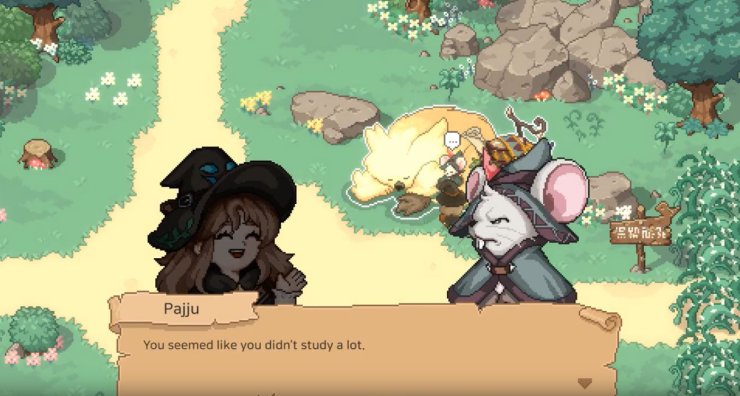 However,  there will be some rare ingredients that you can't find in the wildlife, and you'll have to find them in the village nearby. There, you'll meet a range of intriguing NPCs, which you can enhance your relationship by helping them. In exchange, they'll return your favor with not only the ingredients but some useful items as well. The more you help the villagers, the larger the village will grow, and you'll have chances to meet with new NPCs. Each of them has their own stories, and you can reveal them through getting closer. That's when the fun parts begin, as you can maybe come across a man that will be your life-long lover. It might not be a human, but who cares! Release date and supported platforms:
Little Witch in the Woods will come out first for PC via Steam in Winter 2020. Then after that, the developer Sunny Side Up will deliver the PS4 and Switch versions of the game at an unknown date.
Are you excited to blend in with the world of witches?