GTA 5 as well as any other edition of the GTA franchise is an ideal pick when it comes to real-world genre, and what's more, it provides a diverse pool of outfits for fashion lovers. In case you want to dress up your female character but have no ideas about which clothing styles to get along with, we're gonna help you find out some of the best female outfits in GTA 5.
All-black style With a sporty yet stylish black jacket and a black-shaded pair of ripped jeans, you now really live in the landscape of GTA vibe. The jacket even looks a lot cooler with a skeleton print inked on the front side of it.
Suave pink suit Pink is for girly things, yup. But let's see a combination of pink outfits in GTA 5 – it could totally look more badass than every pink stuff you've met. We have a hot business jacket, a pair of suit pants, and the high heels – they're all in pink. A white camisole may be a great choice to perfect your look.
Jean shorts and black fishnet stockings It'll never go wrong if your female character wears jean shorts with smoking-hot black fishnet stockings. This type of style completely fits several black-themed accessories, so you can add something like a black cut-sleeve jacket and leather boots and start out some motorcycle robberies.
Another Lara Croft This style appears to be a crime-leaning version of Tomb Raider's character Lara Croft. Everything goes in a darker shade, from the grey tank top and dark wash jeans to terrorism-styled mask, making your character look more dangerous than ever.
Sexy black suit In GTA 5, the mysterious black color comes to our minds all the time. It simply speaks out for your badassery, and here we get a set of sexy black corset top coupled with skinny pants and black heels as well.
A hot chick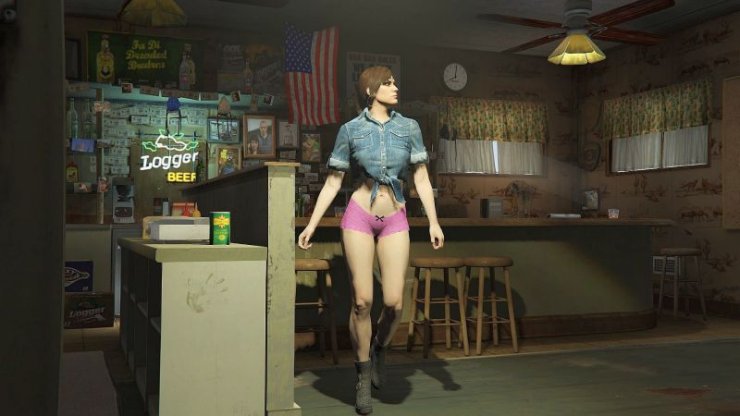 In GTA 5, we'd love to create a bar chick character who is always ready to commit a crime without letting anyone know that. Yup, choose the cutest pair of pink shorts, tie up the front part of your denim shirt, and roll up the sleeves. A pair of tall boots will be the most perfect footwear option for your character. Just can't help keeping an eye on her!