In this post, Gurugamer.com would like to share with PUBG Mobile fans, especially the beginners, some best control settings for PUBG Mobile, graphics quality & audio, vehicles, loot pick-up as well as best sensitivity settings to get the Winner Winner Chicken Dinner more effortlessly. Let's get started!
1. PUBG Mobile Basic Settings
Set Crosshair Color as your preference
A clear color for the crosshair will give players a good contrast on-screen, assisting to spot, aim, and shoot at the rivals much more accurately.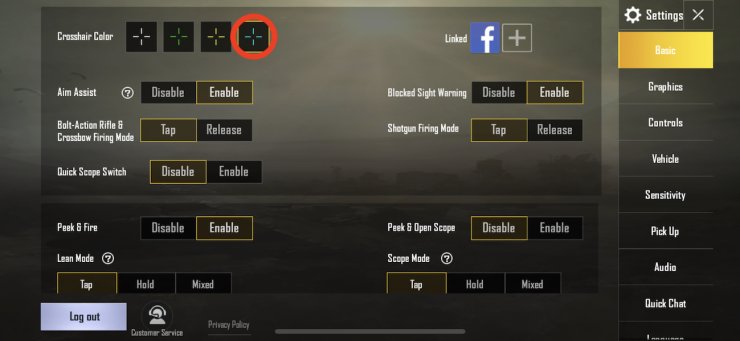 Recommended Aim Settings for PUBG Mobile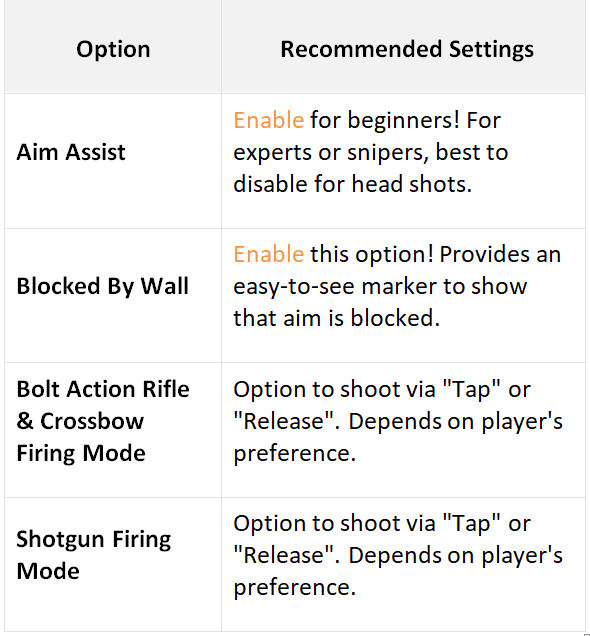 Recommended Lean Shooting Settings for PUBG Mobile
Lean shooting is undeniable one of the most essential skills in the game. This skill allows players to avoid being noticed while scouting for enemies or shot occasions.
Do not forget to enable "Peek & Fire" option. Also, enable the "Peek & Open scope" and for the "Peek Options", opt for "Hold to lean." These settings would help automatically activate your ADS so that you're able to spot the enemies quicker to knock them down. You also choose "Tap to lean" depending upon your preference.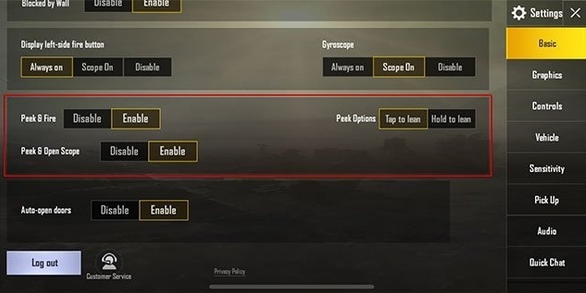 Other Recommended Basic Settings for PUBG Mobile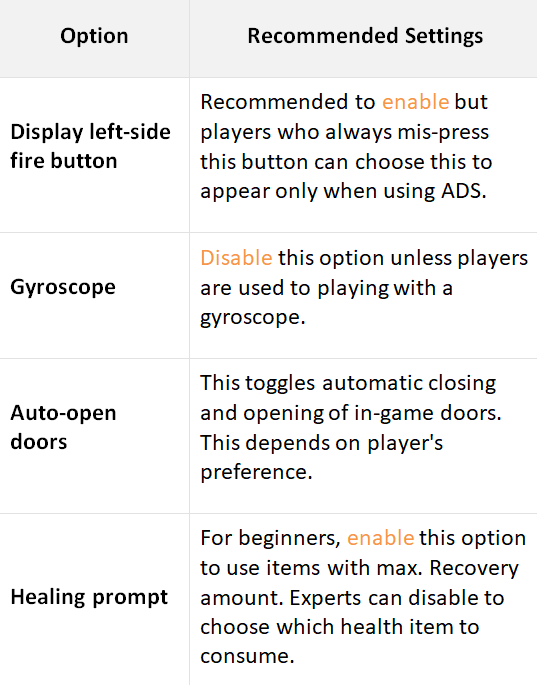 After adjusting all recommended PUBG Mobile best control settings above, it's also advisable for players to go to Training to practice aiming with the gyroscope. Frankly speaking, fingerless aiming using the gyroscope actually works, especially when turning in close-range combats.
>>> Read more: Best Gyroscope Settings For PUBG Mobile
2. PUBG Mobile Graphics Quality Settings
To have smooth gameplay without exhausting your device, always remember to adjust the game quality to "Smooth" or "Balanced" and choose the highest frame rate.
Set Graphics according to device specs
Not only does graphics setting affect your in-game experience, it also has a considerable impact on the performance of your device. Hence, try to opt for the optimal settings so that your smartphone will not lag and overwork.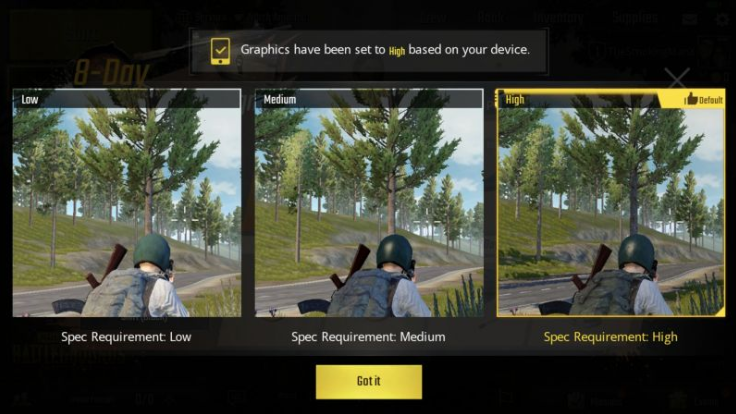 In actual, the Graphics setting only touches the texture of trees and structures in the game. So lowering it is not a problem at all. Even, it might help you spot the enemies faster.
Choose the highest possible Frame Rate
It's perfectly true that the game would perform better with a high frame rate as players can spot and shoot the foes more smoothly. Therefore, always select the maximum frame rate that your device can accommodate.
To set frame rate to "Extreme," set "Graphics" to "Smooth" then you can see the "Frame Rate" option, choose "Extreme." Please note that the "Extreme" option might not appear on some lower-end devices, so as we've mentioned, pick the highest possible option your current mobile phone can use. "Ultra" is also a pretty good choice.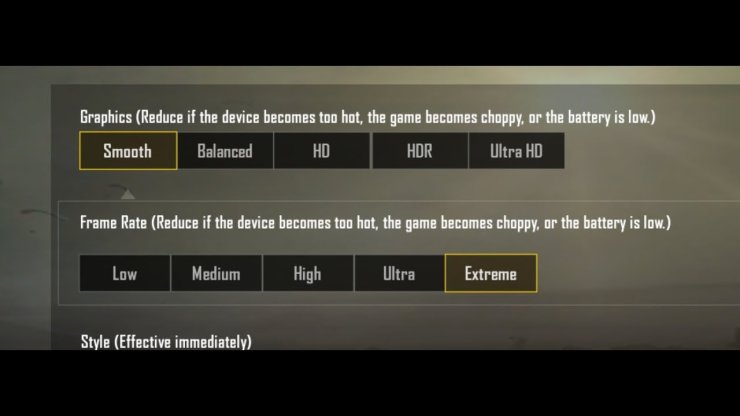 Adjust Color Styles
In PUBG Mobile, there are 4 color styles available for you to choose from: Classic, Colorful, Realistic and Soft. The best color should be bright and features high contrast so that you can detect the foes without difficulty.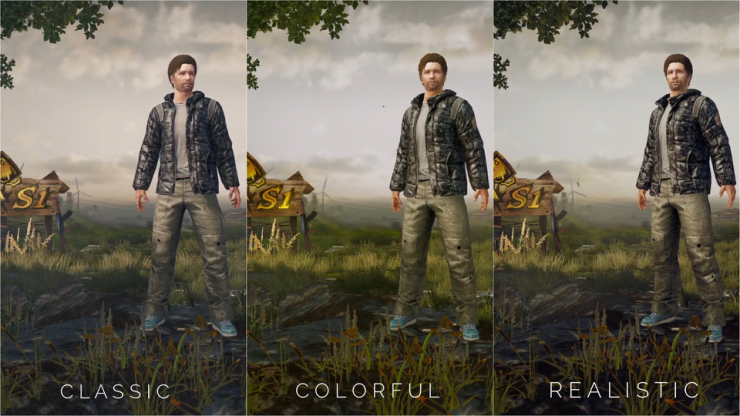 Disable Anti-Aliasing
Disabling the "Anti-aliasing" option will stop the frame rate from oscillating and help your phone's processor stable and smooth since it reduces the heat generated by your device. 3. Best control settings for PUBG Mobile
Now, we move to the main part: PUBG Mobile best control settings to beat all hollow.
Best control settings for PUBG Mobile: Adjust Controls
Head to Settings > Controls and pick the best option which works best for you.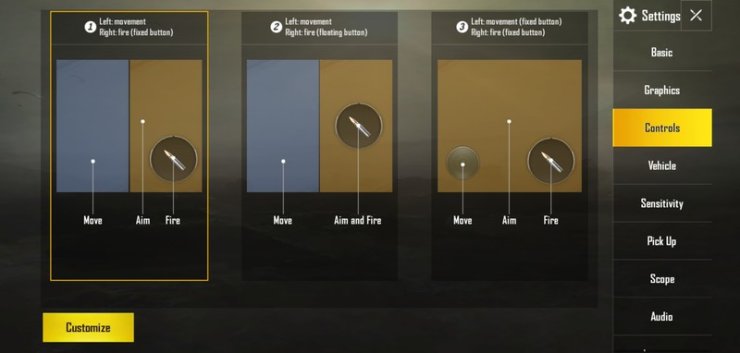 In the Controls tab, an "Enable 3D Touch" option is likewise available, tick it! If you have been in the habit of pressing wrong buttons, enabling 3D touch option is truly helpful advice as this option is based on your finger pressure on-screen.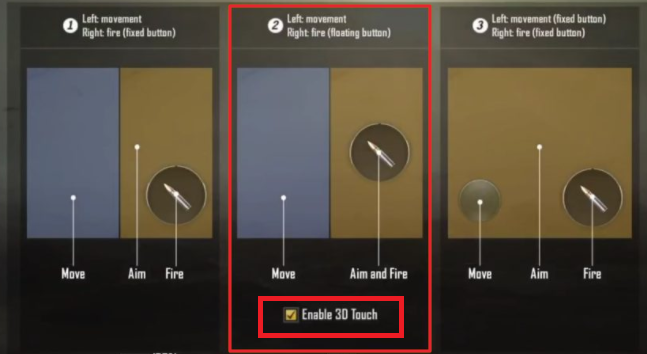 It's advised not to join a battle right after Controls adjustment. Visit Training to get used to the settings first!
Best control settings for PUBG Mobile: Customize Button Size & Location
At the bottom of the Controls settings screen, choose "Customize" in order to play the game the way you like.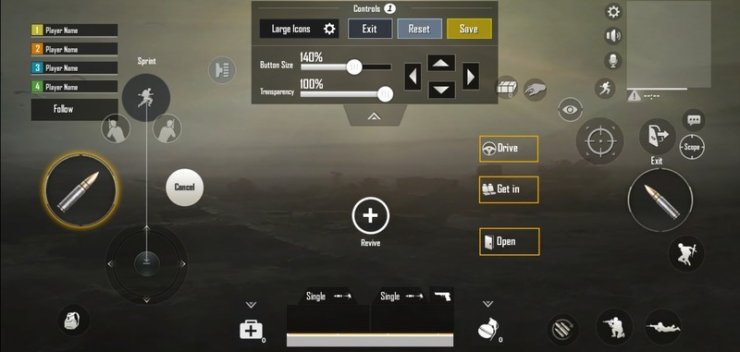 4. Other settings in PUBG Mobile
PUBG Mobile Vehicle Settings
In "Vehicle" settings tab, you can find 3 options for driving vehicles in the game. The default option is easy to handle already yet the right-most one is visually comprehensible, choose one that best suits your needs.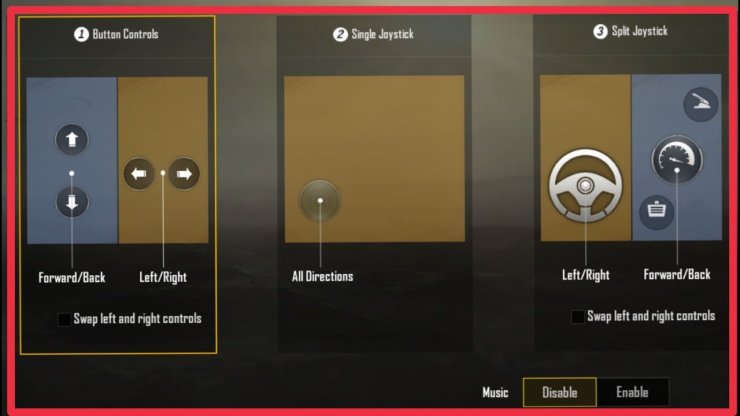 PUBG Mobile Best Sensitivity Settings
It's generally a good idea to adjust PUBG Mobile sensitivity settings according to your preference. To find which setup is best for you, just focus on a wall and start moving the crosshair.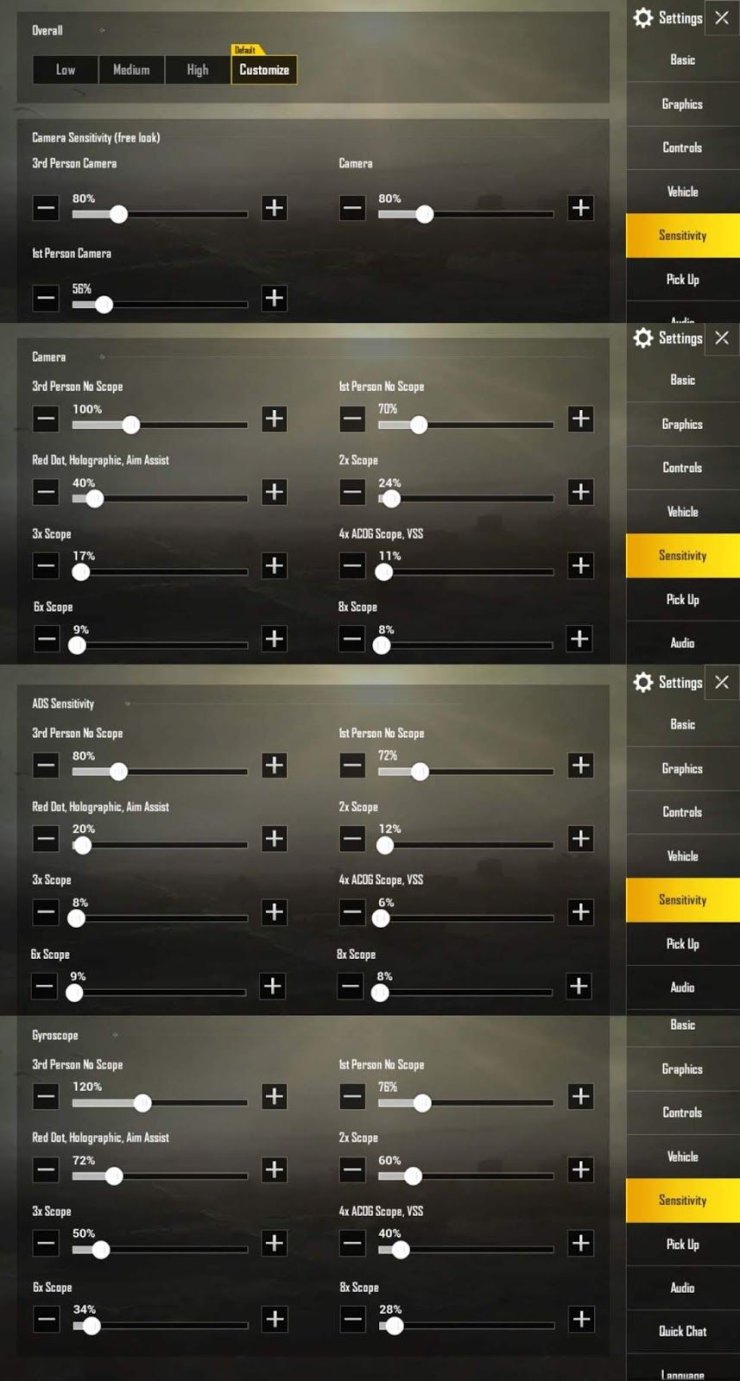 PUBG Mobile Pick-Up Settings
If you're a newbie, the best thing to do is to enable "Auto Pick-up" option. It will be more convenient for you when low-level items are automatically swapped out and higher-level ones are picked up.
For high-skilled ones, our recommendation is disabling this option. It would be more fun and exciting to manually pick up your items.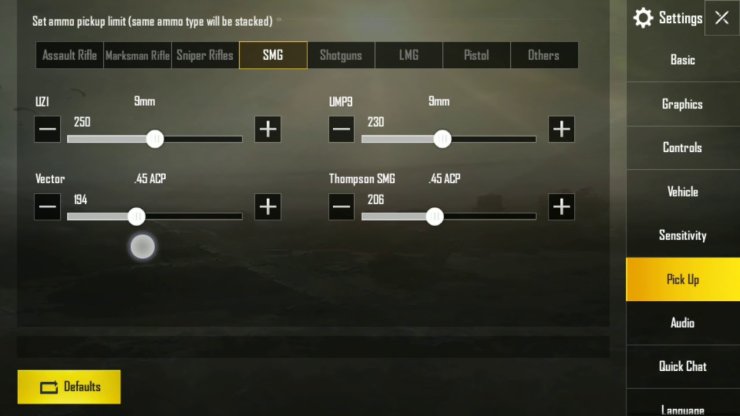 PUBG Mobile Audio (Sound) Settings
We would strongly suggest that you turn up the SFX volume so that you're able to hear the enemies' footsteps and gunshots clearly and then locate them faster.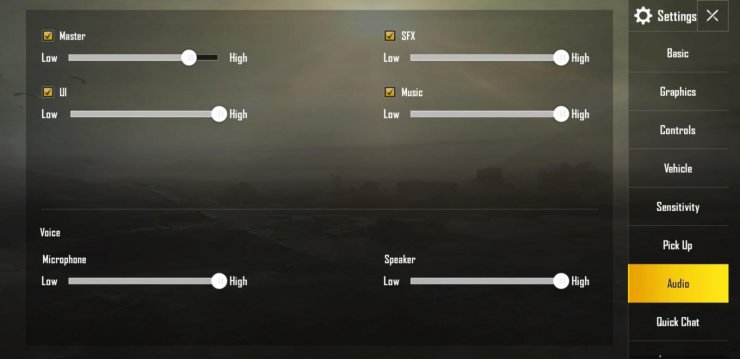 What's more, you cannot miss the in-game voice chat option. Enable "Team" voice chat to better communicate with your squadmates, and come up with effective strategies to claim the Chicken Dinner.
However, do not enable "World" voice chat if you do not want to be spotted by the foes.
>>> Watch also:
Lastly, it should be noted that you should not copy the settings of other players as this is truly a matter of personal preference. Thence, just regard our suggested aforementioned settings as a baseline and try to customize them to your preferences.
Which best control settings for PUBG Mobile did you change and did it work? Kindly let us know in the comments section below.