PS2 emulators for Android actually wasn't for a very long time. You can find PS emulators for Android quite easily and they are all quite good but you wouldn't be able to find a single PS 2 emulator for Android before 2018. Android hardware was simply not powerful enough to run PS2 emulators, not until recently.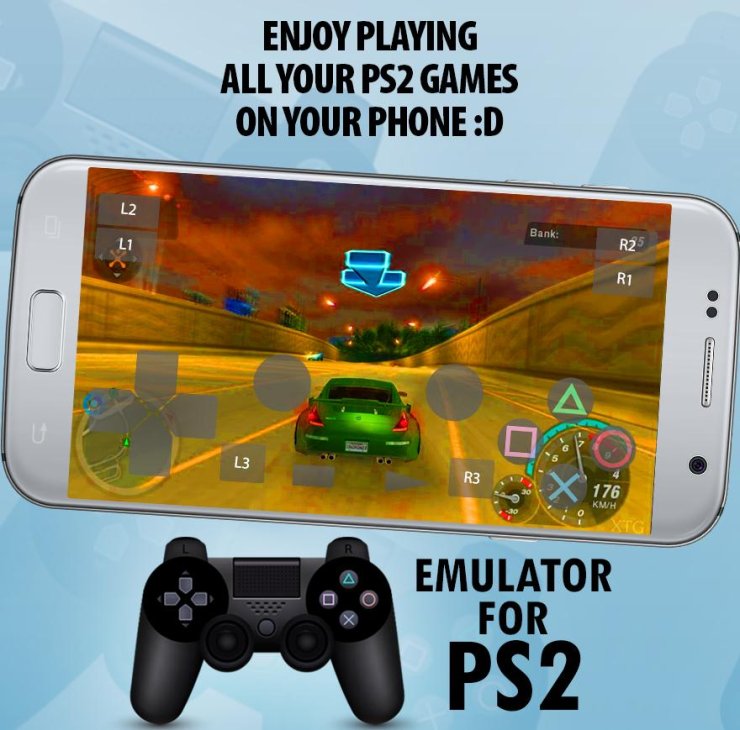 Now you can find a good chunk of PS2 emulators for Android now to play many iconic titles such as Final Fantasy X, GTA, Devil May Cry,... However, since most of them were still being developed and optimized so they have many problems such as glitches, bugs, glass.
So here, we have gathered for you the top 5 best PS2 Emulators for Android for you to play your favorite PS2 games on your Android.
Top 5 Best PS2 Emulators For Android
Play!
Play! is one of the best PS 2 emulators for Android to play those 128-bit game. You can use Play! to play the best PS2 games including Shadow of the Colossus, ICO, Grand Theft Auto San Andreas, Final Fantasy X, Pro Evolution Soccer 3, God of War, Mortal combat,... Play! is developed by an indie developer so it is completely free for everyone to download and use. However, that also means it has quite some problems such as lag, frame drops, slow, long loading time. The emulator hasn't been updated since 2017. But still, it is capable of running PS2 games on your Android device. This emulator is also available on Windows, Mac, and Linux.
Here is the download link of Play! emulator: https://purei.org/downloads.php
Damon PS2
Damon PS2 emulator is an app being developed by DamonPS2 Emulator Studio. This emulator is able to run most PS2 games but it is still not very optimized yet. Your Android device needs to have good hardware(RAM, processor) in order to experience the smoothest gameplay. You can play many PS2 titles such as Spider+Man 2, Crash Bandicoot, Metal Gear Solid, Driver 2, WWF War Zone, Gran Turismo 2,... You can run these games with to 50 FPS on the device that uses Snapdragon 835\845 chip. Damon PS2 also can run PSP, PSX games on top of PS2 games. The emulator fully features all the common functions of a standard emulator.
Damon PS2 is now available on Google Play Store for free but the free version will contain ads and has lower performance. You can buy the premium version of Damon PS2 for $10 to have a better experience and remove ads.
Here is the download link of Damon PS2: https://play.google.com/store/apps/details?id=com.damonplay.damonps2.free&hl=en&gl=US
Golden PS2
Golden PS2 is also a great PS2 emulator for players to enjoy PS2 games on their Android devices for free. The emulator features high-resolution graphics and is able to run most PS2 games. You can also download PS2 games directly from this emulator. Golden PS2 is compatible with almost all Android devices. For some reason, it has been removed from Google Play Store, but you can still download it for free from APKPure.
Here is the download link of Golden PS2 emulator: https://apkpure.com/golden-ps2-emulator-for-android-pro-ps2-emulator/com.bestfree.ps2emulator.ps2emulatorforandroid2
Free Pro PS2 Emulator 2 Games
Free Pro PS2 Emulator 2 Games For Android 2019 is a PS2 emulator developed by kloda. This is one of the finest Android emulators on the Google Play Store and it is available to download for free. There are ads in the emulator but they don't appear too often. This emulator can run even the latest PS2 but the performance of the game will depend on the power of your device(Storage, RAM, Graphics). The emulator features Quick Save and Quick Load so you can stop the game anywhere and keep playing later. The interface will adapt to your device and adjust itself to fit the game.
The emulator support .bin, .mdf, .pbp, .iso, .toc, .cbn, .m3u, zip, .img, .cue, 7z file. Games with .ecm files won't be able to run on this emulator.
Here is the download link of Free Pro PS2 Emulator 2 Games: https://play.google.com/store/apps/details?id=com.ps2emulator.forandroid2019
PS2 Emulator Game For Android
PS2 Emulator Game For Android is developed by StudioEngageUp. The emulator is free and there are no ads at all. However, it is still under development so it might run quite slow. Also, it still currently lacks a lot of features of an emulator such as customize control, bad sound, low frame rate, Quick Load,... Still, it is a promising candidate that you might want to check out in the future when the app is more updated and optimized.
Here is the download link of PS2 Emulator Game For Android: https://play.google.com/store/apps/details?id=com.supernds_games.arcade_super_classic_psp_action_emulator_video_games