PUBG Mobile India is coming back to players in this country with a totally new version. Here are some tips and tricks to get ready for Chicken Dinner in this upcoming game. Check them out below.
Brand New Tips In PUBG Mobile India
The Indian version will be a brand new version of PUBG Mobile. Therefore, you will need some new tips to win this game.
Landing Tips
To survive and win the game, you need to land on the ground first. Moreover, you also need to choose the right place to land. In the Indian game version, you need to jump earlier than in the global version. Before you know where are the new hot-drop locations, you should land in small cities near the edge of the map. Everyone knows that landing first is more advantageous than landing late. Firstly, mark the location you want to land on the mini-map. When you are about 890m-775m from that point, jump out and head to the location. Make sure that your dropping speed reaches 234km/h. Turn around the joystick to swing when the parachute open and land faster.
Know Where To Land
Don't drop in the center of the combat. If you spot another squad landing near your team, you can drop in the top of the houses/buildings/compounds. Try to land in the place where you can find weapons and cover right away. Besides, stay close to your teammates so that you can support and revive them if they get knocked.
Know The Locations Of Vehicles On The Map
The spawning locations of vehicles in this Indian version is not the same as the global version. Most vehicles will be spawned on the roadside. The map is very large and if you choose to land on the edge of the map to start the game safely, you will need a vehicle to enter the safe zone quickly.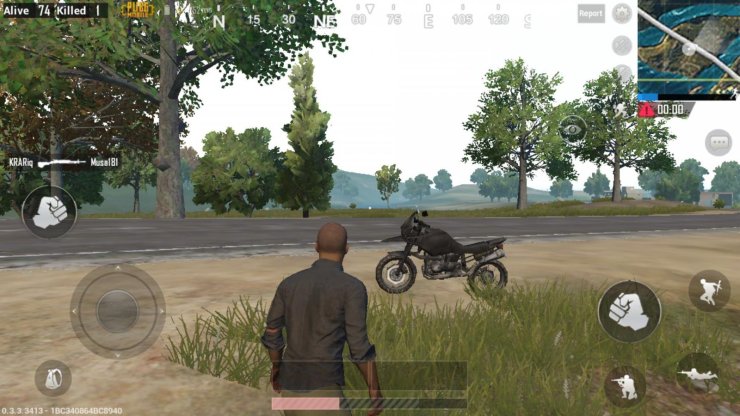 Moreover, you can also use the vehicle as a cover in open combat or escape the enemy's chase if you are not ready to fight. Or else, it also helps you to rush to the airdrop before others.
Have A Perfect Setting
It's very important to have perfect graphics, sound, sensitivity, and control settings.
Base on your device quality, choose a proper graphics setting that your phone won't get lag and the frame doesn't shake too much. HD and smooth graphics can be nice to all mobile phones. Leave the SFX sound at the maximum level so that you won't miss any footstep and gunshot sounds. Besides, you also need nice earphones.
You can learn the sensitivity and control settings from pro players or adjust it by yourself.
PUBG Mobile Indian version will be more compatible with low and mid-range devices.
Learn From Pros
If you are a newbie in PUBG Mobile India, you should learn from pro players on YouTube. They will teach you many skills, tips, tricks, and tactics to deal with all panic situations in this game. Moreover, you also learn more strategies to play like a pro and get Chicken Dinner in this game.
Make Mistakes
You will learn a lot from your mistakes. Therefore, don't scared of making mistakes while playing this shooting game. These mistakes will give you experience for the next time. However, don't repeat stupid mistakes or you will lose a lot of rank points. Don't Ignore Weapons
A lot of players label some weapons as "trash". However, these underestimated weapons are very dangerous if you know how to use them correctly. When you land on the ground, grab the nearest weapon to you no matter what it is because you won't know when the enemy will rush you. Only when you are alive can you find your favorite weapon to engage in more combat. Airdrop Tips
Another brand new guide you need is how to loot the airdrop quickly.
If you have a car, drive fast to hit the airdrop, jump out and loot the airdrop as quickly as possible. Then, get in the car and drive away rapidly before the enemy can react. The tip is to turn on auto pick-up. Or else, you can camp around the airdrop, wait for the enemies to come, take all of them down. Then, their death crates and the airdrop is yours.
Get Used To New Guns
Weapons in the Indian version will have some changes in comparison with the global version. Therefore, you need to know how these guns work. Your favorite weapon combo may also be different in this exclusive PUBG Mobile version. To know all the weapons in the new PUBG Mobile game, you should practice in the training room or TDM Warehouse. Besides, the weapon spawn will be different in this new game. Therefore, you need some games to get used to these changes.
4-Finger Claw And Gyro
The gyro sensitivity in PUBG Mobile Indian version is also updated. Then, you will get some difficulties in using it at first. In addition, it's recommended to use a 4-finger claw to improve your reflex and movements in this new game.