Garena Free Fire is celebrating its third anniversary with a bang. The title introduces tons of exclusive rewards and events to mark the incredible three-year journey. Figures also suggest that Garena has been doing a wonderful job of keeping the community engaged while attracting new users to the game. Free Fire recently broke the record for having over 100 million daily active players - making it the most popular game on the handheld platform. With that gigantic player base, a problem arises regarding their identities. That's the drive behind cool names for Free Fire. Garena Free Fire is experiencing consistent growth in both revenue and the player base, even amidst the ongoing COVID-19 pandemic. Much of this consequence comes from the fact that people use their phones more often during lockdowns, looking for ways to entertain themselves. Coincidentally, mobile games are designed to fulfill the task. As more and more turn to Free Fire, the demand for cool names for Free Fire also rises. They need to find a unique feature that sets them apart. If you're desperate to find a stylish in-game name for the Battle Royale title, check out our top picks for cool names for Free Fire below!
Cool Names for Free Fire Player
One of the first things that come to many players' minds approaching a new game is how to create the best names ever. In-game names are perhaps the factor noticed the most be your fellow gamers. So, it would make sense to have cool names for Free Fire player base, especially when the community is still growing. If you're struggling to find yourself a stylish IGN, check out our list down below for some recommendation.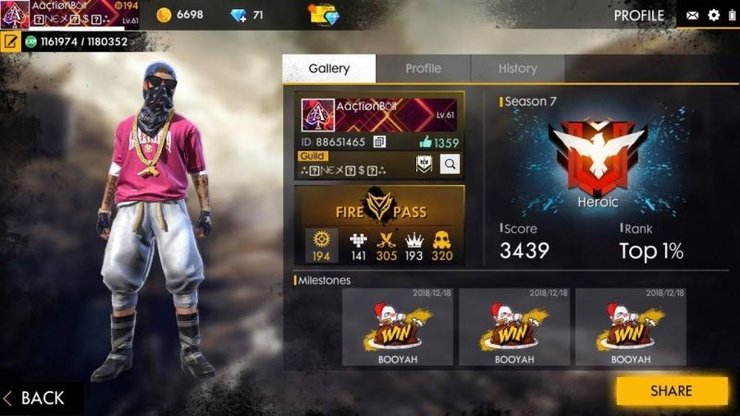 List of Cool Names for Free Fire Player:
꧁༺₦Ї₦ℑ₳༻꧂

꧁☆☬κɪɴɢ☬☆꧂

꧁༺J꙰O꙰K꙰E꙰R꙰༻꧂

꧁༒☬☠Ƚ︎ÙçҜყ☠︎☬༒꧂

꧁ঔৣ☬✞𝓓𝖔𝖓✞☬ঔৣ꧂

꧁༒☬₣ℜøźєη•₣ℓα₥єֆ☬༒꧂

꧁༒☬ᶜᴿᴬᶻᵞkíllє®™r☬༒꧂

꧁༒☬ℜ؏αᏞ_ᏦιηGs☬༒꧂

▄︻┻═┳一

☬ᶜᴿᴬᶻᵞkíllєr☬

꧁☆*κɪɴɢ*☆꧂

༺Leͥgeͣnͫd༻ᴳᵒᵈ

◥꧁དℭ℟Åℤ¥༒₭ÏḼḼ℥℟ཌ꧂◤ ꧁༒•P£R$£B∆Y∆•༒꧂

꧁ℛ𝓸𝓰𝓮𝓻ℬ𝓸𝔂꧂

꧁☆•[ҎƦƟ]ҎȽɅȲȄƦ•☆꧂

★꧁༒☆•฿ŁȺℂ🅺ⲘȺℂ•☆༒꧂★

꧁༒Ǥ₳₦ǤֆƬᏋЯ༒꧂

乂✰ɢuçí °ɢαͷɢ✰乂

꧁༒Sa̶d̶B∆Y༒꧂

꧁•ⓒⓗⓐⓢⓟⓔⓡ•꧂

꧁•☬₣ℜøźєη•ᴵᴰ☬•꧂

꧁☆☬ ⓋⒾⓇⓊⓈ ⒻⓇⒺⒶⓀ ☬☆꧂

༒〖ℳℜ〗ℑᏋғᏒƴ༻

☬๖ۣۜǤнσsτ༻

꧁Êž~ᴵᴰLeͥgeͣnͫd☬꧂

˙·٠•●۩۩ஜ♦ʍǟχɨɨɮʝ♦ஜ۩۩●•٠·˙

꧁༒☬ℜ؏αᏞ_DคℜᏦ☬༒꧂

꧁⚜ꜛاڶقـٲﺗݪꜜ⚜꧂

꧁☆ⓏⒺ༒ⓊⓈ꧂

꧁༒☬☆•ᴅᴀᴙᴋ•☆☬༒꧂
Cool Names for Free Fire Guild
Guilds can be considered a unique feature of Garena Free Fire. It's where players gather and socialize with each other in the game. Powerful guilds tend to dominate the server's standing, boasting incredible power. One thing you may notice from great guilds is that they always have stylish and beautiful names. Every member can proudly display the cool names for Free Fire guild to present themselves as a part of the small community. Here are our top picks for cool guild names for Free Fire:
ᶦᶰᵈ᭄ₜₑₐₘ࿐⁰⁰⁷

ᵀᵉᵃᵐ★ᎳᎪᏒᏒᎥᎾᏒ★

Fɪɴᴀʟ乂Sᴛʀɪᴋᴇ

ᴺᴷ•ᴮᴬᴰʙᴏʏツ༒

꧁☠︎༆࿐K꙰ÅℜÃŇ༆࿐☠︎꧂

『ᴹᵛᴸ』•Ҟモれ乙Ö࿐

ᴹᴿメʙoʏz࿐

༆Ƭεค๓ ᏉᎥᎮᏋᏒ࿐

༆Ƭεค๓࿐ᴳᵒᵈ

ᴺᴷ•ᴮᴬcotツ

нв || нυитєя вσуѕ™

꧁༺ ₦Ї₦ℑ₳ ƤℜɆĐ₳₮Øℜ ༻꧂ ᵀᵉᵃᵐ★SHᎪDᎾᎳ★

꧁༺Mℭ°RÓYALS༻꧂

ঔৣ ۝ ÐâřҟŦ ﺂℜ ê ۝ ঔৣ

░B░O░S░S░

𓆩ᴳ̷ᴼ̷ᴰ̷𓆪༒D҉̷؏b҉̷a҉̷࿐꧂

『RDG』•Boss࿐

 ᴾᴿᴼツwɇsᵏᵉʳ★࿐

вιαcк々ᏟᎾᏴᎡᎪ彡

ᵀᵉᵃᵐ•eXport°ᴵᴺᴰ

꧁ᵀᵉᵃᵐ☯SRK☯꧂

°ᴮˢ°•Ꮓ¹ʟᴇムᴅᴱᴿツ

꧁ᵀᵉᵃᵐ♣⻓ᎥŁŁ乇ℛⓈ♣꧂

ꜰᴜʀɪᴏᵘꜱ ꜱʟ͢͢͢ᴀʏᴇʀˢ⚔

ᴮᴰ⁷¹B░O░S░Sᵀᵉᵃᵐ
Cool Names for Free Fire Pets
The pet system brings a refreshing breeze to the realm of Garena Free Fire. Having a trusty friend on the battleground can really do wonder to your gaming experience. Upon buying these furry fellas from the in-game store, players have the ability to rename them to match their preferences. Check out the list below for cool pet names for Free Fire. You can copy them and use them straight away or as a source of inspiration. Cool Pet Names for Free Fire:
꧁༒☬M̷O̷N̷S̷T̷E̷R̷☬༒꧂

★🐼๖ۣۜƤคภdค🐼★Sᴋ᭄

Ⓜⓡ‿ROBO★࿐

$møňşťėř*@

★๖ۣۜ🦅FaLcOn🦅★Sᴋ᭄

બાપ કો ભેજ

একাই মারবো

꧁༒Mℜ•թє͢͢͢†༒꧂

꧁☠︎₭iℒℒℰℛ թє͢͢͢†☠︎꧂

ⓜⒶⓉⒾᵏᵃᵘツ

꧁༺𝖗𝖆𝖎𝖓𝖆𝕻𝖊𝖙༻꧂

ᴹᴿ`oᴛᴛᴇʀᴏ

ŁÏŤŤŁË♡ĶÏŇĢ°

꧁༺𝕻𝖊𝖙 𝖗𝖆𝖎𝖓𝖆༻꧂

꧁༒ⓜⒶⓉⒾᵏᵃᵘツ༒꧂

*꧁☠︎₭iℒℒℰℛ թє͢͢͢†☠︎꧂*

🍭ⓢⓦⓔⓔⓣ ⓖⓘⓡⓛ✨

『TG』 ཌĐʀᴀɢᴏƝད°ᴵᴰᴹ°ツ

☆Mŕs.jenďral☆
How to Create Cool Names for Free Fire
To be able to how to create cool names in Garena Free Fire, we must first understand the elements contributing to a great name. Of course, it has to consist of special characters instead of the normal alphabetical ones. Next is the symbols - which elevate the cool names for Free Fire in terms of uniqueness. From there, you can choose whether or not to include your language of choice, i.e, Hindi, Tamil… However, one problem will arise. Your keyboard won't be able to type in these characters without the help of a generator tool. Nickfinder is the go-to choice for Free Fire players and those of other games alike when it comes to name-generating website. It's trusted for a powerful engine, capable of creating all kinds of IGNs from special characters and symbols. Nickfinder also supports various languages to cater to your tradition. On top of that, it holds a gigantic collection of pre-made names for you to choose from. The sky is the limit with Nickfinder. Players can make cool guild names for Free Fire among a plethora of other titles. 
How to Use Nickfinder
Nickfinder name generator is actually super easy to use. Follow our instruction down below to create your own style in Garena Free Fire:
Visit Nickfinder.com official website

Type in your IGN of choice in the tool input (in the middle of the screen)

Choose whether to add symbols

Hit "Generate Another" and let the tool does its magic

Choose your preferred cool names for Free Fire, or hit the Generate Button until you find one
Friendly Reminder: To access the ready-made collection of Free Fire names. Simply visit Nikfinder and type in what you want in the search tool on the top right corner. That sums up our article on cool names for Free Fire today. It's never a bad idea to spend some extra time to perfect your in-game nicknames. It will stay with you for a long time, or until you change it - depends on you though. For more guides into Free Fire as well as other mobile games, visit our website at GuruGamer.com.