With millions of new downloads per month, Free Fire has quickly become a formidable competitor of PUBG Mobile since it started coming into service. The game, in fact, is bundled with classic 'royale battle' concept, several features, and monthly events - that's why more and more people are 'lured' into Free Fire! In case you're searching for something like Free Fire Elite Pass hack 2020, here's everything we know so far. All About Free Fire Elite Pass Hack 2020
What is Elite Pass?
Before heading to Free Fire Elite Pass hack 2020, we should spend some time shedding a light on Elite Pass. Because this Garena-owned game already accounted for a total of over 500 million downloads on Play Store, so the developer is responsible for releasing new updates on a regular basis and that's what usually happens to Elite Pass. In short, Elite Pass comes as a tier-based system, in which players have a chance to get exclusive rewards in several tiers. Once the assigned missions are completed, players are given badges to claim a bunch of items, such as emotes, character skins, fragments, and other bundles as well. Note that these items are exclusive and players are only able to avail them through the Elite Pass.
Read more: Free Fire Elite Pass: Do You Remember The First 5 Elite Passes Of The Game? Let's Take A Trip Down Memory Lane And Find Out!
Why We Need Free Fire Elite Pass Hack 2020?
The pass is not free at all. Players have two options to choose from – the Elite Pass and the Elite Bundle. Players will have to use diamonds, which act as an in-game currency in Free Fire, or instead buy the seasonal subscription of Elite Pass. In addition, they can also use their diamonds to pre-order the pass and receive some sideline rewards for doing that. The Elite Pass will set you back a total of 499 diamonds while the latter is priced at 999 diamonds. Of course, you can avail exclusive bundles, an additional package of 50 badges, and other items available in the Elite Pass. No need to say, spending money on Free Fire's Diamonds doesn't seem to be a favorable option for most of us. According to the current exchange rate in Free Fire, players need to top up Rs. 80 to have 100 diamonds, Rs. 250 to have 310 diamonds, etc.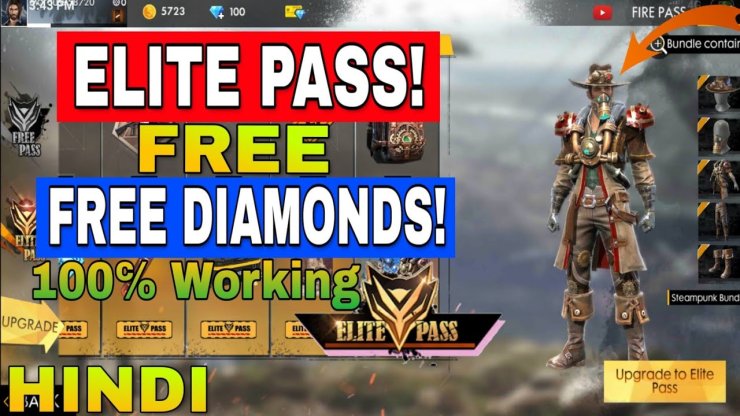 Due to such reasons, many players are roaming around every corner of the Internet to find Free Fire Elite Pass hack 2020 apps or mods. Right, you may be one of them and never stop wondering how to do so. But what's the catch behind a bunch of promotions related to Free Fire Elite Pass hack 2020?
Free Fire Elite Pass Hack 2020 – All You Need To Know
All Free Fire Elite Pass hack 2020 software and Unlimited Diamonds mod APK files you came across on the Internet are all illegitimate. Free Fire's data is based and stored on the internal servers, not any third-party sides.
For instance, these Diamonds somehow can be seen on screen, but it's only visible to that player and he cannot use them for in-game purchases. That's why Free Fire Elite Pass hack 2020 is nothing but fake content. Even though they claim to bring players an endless amount of diamonds, nothing can ensure the safety of your account and perhaps your device as well. It's likely that such Free Fire Elite Pass hack 2020 services will be causing harm to your privacy. Speaking of your account ownership, these types of services violate Garena Free Fire's terms of use. The company strictly prohibits such practices and other cheating activities, considering those who get involved in Free Fire Elite Pass hack 2020 are hackers and will be banned permanently from logging into their accounts.
Free Fire season 28 is coming soon. You can pre-order Free Fire Elite Pass season 28 now. It's available for pre-order in Free Fire Store. Moreover, players can also get some exclusive rewards. There are two options to pre-order this upcoming Elite Pass, including monthly subscription and paying diamonds. You can choose to spend 999 diamonds to buy the Elite Pass.