In Free Fire, each player has a profile page that shows their rank, level, Elite Pass Badges, how long they have been playing,... While most players like you and I won't have anything to stand out on our profile except, there are Free Fire accounts in the world that will make you astounded and wonder how they did it?
Today, we are going to bring you the list of the top 5 strangest Free Fire accounts in the world, from the world Free Fire first ID ever to the one with 90K badges. Let's get started.
1. World Richest Free Fire Player ID - SULTAN INDO!! (ID: 16207002)
First, we are going to take a look at the account of one of the most popular Free Fire players in the world "SULTAN INDO!!". This guy owns the world richest Free Fire player ID. He is a very famous Free Fire streamer from Indonesia with a YouTube channel called  Dyland PROS with almost 12 million subscribers. Needless today, he is a very enthusiastic Free Fire player and he loves putting money into his favorite game. He bought 50 thousand, 60 thousand Badges for his Free Fire Elite Pass every season. There are seasons when this number even went up to 158333, which is unbelievably huge and totally abundant.
We all know that you only need 225 Badges to get all the prizes in the Free Fire Elite Pass so there is no real reason to put in more money. But since money isn't a problem for this guy, he bought many Badges purely just for fun.
>>>>Also check out: Only Legendary Players Know About Free Fire First Elite Pass Ever - The Sakura Festival Elite Pass
2. Free Fire First ID - Harold (ID: 10000001)
Many players might not be aware that the Free Fire ID number of a player can reveal how long they have been playing the game. So the ID 10000001 is Free Fire first ID ever. It must be the first account ever to be created in Free Fire Closed Beta. As you can see, he is still very active in the game, and that means he has been through every single event in Free Fire, from the earliest ones.
You might think that this guy is just a lucky guy who happens to be the first person to bump into Free Fire. However, this is actually the account of a Garena employee. It seems that Garena employees have this hobby to create an account at the right time to get a good-looking ID number. For example, this account MummyEva with the ID 11111111 is also an account of a Garena employee. 3. ID With Highest Like In Free Fire - BATATA400K (ID: 300863783)
Free Fire has this feature that allows players to leave a like on the profile of a player they like. Normally, a casual player can get a few likes on their profile out of nowhere. If you are a famous streamer, pro players,..., you might even get hundreds and thousands of likes on your profile.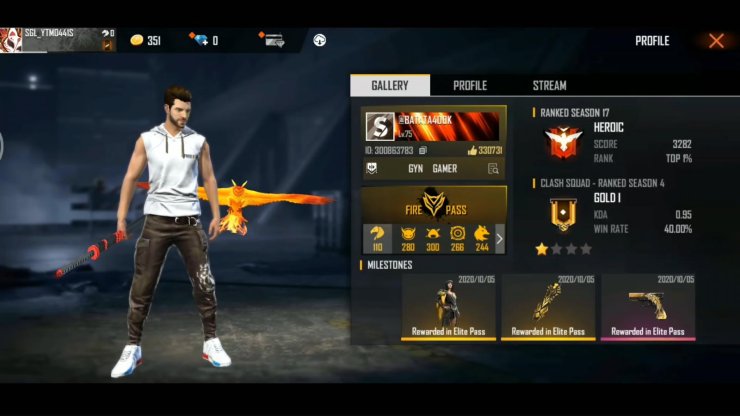 However, this account, BATATA400K with is totally on another level that no one can even come close to. He is officially the ID with highest like in Free Fire with 3.5 Lakh likes. It is such an unreal number that it is hard to believe that it is possible. Even SULTAN INDO, the streamer with 12 million subscribers on YouTube only has 3,680 likes, which is 1/100 the number of likes of BATATA400K. Other Free Fire players with a high like count only have around 50 thousand, 40 thousand likes. Looking into this account, there is nothing that really stands out at all. His account was created last year. His rank is not very impressive and he earned just enough Badges every season. Still, it is not likely anyone will be able to reach this number.
4. Level 100 Free Fire Account - Bibeeiii (ID: 1694335650)
This is the only account in Free Fire that managed to get to Level 100. No one can understand how can the player have so much time to get to this point. Looking at the ID of this account, we can see that, it is not a very long-time Free Fire account at all. Even if you play Free Fire all day for a long time, it is still very hard to get 100 level in Free Fire ID. There are Free Fire streamers who play Free Fire every day since the beginning and haven't reached Level 100 yet, making it really hard to believe that this is real. He is not even a very competitive player by looking at his rank. This guy must have taken advantage of a bug of some sort to be able to hit this level.
5. One Hit Wonder Free Fire Account - $$ DJ 19cm (ID: 871199671)
"But why?"
That is probably the question that pops up in most people's minds when they see this Free Fire account. This guy spent a ton of money one single Free Fire Elite Pass season and got 90188 Badges and then no more after that. 90 thousand Badges is just way too much for a single season. With this many Badges, he can get all the upcoming Free Fire Elite Pass in the next 5 years to the max level. But no, he got to 90 thousand Badges in one season only and then completely stopped, making the account one of the most Free Fire unique ID.
There is a theory that he has accidentally put the money on his Guest Account to buy 90,00 Badges instead of his main account and only realized it when it was too late. This account hasn't logged in to Free Fire for 30 days now, and the total matches this account played are not too many.
>>> Check more Free Fire news & tips on Gurugamer.com: All You Need To Know About How To Protect Your Free Fire Account