After the Free Fire Diwali event series comes to the end, Free Fire Continental Series (FFCS) gaming community is all set for the next important event Free Fire to take place at the end of the month. While the grand finals of the event are slated to occur on November 29th, 2020, there are also a lot of in-game events to celebrate the biggest flagship international tournament of Free Fire in 2020. Among some of the first events to come to light is the Free Fire Light Up The World Event. Find out more about the details of it as well as the reward list you stand a chance to win from this event!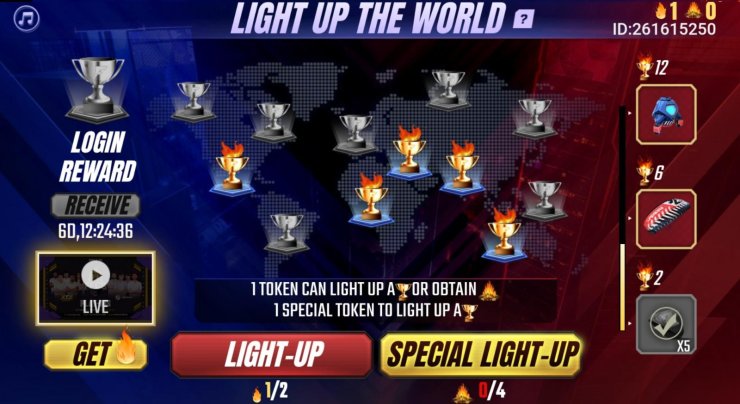 Free Fire Light Up The World event details
From the official banner of the FFCS final countdown, tab on to the Light Up The World event icon in the lower bar. You will see the world map with 12 cups placed on different continents. To complete the event and receive rewards, you need to light up all of the cups.
For the first 2 cups being lit up, players will get 5 weapon royal vouchers. Meanwhile, lighting up 6 cups will get you the FFCS parachute skin and the grand reward FFCS Loot Crate can only be obtained when you light up all the 12 cups all over the map. In addition to that, when lighting up Utopia (the two cups in the North American region), players can also claim an FFCS surfboard skin.
To light up the cups, you will need to get as much 'Fire token' as possible. Fire will be given in many ways from the daily log-in, inviting friends to take part in the event, or playing games. While the casual light-up button changes only two fires, you can either light up a cup or get one fire back. The Special Light-up button, on the other hand, offers a 100% chance of lighting up a random cup. Here are some of the tasks with which you can earn some fire:
Invite one friend (and your invitation is accepted): 4 fire
Accept an invitation: 2 fire
Play 1 game: 2 fire
Play 3 games with friends: 2 fire
Play 6 games: 3 fire
Login: 1 fire Just like many other events, the task will be refreshed the next day. It means that you can get an average of 8-10 fires every day easily and it only takes 5 days to complete the event.
Above is all information about Free Fire's latest event Light Up The World. The event takes place from November 20th to December 6th. Apart from completing missions, don't forget to log in every day as there are many valuable rewards to claim during this week.
Also read: Official Announcement From Garena About Free Fire Guest Account Recover In 2020