Free Fire is a Battle Royale game developed by Garena that is available for download on Android and iOS devices. The game is one of the most popular in India and differs from competitors by the large number of characters available, which vary in personality, skill, historical context, utility and price.
Since the launch of the April Elite Pass, there are now 26 characters available in the catalog - 13 of which are male. Meet, below, the men of the Free Fire universe and their characteristics.
Here are the Free Fire male characters:
Alok
Ability: Drop the Beat
Price: 599 diamonds
Alok, a character inspired by the famous Brazilian DJ Alok Achkar, is one of the most interesting choices of Free Fire. His "Drop the Beat" ability - which makes a clear reference to the musician - gives us a combination of very useful bonuses: increased movement speed and life regeneration, both for himself and for his allies. He is perfect for rush hour mode.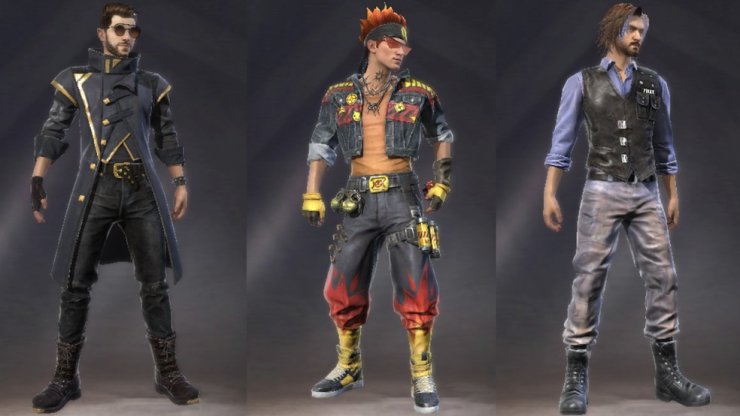 Alvaro
Ability: Art of Demolition
Price: 499 diamonds
Alvaro's clothes and hair already tell the role of the character, someone who clearly likes to "blow things up". One of the latest characters released in Free Fire, Alvaro owns a skill called "Art of Demolition" - which increases the damage of weapons by the explosion and also the contact area. A great choice for those who like grenades and rocket launchers!
Andrew
Ability: Armor Specialist
Price: 499 diamonds
Andrew is a former police officer who has spent much of his professional career fighting crime. Your big card up your sleeve, therefore, could not be different. ''Armor Specialist'' decreases the loss of durability of the vest by percentages that scale from the level reached in the matches. For Andrew, extra protection never hurts.
Antonio
Ability: Gangster Spirit
Price: 499 diamonds / 8000 coins
Orphaned and lonely, Antonio had to live alone in life since he was a child. At seven, he already ran his own gang. Therefore, his special ability is called "Gangster Spirit" and gives the character extra life at the beginning of the matches. His skill is extremely useful in the early game, as the player will not have to worry about getting killed too early right from the start. Hayato
Ability: Bushido
Price: 499 diamonds
The rumors say that the samurai Hayato hides a secret that will never be revealed. And that he would be willing to give his life so that the truth remains hidden. His specialty is called "Bushido" - a skill that increases the penetration of the character's damage in proportion to the amount of HP. In other words: the less life Hayato has, the more destructive he will be.
Ford
Ability: Iron Will
Price: 399 diamonds / 2000 coins
Despite the name, Ford has nothing to do with automobiles. The character was a sailor who spent a lot of time in the seas and, therefore, gained resistance from so much traveling. His special ability is called 'Iron Will' and makes Ford take less damage (4% to 24%) when in the gas. Less desperation when the safe zone is closing.
Joseph
Skill: Nutty Movement
Price: 499 diamonds
With a degree in physics and a former member of the Armed Forces against his will, Joseph gained access to a seemingly mysterious technology while in the army. ''Nutty Movement'' is the character's great weapon, which gains movement speed and boost in the races when being targeted. Very pertinent choice for those whose style is more focused on the late game. Jota
Ability: Sustained Raids
Price: 499 diamonds
Jota was the latest male character released on Free Fire. Stuntman and specialist in parkour, the sniper has a special skill called ''Sustained Raids '' that recovers HP with each shot made with SMG (submachine guns) and SG (shotguns) weapons.
Kla
Ability: Muay Thai
Price: 499 diamonds / 8000 coins
Kla is a Muay Thai fighter who has gone missing for a long time. Driven by revenge and thirst for fights, the character gains a bonus on the power of his punch that varies from 100% to 400% depending on the playing time. The skill is not that useful, after all, most of the fights carried out in Free Fire are fought with firearms.
Maxim
Ability: Gluttony
Price: 499 diamonds / 8000 coins
Passionate about games and technology, Maxim is also an ace with utensils and food. As someone who made himself known from eating competitions, the character uses his special gift within the game. ''Gluttony'' reduces the time to eat mushrooms and use medical kits at rates that can reach up to 12% at the maximum level. Miguel
Ability: Crazy Slayer
Price: 499 diamonds
Miguel could easily be confused with some generic action shooter hero with his design. The character is a police officer belonging to the special forces battalion, and who has the skill "Crazy Slayer" as his great asset. Miguel earns shield points for each kill he makes.
Rafael
Ability: Dead Silent
Price: 499 diamonds
A murderer, mercenary, and driven by his own ideology of peace, Rafael is a sniper responsible for several important assassinations in the world. His special ability is called "Dead Silent" and it has everything to do with his work: Rafael manages to stay eight seconds without his shots appearing on the map. The skill has a cooldown and cannot be used whenever he wants.
Wukong
Ability: Camouflage
Price: 499 diamonds / 8000 coins
We could be in League of Legends (LoL) right now, but the Wukong in question is not the champion created by Riot Games. In Free Fire, Wukong is also a Monkey King, but with another specialty: camouflage. The character, who is one of the most iconic in the franchise, manages to transform himself into a thicket to surprise enemies. The real Wukong of the legends has a lot more abilities than that, but this is all we get in Free Fire. For more gaming news, updates, and articles, check out our website at GuruGamer.com.