Free Fire characters – Released officially on December 4th by Garena, 2017, Free Fire is one of the most famous Battle Royale games along with PlayerUnknown's Battlegrounds and Fortnite Battle Royale. Free Fire is a hot action-adventure mobile game for iOS and Android (operating system) with over 450 million users all over the work.
In Free Fire, each user has one character to control. Besides a proper plan, players should have a suitable character with unique abilities. This guide will help you choose your Free Fire best character to uphold her ability, integrating with your skills and strategy. Moreover, Gurugamer.com will also give you the Free Fire character story of each man and woman in this game. Default Free Fire Characters
Adam
Adam is the male starting character in Free Fire Battlegrounds. He is the first male character for players at the beginning of the game. Adam does not have any unique skill or specific outfits. However, players can change Adam's outfits and skin tone.
Eva
Along with Adam, Eva is also a default character unlocked for beginners. Similar to Adam, Eva does not have her unique ability and an exclusive outfit. So, you can change her skin color and clothes at their preferences. You can check out some Free Fire characters images below. Purchasable Free Fire Characters
In addition to two default characters, here are many purchasable characters in Free Fire. Once you rank up, you can unlock these characters. Let's get to know about them here. Understanding your character is one of the best tips and tricks in Free Fire.
Laura
Laura is an excellent secret agent. She was born on May 21st and launched on May 8th, 2019. When she was a little girl, Laura learned to use guns and special fighting skills. Her specific ability is the Sharp Shooter. Laura joins this action-adventure game with a strong determination of finding lost Rafael, her close friend. To unlock this character, you need to pay 499 Diamonds.
Hayato
Hayato is a Bushido born on March 21st and launched on March 20th, 2019. His unique ability is Bushido, too. To unlock this character, players have to pay 499 Diamonds.
Moco
Moco is a super-intelligent and secret hacker with Eye Hacker ability. She was born on February 13rd and officially launched on January 22nd, 2019. 499 Diamonds and 8000 coins are the prices of this hacker.
Antonio
In the storyline, Antonio is a gangster who had a close relationship with Paloma in the past. The character of Antonio was born on August 1st and launched on May 12nd, 2018. He joins this adventure to escape from seven years of solitary confinement. This character costs 499 Diamonds and 8000 coins. Caroline
Caroline is the daughter of a big mafia boss. This seventeen-year-old girl joined the group of Free Fire characters on October 16th, 2018. Her ability is Agility. To unlock this character, players pay 499 Diamonds and 8000 coins.
Paloma
This ambitious character is noisy, stylish, and appealing. Dealing with Weapons is her specific ability. This character was launched on July 26th, 2018. This character cost you 8000 Coins or 499 Diamonds.
Kla
The unique ability of Kla is Muay Thai. His strength expresses through his punch. His fist damage increased by 400% at level 8. When he is unarmed, he can still cause damage to the enemy. To unlock Kla, you have to pay 8000 coins or 499 Diamonds.
Maxim
This young man is Misha's brother. He looks like a young and good-natured schoolboy. He has a unique ability of Gluttony. This character costs you 8000 coins or 499 Diamonds. Free Fire Best Characters
Below are the best Free Fire characters, voted and reported by a lot of Free Fire players. These characters have different abilities, which are believed to be the best potent and useful in this action-adventure game.
Misha
It seems that Misha is the prettiest and coolest character in Garena Free Fire, shown through her outfits. Misha has a strong personality, and she loves adventures. Post Combustion is the unique ability of this young girl. Misha is an excellent character in this battle for survival. This Free Fire best character costs players 8000 coins or 499 Diamonds.
Nikita
Don't let her appealing appearance fool you. Nikita is a Firearm Specialist who masters in using machine guns. This character is an excellent back guard, a perfect choice for short combats. To unlock Nikita, you pay 8000 Gold or 499 Diamonds.
Andrew
Andrew is an experienced ex-policeman. Armor Specialist is the unique ability of this character which let his armor's endurance is higher than default characters by 2%. It increases by 10% when you upgrade this character to the max level. This specific ability allows Andrew to play as a tanker and increase his chance of survival in war. This character costs you no coin or diamonds.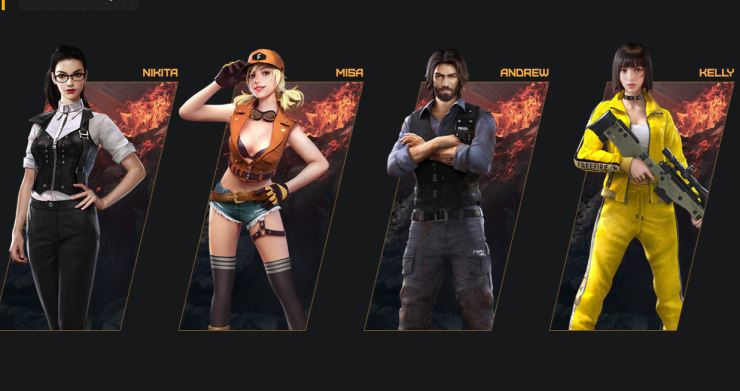 Kelly
Kelly is one of the best Free Fire characters with the ability of Racing. She has a fantastic speed the lets her move faster than other players by 1% in default level. When Kelly is upgraded to the max level, she is faster than usual by 5%. With this ability, Kelly will be a giant killer in the battleground. It also makes the enemy hard to shoot Kelly. Keep in mind that among Free Fire all characters, this girl runs fastest. 
Olivia
Olivia is a nurse, an essential character in squad mode. With the unique ability of Healing Touch, Olivia is the big source of HP in your team. She can revive her teammates quickly on the battle. At the default level, she can revive other players with +6 more HP, and at max level, it will be +30 more HP. That's why Olivia is the key to the victory of your team. This character costs 399 Diamonds or 4000 Gold.
Ford
As a naval soldier, Ford has a unique ability of Iron Will, which let him receive 4% lower damage while standing outside the safe zone. When the damage decreases, your chance of surviving increases. Therefore, Ford is one of the most active characters in Garena Free Fire. Kapella
Kapella is a new character coming to Free Fire in the latest patch OB21. She is a K-pop idol who is not only beautiful but also talented. This female character has a special ability called Healing Song. You can learn more about this character here. Above are sixteen Free Fire characters with different abilities and features. Base on the plan and game mode, you should consider their strengths and choose the most suitable character to win the game. Understanding your character, you will play and rank up like a pro without having to use any Free Fire characters hack tool.
To update the latest mobile game news and useful tips and tricks for gamers, visit Gurugamer.com.